Live Reviews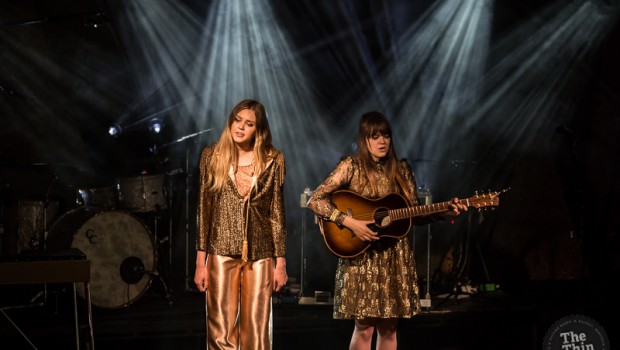 Published on September 19th, 2014 | by Laura Carland
0
First Aid Kit @ Mandela Hall, Belfast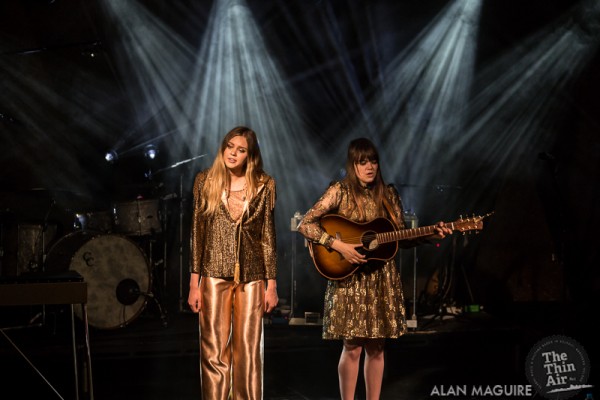 First Aid Kit have dressed for the occasion.
They arrive onstage in shimmering outfits, faintly resembling the lost children of ABBA and take their places before a wall of gold lamé and glittering abstract alpine mountains. Their drummer wears a suit and bow tie. They are soon bathed in a warm golden hue and open their debut Belfast show with the rather fittingly titled, 'Stay Gold'.
First Aid Kit are Klara and Johanna Söderberg, who hail from Stockholm. The sisters have been writing songs together since 2007 and owe their international attention to the popularity of a YouTube video featuring the pair covering 'Tiger Mountain Peasant Song' by Fleet Foxes. The award-winning band have toured with Conor Oberst and Jack White and can boast having three well received albums tucked under their belt.
In a confident performance, timed to perfection, a sold out Mandela Hall is treated to their likeable blend of folk, indie-pop and country which they lovingly craft into a solid slice of Americana. The set list is laden with favourites like 'My Silver Lining', 'Cedar Lane', 'Master Pretender' and 'Waitress Song' with a fun and boisterous cover of Jack White's 'Love Interruption' for good measure.
First Aid Kit are great storytellers for a band who have been touring from such a young age and who are arguably not really old enough to have obtained the wealth of life experience they sing so convincingly about. There is a gentle power in their songs which carry the weight of regret, longing, sorrow and the desire to escape. You can sense the ache of emotion in their shamelessly sentimental lyrics which mercifully never seem twee or overly saccharine. On more than one occasion, they show they can make a crowd descend into a reverent silence. There is absolutely no doubt that First Aid Kit sound better live than they do on record.
It may seem a somewhat obvious observation but the real wonder of this live show is the sheer, awe-inspiring beauty of their vocal harmonies. Klara, noted as the main creative driving force behind the band, leads the singing for a majority of their set with clarity, control and depth. However it is only when her voice merges in partnership with Johanna, who possesses a deeper and slightly raw voice, that something amazing happens. A gift of genetics perhaps but their voices swirl in perfect unison and draw you in close. You find yourself getting so deeply lost in these harmonies that you almost drift into a hypnotic state. A cursory glance amongst the crowd confirms you're not the only one getting dewy-eyed. They could genuinely be singing about anything and still manage to captivate an audience. With no disrespect to their talented touring band, accompaniment almost seems like a bonus we don't really need. Many of these songs could exist solely on the strength of their voices alone as a cappella tracks.
The Söderberg siblings are incredibly charming performers. When they engage with the Belfast crowd, they make silly jokes about French cheese and beam bright appreciative smiles towards their mesmerized fans. We catch them exchanging little delighted glances; they seem to be genuinely enjoying playing the show as much as we are watching it. In particular, it is hard not to keep your eyes off Johanna, the more energetic of the two, who plays as though no one is watching. The elder Söderberg goes as far to headbang enthusiastically throughout the duration of 'The Lion's Roar'; a song that doesn't exactly coax such a reaction. When they sing together, they allow the exposure of vulnerability and willingly summon and present hints of hidden pain which only serves to further endear them to the audience.
Midway through the set, the house lights unexpectedly go up and the duo step forward to announce that they intend to sing their next song a cappella. This prompts a polite request for us to 'keep quiet'. It takes a rather brave band to tell a Belfast crowd to shut up but by this point most of us are already smitten and we'd probably do anything they told us. What was to occur during this unplugged version of the heart-wrenching 'Ghost Town' was captivating. Hesitantly and very quietly at first, as though trying not to disturb the pair's gorgeous vocal melodies, voices in the crowd slowly began to participate one by one. The result of which was a sublime and delicate group sing-a-long that was only interrupted by the typical animalistic roar that would follow the band changing some lyrics to make a token reference to Belfast. It's a beautiful highlight that even managed to tug on the blackened heartstrings of this writer. It was the kind of moment that made you grateful we were standing in the perfectly intimate Mandela Hall.
First Aid Kit conclude with what is often considered to be their best loved song; 'Emmylou', having successfully charmed the hell out of Belfast. We sing and clap and pour out of the venue content that we have all just witnessed something quite special. Laura Carland