Album Reviews
Published on November 14th, 2014 | by Antoin Lindsay
0
VA – Slowly Exploding: 10 Years of Perc Trax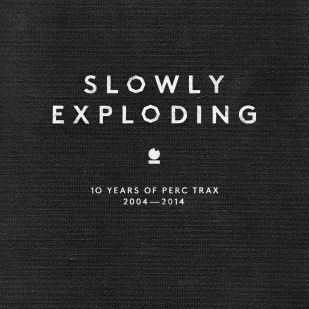 Techno is in a very different place from when Ali Wells, better known as Perc, started up his Perc Trax label with his own 'Ice Cream for Kenton' single. A solid 62 (thus far) 12"s later, a bunch of digital releases and a handful of albums later, here we are in 2014 where Perc Trax's brand of blistering machine funk is in vogue to an extent not seen since the 90s. To celebrate a decade of the label's existence we're given two CDs; a compilation of new Perc Trax material from both label regulars (Perc, Truss, Forward Strategy Group) and some established names who are first-timers on the label (Clouds, Happa, Kareem) and Perc's first ever mix CD which contains Perc Trax's finest cuts past, present and future. While other label compilations generally showcase both older and newer material on the label, it's testament to Perc Trax's foresight that the first CD is filled with new material.
The first CD offers up 11 fresh tracks which display the many faces of Perc Trax. The expected fare exploring the harder end of techno is present. Happa's 'To Die Hating Them' is funky, abrasive and is probably the best thing he's done to date and shows that the producer is really beginning to carve out a direction for his sound. The other label debutants Drvg Culture and Martyn Hare provide modernised takes on older sounds. The former's '(I Don't Want To Die In) James Franco's House' is a fairly innocuous acid techno track while the latter provides a DJ- friendly Hoover sound tool. Perc's own efforts are more urgent. Volley and his remix of Clouds' 'Dread Network' are massive and unhinged and the remix especially slots in nicely beside Perc's recent LP The Power & The Glory. The searing 'Hyperlink' stands out on the compilation as one of the best tracks Perc has ever produced, and it's almost worth picking it up for it alone. One of the most pleasing things to see on the compilation is the presence of Kareem whose Porto Ronco LP was an overlooked triumph. His track 'Just When You Thought It Was Over' closes the first CD with moody, bubbling percussive techno showing Perc Trax is just as comfortable hosting more cerebral sounds as it is visceral, pounding techno.
To single out one artist who shines through on the whole compilation it's hard to look past Truss. 'Brockweir', which appears in both CDs, embodies pretty much everything Perc Trax seems to be aiming for in creating techno that is abrasive but fun nonetheless. Truss appears on the mix CD nearly as much as Perc himself, so there is an obvious understanding and appreciation between the two producers (no less indicated by their collaboration 'Van Der Valk' on the second CD). The mix is impressive and does its job in contextualising and aligning parts of Perc Trax's back catalogue with its upcoming releases. You won't find any curveballs here but its relentless nosebleed techno will sit well with anyone who is so inclined.
Ten years is a long time, and Perc Trax is understandably in a completely different place from where it started. A look back to the label's earlier releases includes Good Livin's 'Feels So Good', a tame effort from 2004 which amounts to nothing more than a bland rip-off of anything from Border Community from the same era, and Stian Klo's 'Timanfaya' from 2006 which is a sickeningly over-polished tech house track with a chiptune line. Whilst Perc's mix CD contains previous releases on the label including Lucy's remix of Go Hiyama's 'Postmodern', there's little to no indication of this part of the label's past, perhaps for good reason. If you're looking for a precise snapshot of Perc Trax's entire back catalogue in the mix CD then you may feel a tad let down. Ultimately though, it would be foolish to let something so trivial impact on your enjoyment of what is a fine mix which outlines what the genuine vision of the label is. Antoin Lindsay
Summary: Check out: 'Truss - Brockweir', 'Perc - Hyperlink', 'Kareem - Just When You Thought It Was Over'

If you like this, you might like: Surgeon, Rrose, SHXCXCHCXSH