Live Reviews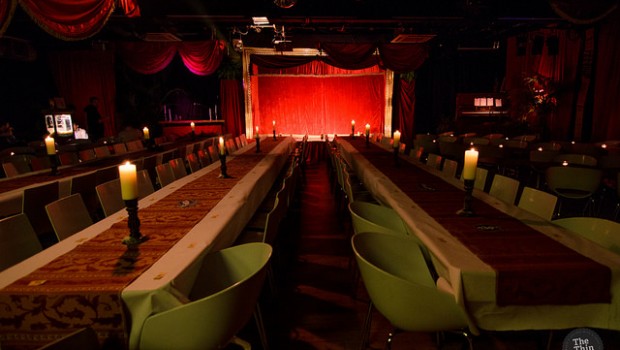 Published on December 15th, 2014 | by Sara Marsden
0
Pigeon & Plum @ Black Box, Belfast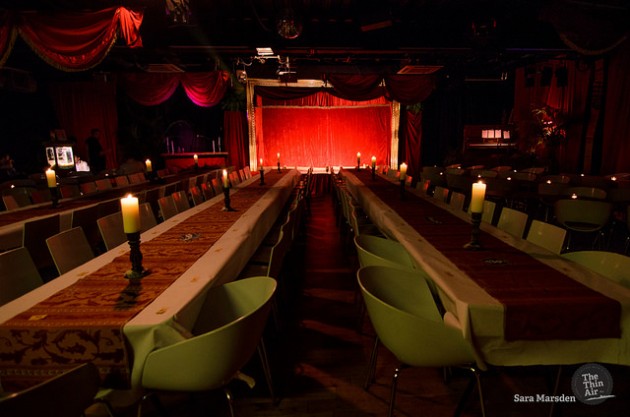 It's Christmas time! That can mean only one thing: PIGEO… Wait, no: family, the birth of baby Jesus and Santa. Okay, the festive season means many, many things but for those of us in the know – namely those of us based in Belfast – it's time for our favourite vaudeville show, Pigeon & Plum.
As I walk into the Black Box I'm instantly taken aback by the astounding transformation it has undergone. It looks like a completely different venue. Drenched in decadence with red velvet and gold fringing, from big details like the antique frame that towers over the stage, to the small gold shell lights at its edge – everything is perfection.  A hog cooks at the back of the music hall, and queues line up to feast on Christmas dinner.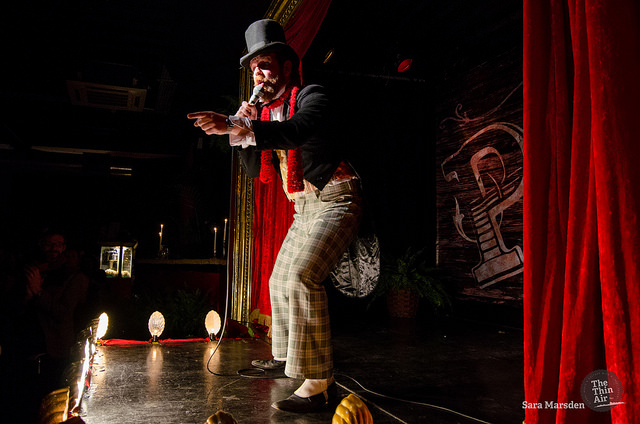 As the music diminishes to silence and the lights dimmer, there is a hum of excitement from the crowd. "Ooooh" Mr Paul Currie (above) bursts onto the stage, building the crowd into a tizzy with the Pigeon & Plum song before shouting "LET'S KICK THIS IN THE DICKENS!" to get the show started. We are introduced to Peregrine Ravenguard, our guide through the debauched depths of the Pigeon & Plum show. He promises us a night with a "sumptuous selection of talent". There is something incredibly amazing about how he speaks, it is a Victorian tongue twister of alliteration and elegant descriptions; his MC skills are an act in themselves.
A sumptuous selection of talent indeed, but instead of talking you through each individual act and ruining all the surprises, I will simply name a few of my favourites: Tina Machina (below), a hula hoop boss. She reminded me of a classic circus act, dressed in a red body suit with gold accents. She spun over ten hula hoops at one point but what completely wowed me was when she spun four hoops, one on each arm and each leg.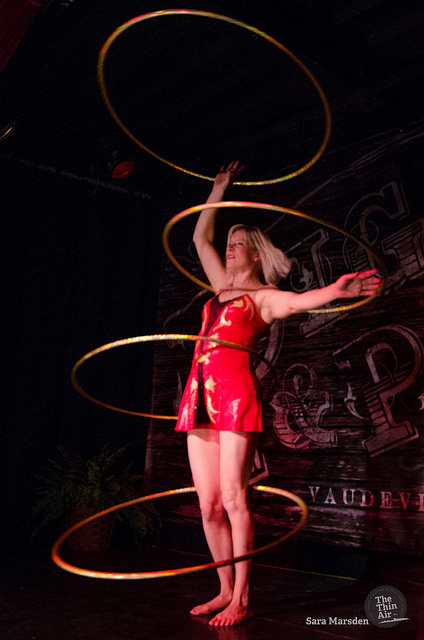 And continuing in the traditional circus style acts came Graham Milligan with his diabolo. Whipping it behind his back and over his shoulders, he had unbelievable control over it.  Even when I was in the carnival back in the day, I never saw anyone do a diabolo act like that. Each trick was met with sounds of astonishment from the audience.
Hilario Spillaci (below) is an act I have seen before but was so happy to see again. A drunken waiter, stomps around the stage, continually disappointed by the lack of wine in his bottle. He performs impressive and amazing feats of acrobatics for any man, never mind one in an inebriated state (wink, wink). What makes this act so impactful is that Hilario pulls off being drunk so well; the audience is gobsmacked when they see him balance so gracefully and on the other hand genuinely scared that he may fall on top of them. It was particular hilarious when he fell off the stage and landed at my feet.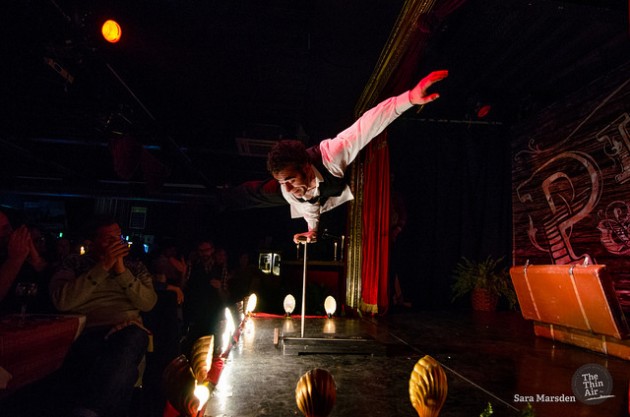 Elsewhere, there's a performance from Gus Leech and his puppet, with Gus tinkling the electronic ivories while his puppet sang the words to Take On Me by A-ha. Gus uses various means to torture his poor puppet's genitals so he reaches the high notes. An absolutely hilarious sketch.
And my final favourite was Grant Goldie (below) with his 'Coat & Lamp-Post' routine. Grant finds himself wondering the streets and happens upon a lamp-post, he hangs up his coat and the lamp-post takes on a somewhat controlling and slight scary persona as it clasps Grant's head to its chest and strokes his face, he ends the act with a glass ball routine to a remix of 'Singing In The Rain'. It is seamless and incredibly impressive.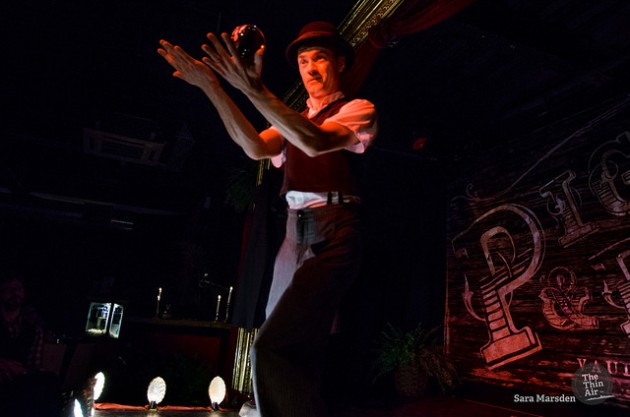 The show finishes with the traditional rendition of 'Bull & Bush' which the merry audience are happy to sing along to. Well done to the Pigeon & Plum team for an amazingly fun and spectacular night. What better way to bring on the Christmas cheer on a cold wet night in Belfast? Sara Marsden
Check out Sara's full photo set from Pigeon & Plum below.