Features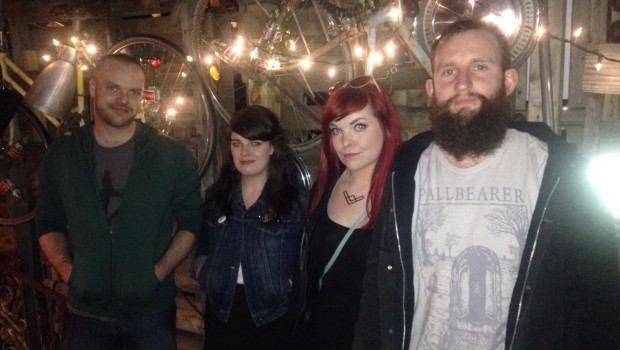 Published on March 24th, 2015 | by Loreana
0
Dott's USA Tour Diary: Part 1
In the first of a three part diary entry, our favourite Galway garage pop quartet Dott are currently on tour in America, after taking in SXSW and all of what Texas has to offer. Join them as they spin you a tale of four plucky musicians and their loyal friend/merch monkey as they traverse the American Plains and play some gigs on the way.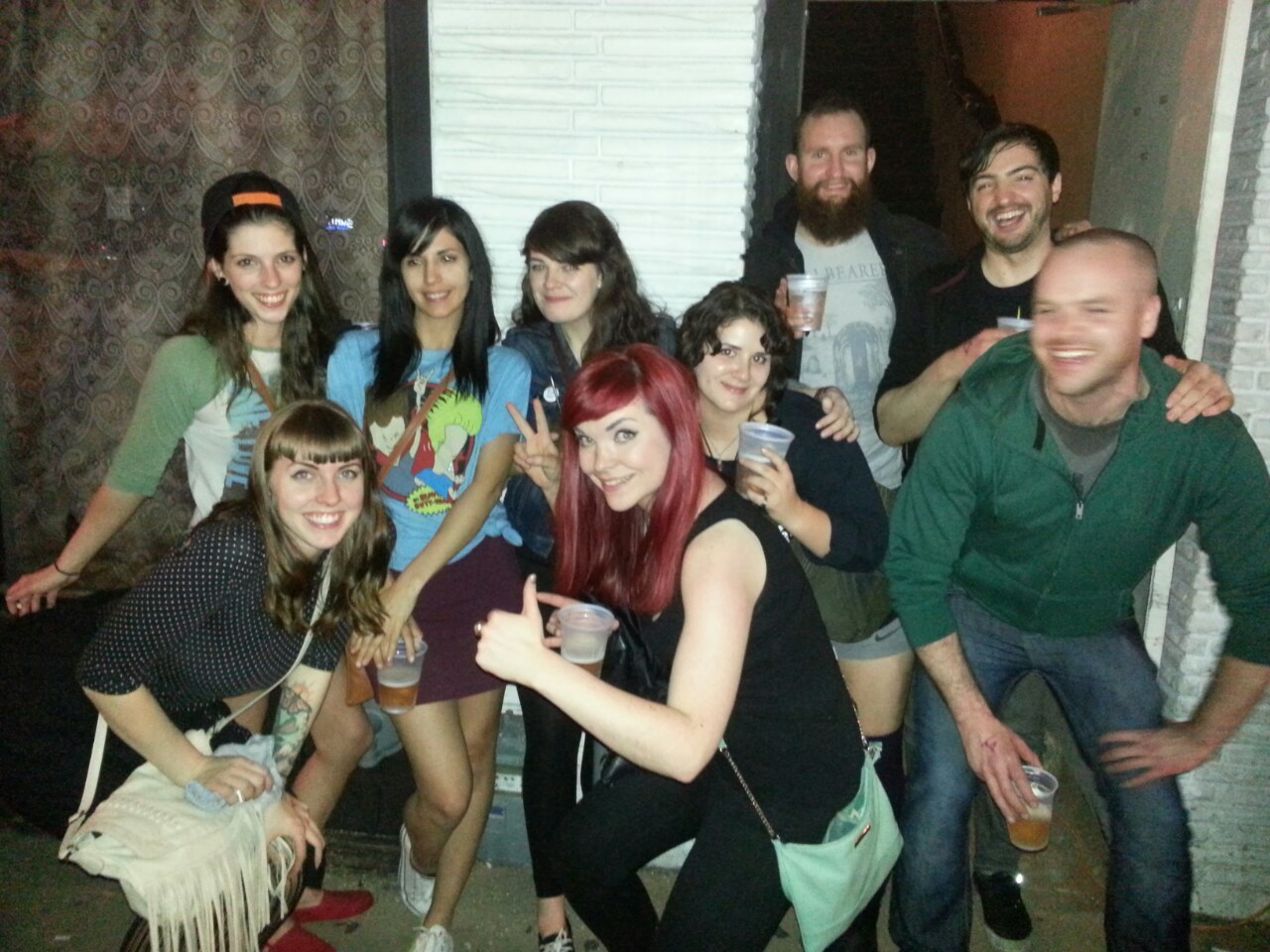 The Crown and Harp, Dallas TX. March 17
Our first show of the tour happened on St. Patrick's Day in, you guessed it, an Irish Bar. Actually no, it was an Irish AND English bar under the one roof called The Crown and Harp. This gig was a pre-SXSW/"Patty's Day" fest with a load of band's and DJs playing two stages. We finally got to meet the girls from Night School who we'll be touring with and releasing a split record together on Record Store Day. It was love at first sight. The girls from Night School are the nicest people ever and we all share the exact same goofy sense of humour. Hooray! The show was fun too. Night School headlined downstairs and we headlined upstairs. It was a cool show with super nice promoters and bands.
Dallas was really nice too and we made our way around our fair share of nice bars in true 'Irish on St. Patrick's Day' fashion.
SXSW, Austin, Texas. March 18-22.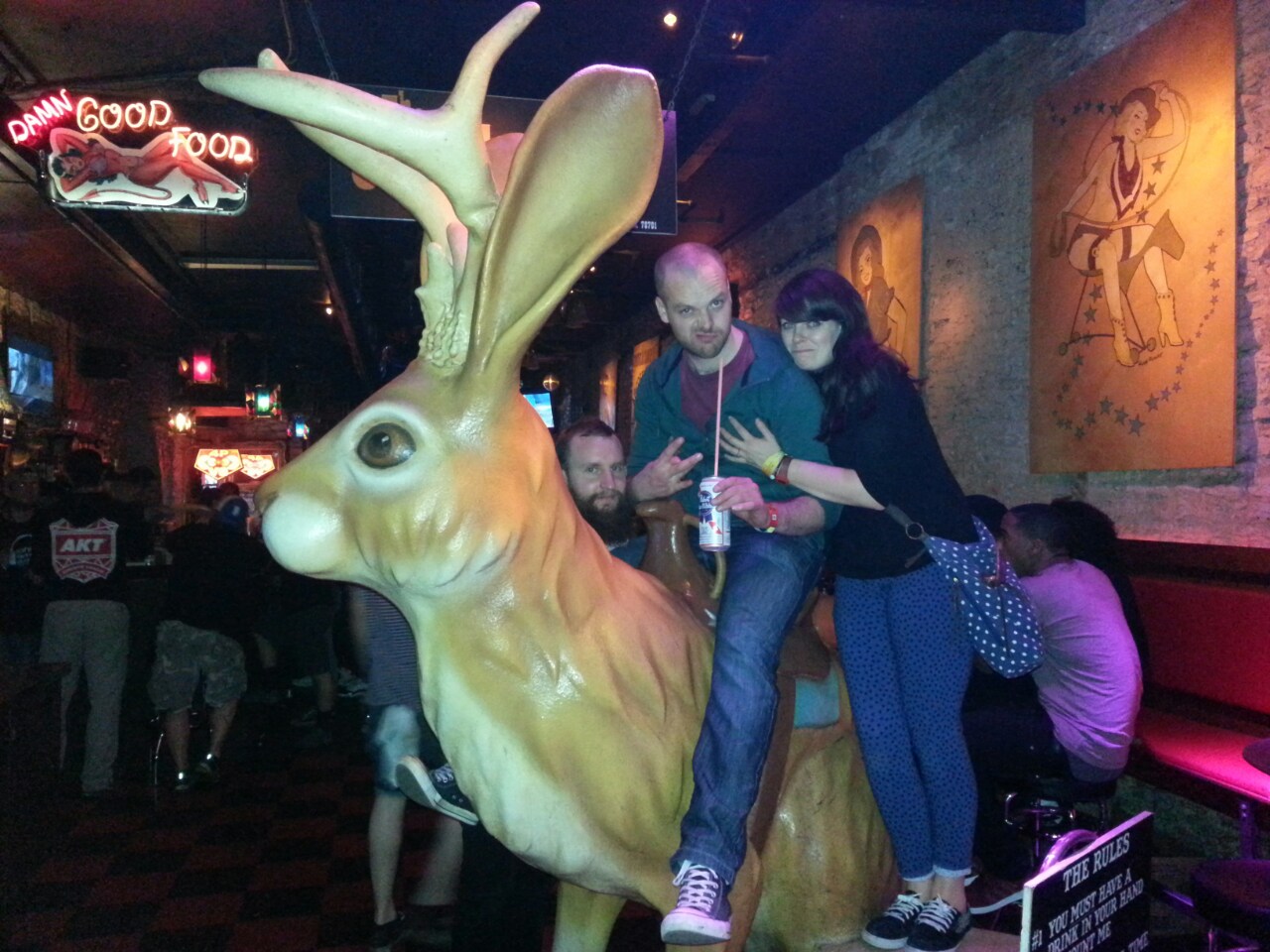 Wednesday 18th
Yay! Back in Austin. We got in on the 18th with two shows to play on the night so we piled our gear on our backs and started the long walk into the city. It was roasting hot and we must have looked pretty exhausted because next thing a truck pulled up and a very handsome head popped out the window and offered us a lift! I'm not sure if he was really a man or some kind of guardian angel for musicians. He had a bow and arrow in the back which he liked to shoot in the morning, but he never killed anything because obviously he's vegetarian. He said he wanted to Pay It Forward after some people had been very kind to him while he was biking around the West of Ireland. The entire band fell in love with this man who we now call Sexy Bow Man. Thank you, Sexy Bow Man.
Anyway… our first show tonight was for the Texas is Funny Records showcase at the 21st Co-Op which is a punky/dingy college housing set up with a medium sized gig room complete with nice graffiti and scummy couches. We played after a band called Ex-Breathers who were really good! We liked this show a lot. This place was a seriously far cry from my time living in Corrib Village in first year of college.
Next we ran off to one of our official SXSW showcases in the Red Eyed Fly. We weren't sure what to expect from this show but it turned out to be pretty cool and we met loads of nice people after including a tour manager from Athenry and cool girl from Panama who gave us the best food recommendations for Austin (thank youuuu). After the show we went to our favourite Austin watering hole the Jackalope. Here we met a very charming man who told us he couldn't grow hair on his face but he could grow his ball hair down to his knees. Lovely.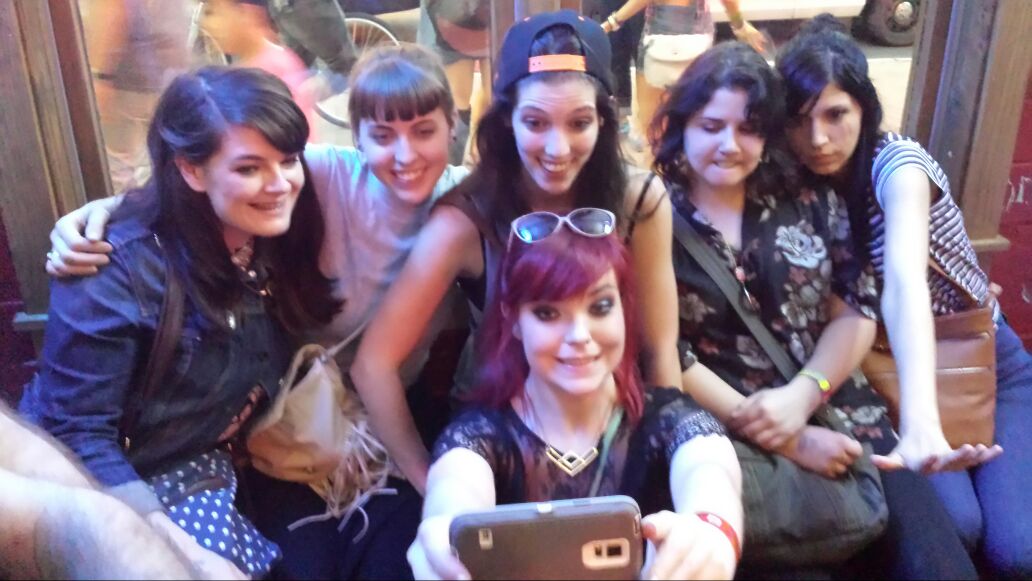 Thursday 19th

We had a day off today (besides interviews) so we spent the day gathering free stuff in the artist lounge and watching bands and having a ton of fun with the Night School girls. We got to see Deerhoof and Honey Blood at Cheer Up Charlies. Emily from Night School met Darrell from the Walking Dead and we had a big family dinner in Gus's Fried Chicken which was delicious. We also got to see Girl Band play an amazing set in the Mohawk. I'm so excited for them at the moment because they're on their way to being huge and they really deserve to be. Then we finished off this perfect day sitting on the grass at the Hype Hotel drinking free beer. Excellent times… oh, and there was also a Mazda car synced up to trigger ambient music when people tapped it anywhere. It was very hilarious to watch ten people at a time whacking a brand new car thinking they were making amazing music. It was kinda like that episode from Father Ted meets The Walking Dead. Best SXSW day ever.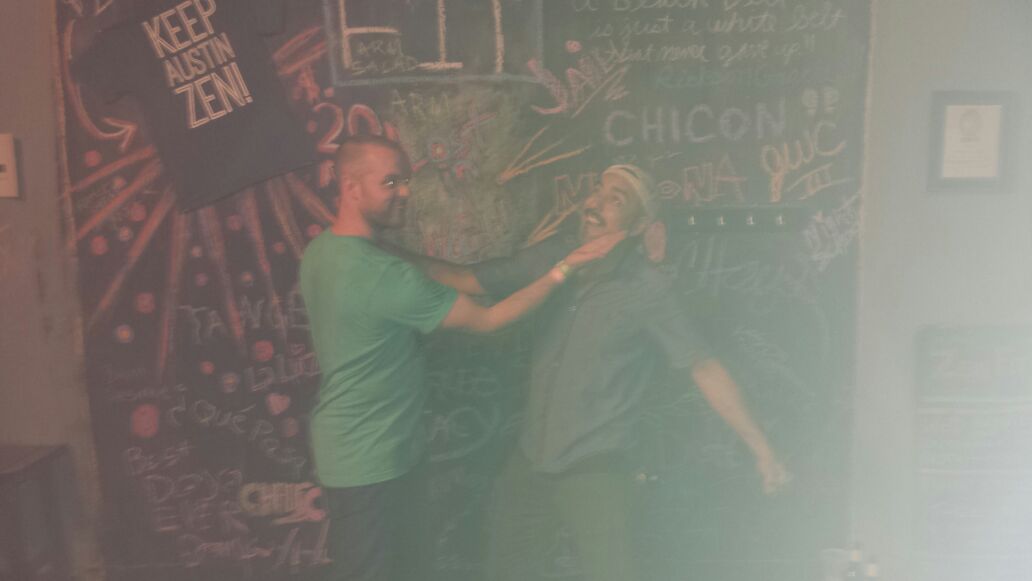 Friday 20th
SXSW is a place where it is fully acceptable to have cognac and burgers for breakfast. After this breakfast of champions we headed off to play the Music from Ireland Irish Breakfast show at BD Reillys. We loved playing this show last year and enjoyed it even more this year. The Irish line up at SXSW was amazing this year so it was a really great day. Thanks to Angela and Steve for making it all happen. Unfortunately we had to leave just before All Tvvins to play our next show. In the mean time the pissy rain had turned SXSW into a pissy place which made lugging gear to the next venue a nightmare. Skip forward two hours we'd rather forget about and we made it to our next gig; The She Shreds and Tom Tom Magazine showcase at Zen Fit. This was so much fun because there were loads of deadly bands such as La Luz, White Mystery and Hinds on the bill. We also got to discover a band called Tweens who rocked too. Zen Fit is a karate studio and we got to meet the Zen master himself who was a lot of fun. We loved this gig.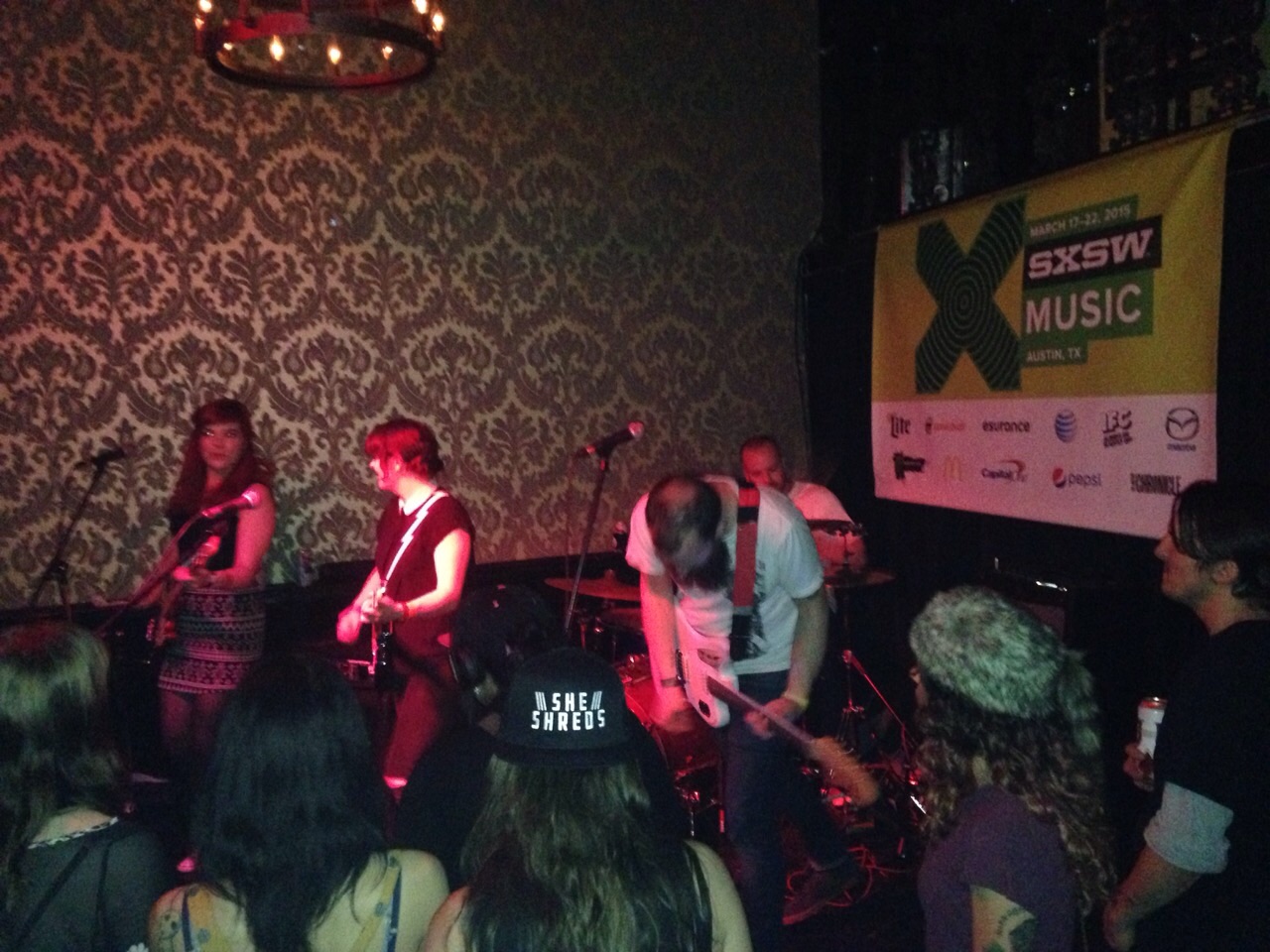 Saturday  21st
Another SXSW breakfast of Mac n Cheese and PBR as we watched Ceremony at the Mohawk in the rain. We got in the VIP entrance because they assumed we were playing there with our guitars on our backs. Haha. The place smelled like Bob Marley's sitting room.. Swervedriver played right after and they were great but I get scared of saying I like them in case someone thinks I'm naming a certain band that sounds very similar. Ha. Next we ran off to the Burgermania Fest at Hotel Vegas in time to see White Mystery who rocked! They are a brother sister duo with ginger afros and 70s riffs and threads. They finished the show with Miss Alex White playing the guitar AND the drums while her brother preached from outside of the venue. What a show!
Next we headed off to play the Graveface Records and Noisy Ghost Showcase at the Parish Underground. We were reunited with all of our Graveface family buddies and got our first copies of our split with Night School. This gig was awesome. We loved playing and got to watch Night School, Kid Dakota, Dreamend and all the deadly bands on the night. We also got to see Scott Weiland play in the venue upstairs from us. Laura and Donal helped a band who had just gotten out of jail carry their gear to their venue. 6th Street was the craziest I had ever seen it too. Actually it was even worse than Quay St on ladies day multiplied by a hundred if you can believe it.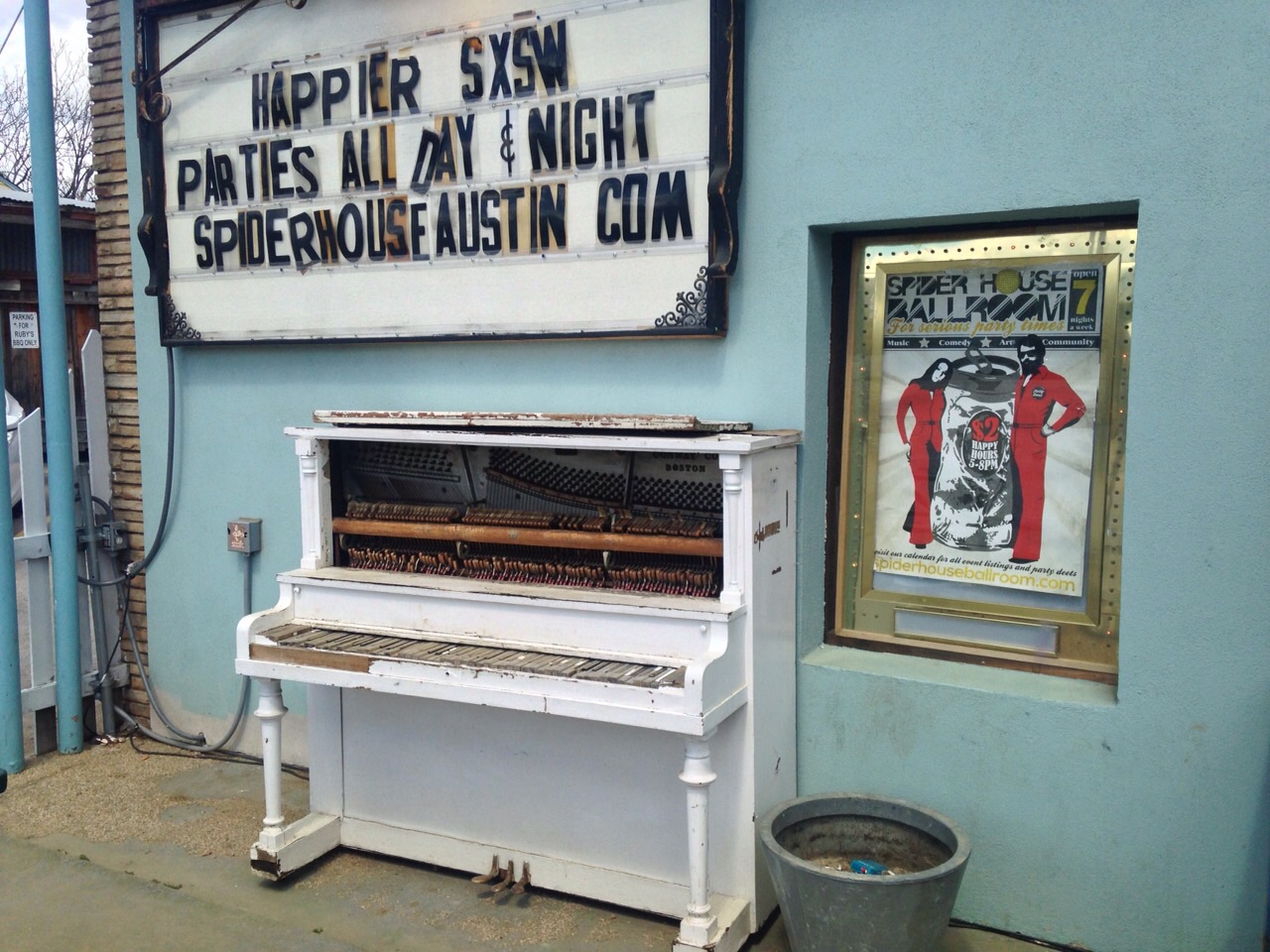 Sunday 22nd
Our last day at SXSW started with everyone in a very fragile state. We were exhausted and a little SXSW'd out. I just checked my pedometer and I walked just under 50kms in the four days I spent at SXSW. It didn't help that we had to pack up check out and make it to our last showcase before lunch time. But it was so worth it when we got there. The venue was the amazingly weird Spider House Ballroom for the Graveface and Noisy Ghost day show. There was a naked woman outside the bar being body painted to look like a cow, complete with silicone udders. Keep Austin weird right? We didn't get a huge crowd at this gig but it was such a pleasure to play. The room was beautiful with plush red velvet curtains and a disco ball, the sound was a dream and the crowd we played to were amazing. We hopped off the stage and hopped in the car to leave Austin behind and start the next leg of our tour with Night School from Oklahoma to Reno. I'm writing this on the road from Austin to Oklahoma where a six hour journey has taken eight hours already with all the SXSW and Spring Break folk on the roads. Fun. I'll write again in Reno.
Also, thanks to Culture Ireland for their support. Without them this tour couldn't have happened.