Film / Theatre Reviews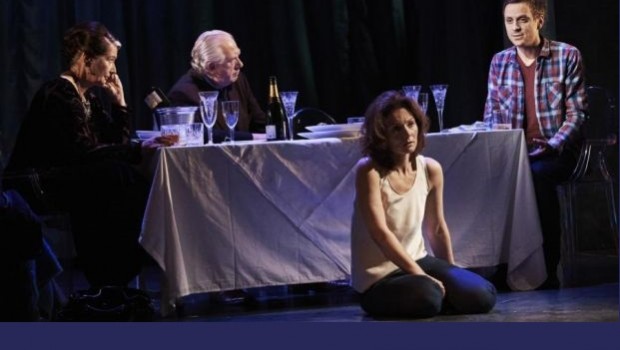 Published on May 20th, 2015 | by Des Traynor
0
Famished Castle @ Pavilion Theatre, Dublin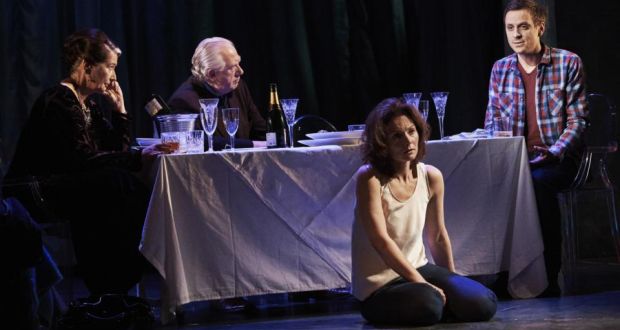 In the promotional interviews she gave for her new play, Irish Times columnist Hilary Fannin said that one of the things Famished Castle is about is 'Where does love go?' By this, I take it she means: what happened to all the love couples who have parted had? Or, what happened to all the love couples who stay in dead relationships had? Which is certainly a question to ponder. But Famished Castle, oscillating in time as it does between 2004 and 2014, is just as much about 'Where did the Celtic Tiger go?' It also posits that there might even be a connection between the personal and the societal in this regard, at least for the four characters we meet in the play, in the Ireland of this period.
Angie (Aislin McGuckin) is a Special Needs teacher with two young sons, and a husband who hasn't worked in three years. She has a chance encounter at airport arrivals with Nat (Raymond Scannell), her old love from ten years ago. He's back from Berlin, where he is some sort of construction project manager, to look after his father Tom (Vinnie McCabe), who is succumbing to dementia. The quartet is completed by Trixie (Eleanor Methven), Tom's wife and Nat's mother, who, as she is now deceased, appears in the flashback sequences, most notably an extended centrepiece restaurant dinner scene.
Oddly, Famished Castle feels at once well written and underwritten. This is perhaps because the two female characters are more fully rounded, and certainly more sympathetic, than the two male ones. Trixie has all the best, or at least the funniest, lines, while Tom is painted in the broadest of brushstrokes as a macho materialist and vulgarian (imagine a cross between the aggressive 'charm' of Charlie Haughey, and the gruffest, most boorishly arrogant consultant surgeon you've ever met). Meanwhile, Angie and Nat find some fleeting solace from the horror show of how their lives have turned out in a brief rekindling of their affair, although Angie seems to be coping rather better than her former lover, who is now 'going on dates with himself' while on an extended sabbatical from the world of work, unlikely though it seems that he would be supported in this indulgence by an unusually generous 23-year-old live-in economist in the German capital.
Several other aspects rankle: this story is too full of dead babies. While the bones discovered on the diocesan land sold to Tom by a bishop, and which Nat can't bring himself to continue working on for his developer father, strike a societal chord of collective guilt as well as explaining Nat's nervous collapse, the death of Tom and Trixie's first-born son in childhood while crossing the road to post a letter for Tom to his mistress, functions less well as an impetus for Trixie's personal disillusionment and alcoholism, instead coming across as tacked on and trite.
Similarly, the set design veers from appropriate po-mo Damien Hirst referencing extravagance to a disconcertingly distracting moment when furniture begins to move slowly off stage of its own volition.
So, where did the love, and indeed, the Celtic Tiger go? Maybe they went the way of all flesh. More so than love or newfound wealth, perhaps what this play is about is the idea of legacy: the nouveau-riche fathers and mothers of the '90s and '00s left very little that their sons and daughters would find sustaining. Man passes misery on to man, as the poet said, but in contradistinction to what the same poet said, they didn't even leave them money.
The title is a translation of the Irish phrase 'caisleán gortach', from the proverb 'Is fear bothán biathar ná caisleán gortach', or 'a cabin full of food is better than a famished castle'. Let that be a lesson. Des Traynor