Film / Theatre Reviews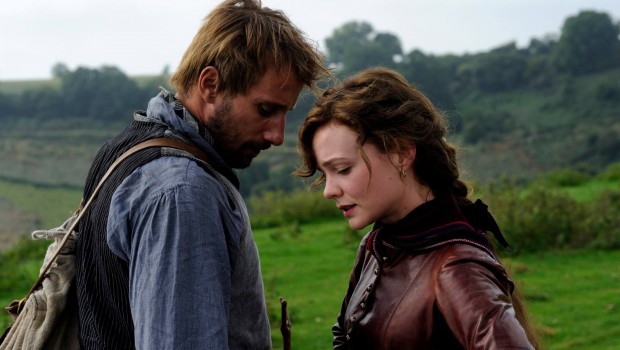 Published on May 5th, 2015 | by Des Traynor
0
Far From The Madding Crowd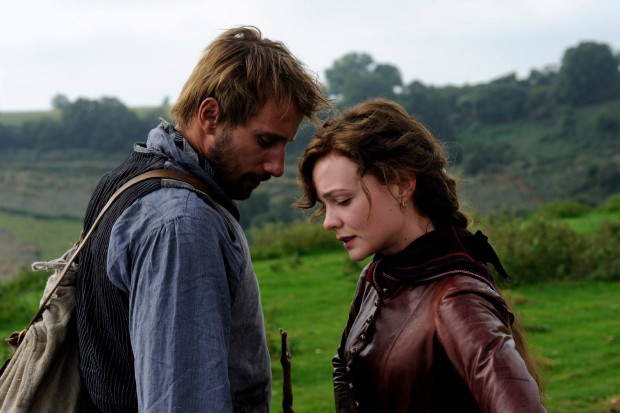 At first consideration, it seems nigh-on impossible to view Thomas Vinterberg's new adaptation of Thomas Hardy's first popular success as a novelist, Far From The Madding Crowd, the only one of his works with a conventional happy ending, without reference to John Schlesinger's era-defining 1967 film of the same source material. However lazy a critical commonplace such a comparison may be, it does yield useful insights.
This contemporary version feels truncated when cast against the earlier, more expansive and slowly evolving movie. Then, Vinterberg chooses to concentrate on the social realist context of Hardy's novel, rather than the fierce interior psychology of the main characters. This is Bathsheba Everdene as proto-feminist, an independent female landowner when, while it may have been profitable, it was not popular, as against Bathsheba Everdene the flighty, willful, unpredictable and ultimately inscrutable presence of the previous incarnation.  Carey Mulligan, in the lead role, frankly lacks the on-screen sultriness of Julie Christie, and plays the part as a slightly capricious but essentially sensible schoolmarm, verging on the prim. In fairness, it could be argued with some justification that this is closer to Hardy's original conception. Christie may have smoldered sexily, but she was a bad Bathsheba. Sergeant Frank Troy (Tom Sturridge), despite his phallic swordplay (a scene here transposed from a hilltop to 'the hollow in the ferns', in keeping with Hardy's original location), and the fact that he is an actor simply too good-looking for his own good, is not as sinisterly menacing in his narcissistic egotism followed by self-pity as of yore. Solid shepherd Gabriel Oak (a brooding Matthias Schoenaerts) is more foregrounded as the moral centre of the narrative. But even here, although hardly loquacious, he lacks the inarticulateness that was the badge of sincerity which Alan Bates portrayed so well. Only Michael Sheen as gentleman farmer and Bathsheba's neighbour William Boldwood retains some of the obsessive desperation of the infatuated fetishist that Peter Finch memorably brought to the role.
With suitors like these, and a disastrous first marriage ('smart woman makes bad decisions'), what's a girl to do? Of course it's obvious to readers and viewers from the get-go that Gabriel is Mr. Right, but the spinning wheel of fortune contrives changes in their respective social standings which keep Bathsheba and Gabriel at a distance. She spends the entirety of the story coming around to our point of view, which is really that of the original writer, and this director. For this is where Hardy's critique of bourgeois niceties and rigid Victorian social structures chime with Vinterberg's vision of our own time.  Although a formidable filmmaker (despite some recent box office crashes), a founder of the Danish Dogma movement along with Lars Von Trier, responsible for at least one great movie, 1998's Festen (The Celebration), Vinterberg may have seemed like an odd choice to helm an epic historical costume drama, until one begins to understand what may have attracted him to the project. There is now a touch of modern Scan noir about the dark interiors of 19th century Wessex houses.
In many ways, both the 1967 and 2015 adaptations are very much products of their own times: Schlesinger's imbued with the wildness and possibility of the so-called Swinging Sixties, Vinterberg's perhaps more sanitised but tighter, redolent of a good made-for-TV drama. This inevitably leads to anachronistic elements in both. When Bathsheba tells Gabriel that she is looking for someone 'objective', it seems more like how an educated man and woman might converse with each other now rather than not-so educated ones might have talked in the 1870s.
But here's a thought experiment: imagine the Schlesinger had never been made, and we are seeing the Vinterberg free of big screen baggage (and, let's face it, quite a lot of the contemporary audience may not be familiar with the '60s version anyway, although it's difficult to credit that Vinterberg has never seen it). Vinterberg has created a perfectly palatable entertainment, on his own terms. By stressing the realist aspects of Hardy rather than the otherworldly, he has by a circuitous route curiously returned the novel to its own time, and ours. But still, for people of a certain age, like your current reviewer, you never forget your first time. Des Traynor