Film / Theatre Reviews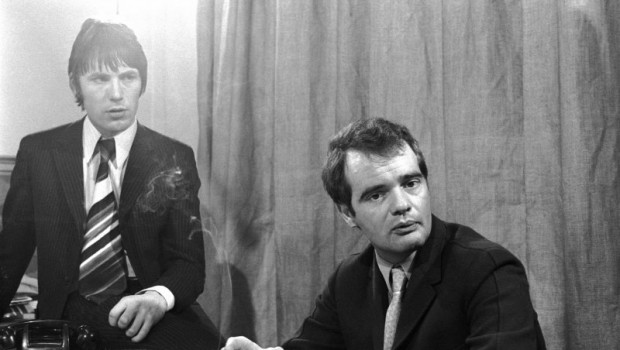 Published on May 10th, 2015 | by Des Traynor
0
Lambert and Stamp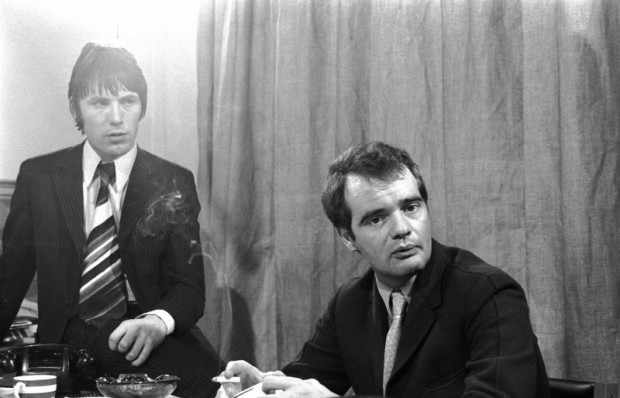 Kit Lambert and Chris Stamp were an unlikely lad and a likely lad who together became an unlikely team of likely lads. The former was the progeny of classical composer Constant Lambert (interestingly, this documentary erroneously implies that ballerina Margot Fonteyn, with whom his father had had an on/off affair, was his mother; it was in fact Constant's first wife, songwriter Florence Kaye), a public schoolboy, Oxford-educated, military service as officer class, posh film school in Paris, who'd even led an expedition to Brazil in search of the source of the Amazon, hoping to make a documentary about the trip. The latter was a tug boat captain's son, East End bred, left school at fifteen ("nobody told us, where we were from, that going to college was a thing you could do"), who happened to have the good fortune to be fledgling successful actor Terence Stamp's little brother. As Pete Townshend's mate Richard Barnes puts it, "If you'd made this up as a sitcom idea… it wouldn't work. It's too far-fetched." Yet, in many ways, this partnership was emblematic of the breaking down – if only temporarily – of the notorious rigidity of the British class system, a significant feature of the creative maelstrom of the 1960's which together they personally contributed so much to ignite.
The two met while working as assistant directors at Shepperton Studios, and bonded over their mutual love of French New Wave cinema. Both harbored ambitions to direct, and decided the best way to go about it was to find a rock'n'roll band to manage, and make a film about the experience. Enter The Who, as an ideal vehicle.
Of course, it wasn't as simple as that, and they weren't mere manipulative Svengalis, even if there was a good deal of subtle manipulation involved. First off, The Who (or The High Numbers as they then were) were different from any other band they'd come across in their extensive trawl. Lambert has said of the first time he saw them at The Railway Hotel: "I shall always remember that night we first saw them together. I had never seen anything like it. The Who have a hypnotic effect on an audience. I realized that the first time I saw them. It was like a black mass. Even then Pete Townshend was doing all that electronic feedback stuff. Keith Moon was going wild on the drums. The effect on the audience was tremendous. It was as if they were in a trance." Also, the relationship between Lambert and Stamp and the band members seems to have been based on mutual respect, rather than condescendingly exploitative. Roger Daltrey, then a factory worker by day, says at one point: "He (Lambert) wasn't the first posh guy I'd ever met, but he was the first one who didn't talk down to me."
Paradoxically, given that Lambert died young in 1981, while Stamp only passed three years ago in 2012, and so has a far greater contribution to this enterprise as a talking head, while Lambert's direct input depends on limited archival material, and so he is more talked about than talking, Lambert comes across as the greater presence. He was certainly the ideas man (described at one point as 'a frustrated composer'), while one imagines Stamp was the more practical of the pair. Not that Lambert couldn't get things done himself. The footage of Lambert conversing in fairly flawless German and French with various media types during The Who's first European tour is particularly telling.
Lambert was quick to spot the talent, and potential star quality, of the group, especially Townshend and Keith Moon (at a stage when Daltrey was regarded as the only conventionally good-looking one of the four). He brought Moon to expensive restaurants and introduced him to fine wines, which was where Moon picked up his 'Dear Boy' affectation. Inquiring if the band had written any songs of their own, Townshend volunteered that he'd written one (presumably 'I Can't Explain'), to which Lambert replied, "If you've written one, you can write more." Lambert moved Townshend from the art student squalor of the flat he shared with Barnes in Ealing, to the attic of his own living and working quarters in Belgravia, so he could concentrate on his creative efforts. It was here that Townshend was exposed to Lambert's classical music collection, with on emphasis on Purcell and Elgar, and planted the seeds for the idea of longer form works, when inspiration for singles started to wane. As soon as they signed the group, Lambert and Stamp paid each member an unheard of £50 a week wage, funded from their own film work, which pleased the boys' parents. Interestingly, and given the prurient speculation one encounters about Brian Epstein and John Lennon's association, although a practicing homosexual, Lambert never tried to seduce any of his protégés. At one point, Townshend seems at least baffled if not insulted by this non-event. There are a couple of pointed references, however, to the pressures and frustrations of being a high profile gay person when it was still illegal.
The documentary is replete with quotable anecdotes. Of the flat and offices in Belgravia, Townshend recalls that Lambert's reasoning was that if they had an address in Eaton Place, they wouldn't ever have to pay their bills. "To this day, I can still go into Stone's Wine Merchants – I don't drink wine anymore, but if I'm having a party – and order a crate of wine, and it's 'Will I put that on account Sir?' I've never paid for wine there in my life." One wonders if they are waiting for him to pop his clogs before sending the bill.
Townshend, almost always a rivetingly intelligent interviewee, is fascinating on Lambert's marketing of the group, of how Kit taught him that the audience was his patron. "Everyone thinks the audience gets their look from what the band is wearing on stage, but it's not like that. We'd notice what the coolest guys in the audience were wearing, and we'd have it next week, and so the audience were seeing themselves reflected back up there." This is probably where Townshend's career-long, vexed preoccupation with the relationship between artist and audience, specifically The Who and their fans, stems from. It's actually an anti-Brechtian distanciation idea: the goal of performance here is to leave no barrier between performer and audience, but for them to achieve equality and union.
Tommy is seen here as the great watershed in the evolution of the group. Prior to that, and although the first founder member, Daltrey is depicted as something of a lost and insecure frontman, unsure of his role. Having found a part to play, as an interpreter he came into his own. Revealingly, it is his eulogy to their mentors, delivered from the stage during a solo tour, which is the most fulsome and passionate on display.
Tommy reinvented The Who as a live unit, and of course led to Ken Russell's filmisation. Ironically, it also led indirectly to the band's severing of ties with Lambert and Stamp. They never got to make their rock'n'roll movie, Townshend fearing that The Who would lose them to film. Lambert was then accused of shopping his own screenplay of Tommy around before Townshend agreed to do a film version, and Stamp of misappropriation of royalties. As it happened, Townshend wanted Lambert back on board when it came to joining the disparate dots of his next 'rock opera', Quadrophenia, but by then he was no longer compos mentis. Years of alcoholism supplemented by heroin addiction had taken their toll. When Lambert died, he was a ward of court, following legal advice that this avenue was his only recourse to avoid imprisonment for drugs offences, and so he had lost his house in Knightsbridge and palazzo in Venice. The final scenes, of Stamp visiting Lambert's grave in Brompton Cemetery, and attending an awards ceremony in The White House with his former charges, are extremely poignant.
What the odd couple bought from film to music, from their design of The Who's early image to the production of their early records, was the idea of music, like film, as a collaborative art, requiring organizational nous. Everyone has to do their job, although ultimately the buck stops with the director. Who directed The Who was the issue on which the band's relationship with their first management team floundered.
This is a cut above your average rock doc, if only for the quality of its archival footage and how it is edited. Even this film has 'a look'. But in addition to that, all the interviewees have something interesting and revealing to say, instead of just trotting out fee-speak. So, for any Who fan, it's compulsive viewing. For those with even a passing interest in the period and the culture, it's also pretty essential. Those were, as they say – and not always merely nostalgically – the days. Des Traynor