Reviews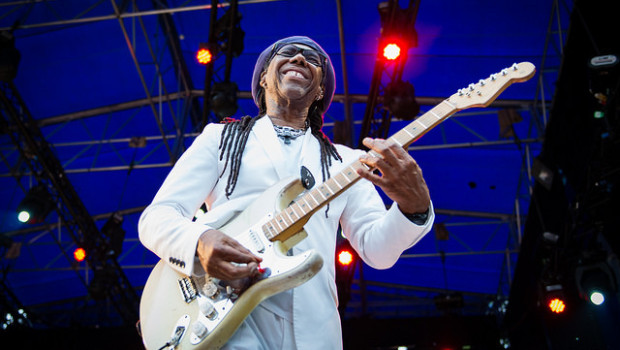 Published on July 13th, 2015 | by Des Traynor
0
Nile Rodgers feat. Chic @ Iveagh Gardens, Dublin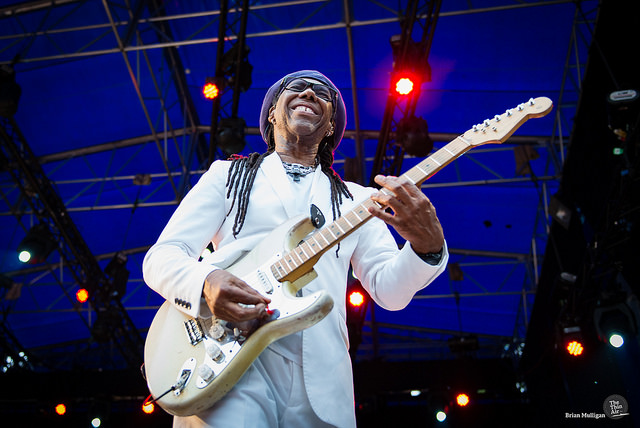 It's party time in The Iveagh Gardens, and the mirror ball is spinning, high, front and centre stage. And why not? Chic, led by the only surviving original member Nile Rodgers, the darling of New York's Studio 54 in the late '70s and early '80s, are playing. Given that the Irish attitude to outdoor summer gigs and festivals represents the ultimate triumph of optimism over experience, it is perhaps not surprising to see a fair few sequined jackets and strappy heels on display. Still, some punters have taken the precaution of stashing their rain jackets in the handbags they'd like to dance around – umbrellas having been sensibly confiscated at the entrance. Despite a threatening sky, the hoping for the best is justified, a couple of brief episodes of drizzle the most we have to contend with.
Although there is a smattering of young folks around, it's a mostly 'mature' audience, out to revisit the soundtrack of their youth. Herein lies an instance of the revisionist attitude to disco in recent years and, indeed, of the levelling approach to all genres of popular music. That middle-aged housewife now struggling with her weight, and that balding, bespectacled accountant giving it the elbows and knees, were probably the kind of people you would have hated back when you were a young punk defiantly sporting your 'Disco Sucks' t-shirt. But, as we now know, there is good and bad in every genre (expect Country'n'Irish), and therefore good and bad disco. Furthermore, when it comes to originality in a form which can often seem quite samey, as Rodgers has said in interview: "This is our form of disco, which never sounded like Giorgio Moroder, never sounded like the Village People, never sounded like anyone else. Chic's disco was uniquely ours."
And Chic's disco – whatever Rodgers may say from the stage tonight (perhaps in tribute to fallen partner Bernard Edwards) about Chic's music being 'all about the bass' – was always built around the major 9th funkiness, out of James Brown via Sly Stone, of Rodger's guitar. Nor, retrospectively, can their immediate influence be denied.  Much as the Stones' 1978 cracker Some Girls was their response to punk, it was also interesting how in 'Miss You', and subsequently 'Emotional Rescue', they went out of their way to incorporate disco influences into their patented blues/r'n'b/soul sound. Indeed, one of Rodger's many production credits was Mick Jagger's She's The Boss. Even The Clash got in on the act: 'Lost In The Supermarket', anyone?
Given the 'Black Roxy Music''s many visits to these shores in recent years, you could be forgiven for thinking the thrill might be wearing off, but you'd be well wrong. This is a sell out show, and Rodgers is such an affable, relaxed host you can see why people keep coming back. Then there's the back catalogue to draw on, from both Chic's output and Rodger's many production assignments, and everything you'd recognise gets played, from 'Le Freak' to 'Good Times'. Particular highlights are the Daft Punk collaboration 'Get Lucky', and 'Let's Dance', sung by newest member, drummer James "Biscuit" Rouse. But, as Rodgers is at pains to inform us, this is not just a Greatest Hits show, as Chic have just released their first album in 23 years, It's About Time, preceded by single 'I'll Be There' earlier this year.
It's nigh on impossible to dislike a Chic concert, and so to negatively criticise it. It is, as they say, what it is. Life is hard. People just want to dance, even on a Thursday night, even in a park rather than a club. The night ended in Iggy Pop/Flaming Lips style, with the stage full of specially selected, faithful audience members participating in shaking their collective booties. Everyone went home happy. Des Traynor
Photos by Brian Mulligan