Articles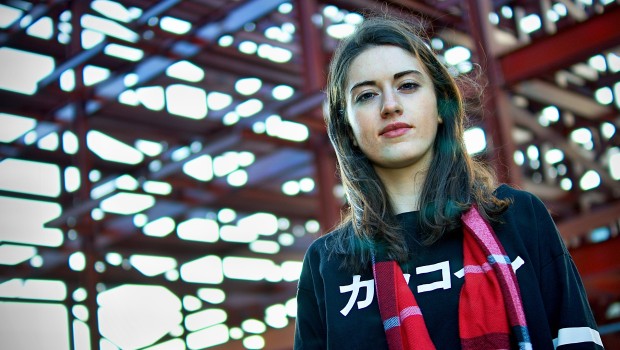 Published on May 23rd, 2016 | by Aidan Hanratty
0
Up To Scratch: Introducing Or:la

In our first monthly feature in association with Be Kreativ, Aidan Hanratty introduces AVA Festival-bound Derry producer Orla Dooley AKA Or:la.
For someone who specialises in upfront parties that play host to on-trend guests, Or:la is remarkably candid about her introduction to electronic music. "Dance-music wise, I remember listening to stuff like Gatecrasher Anthems, which was probably one of the first electronic CDs I bought."
Perhaps that might not be too cool to admit, but through the years such compilations have featured a wide variety of house and trance classics and club-land bangers – in short, a fitting starting point for any budding enthusiast.
After learning to play guitar and piano, she turned her attention to Ableton, and a quick-fix Beyoncé edit was the first thing she shared with the world. It's since had 50,000-plus plays on SoundCloud. "If I had known that it would've gained over 50k plays I definitely would have self-released it."
This year should see more than just cheeky SoundCloud edits, however: "Although it may seem like I've done nothing on the production front, there will be a lot coming out in 2016. Perhaps it's the perfectionist in me coming out, but I want to make sure everything is up to scratch rather than just sending stuff off to any label."
She's on the cusp of establishing her own record label alongside Jessica Beaumont, with whom she's already collaborated for some years throwing offbeat parties in Liverpool. "We have been working quietly behind the scenes and the first release will come out when it's ready. Both Jessica and I are known as perfectionists, but you have to get something like this right."
As well as her regular stint at 24 Kitchen Street, where she plays "bass, choppy percussion and break beats", Or:la also messes with clubbers' expectations by hosting gigs in unusual settings for Meine Nacht, the party she set up with Beaumont. One took place in a former Victorian police station, for example, with each event aiming to capitalise on a forgotten or disused space.
"We curate and organise everything ourselves including the visual art and it's just our way of expressing what we love musically and it's got a real 'community' feel."
It's the openness of the city that allows her to take such risks. "I never intended to stay here for two years after my degree but here I am. I feel that this is mainly down to the music scene; through being in the events business for nearly five years now, there's just something that keeps me enthused, to build upon what I have established over the past few years.
"Being able to play in the city every week is absolutely vital to me, as I get to test out different sounds, and the crowds are generally really open to everything. There's something for everyone here, while at the same, the scene is not saturated like it is in some other cities."
It's not just her adopted city that's got her excited, however. "I'm still pretty young so I can't compare to how it was 'back in the day' or anything – but it's great to see more and more people enjoying electronic music nights over generic student nights that play chart music. Between Derry and Belfast, I think we have a really good thing going on here at the minute."
Meine Nacht crossed the water and came to Derry recently, playing host to Irish DJ and producer Hubie Davison, fresh from the ongoing success of his Sanctified EP on Midland's ReGraded label. And on the Belfast front, Or:la is delighted to be on the bill for the upcoming AVA Festival. "I was delighted to get asked to play after hearing a lot of great feedback about the previous year."
The festival's inaugural shift famously saw Space Dimension Controller, Bicep and John Daly go wild on Belfast's first Boiler Room, and this year's looks set to improve on an already solid foundation, with hot prospects like Shanti Celeste and Terriers sharing the bill with legends like Optimo, Mano Le Tough and Sunil Sharpe.
"I also love how the creators have an eye for emerging talent, I feel that it is just as important to focus on talent at grass roots level, as well as the big names," she says.
Having recently hosted Hessle/Idle Hands wonder-boy Bruce, Meine Nacht will throw a closing party headlined by an as yet unnamed international artist, who Or:la tells us will be making his UK debut at this special rooftop shindig.
The summer season should see her drop her debut release on an undisclosed UK label – again, everything's hush hush with her. With quiet determination and a genuine love to throw great parties, Or:la proves that the raw spirit of club-land is alive and well. Aidan Hanratty
Photo for The Thin Air by Christopher Flack
Be Kreativ is a support platform from Beck's to give up-and-coming creatives an opportunity to showcase their talents in Ireland. Here, and on BeKreativ.ie. We'll hero YOU, the creatives. So whether you're a musician, painter, writer, sculptor, fashion designer, coder or beyond… All you have to do is #BeKreativ.