Galleries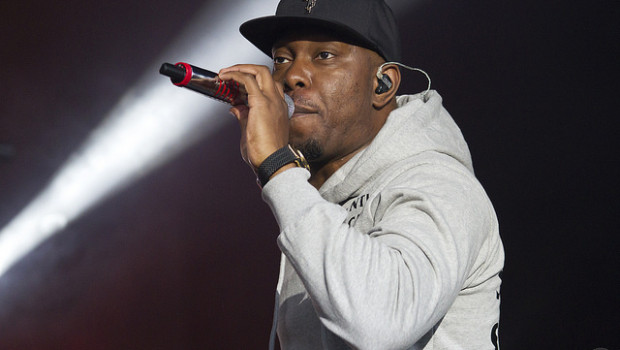 Published on June 9th, 2016 | by Loreana
0
Forbidden Fruit: Day One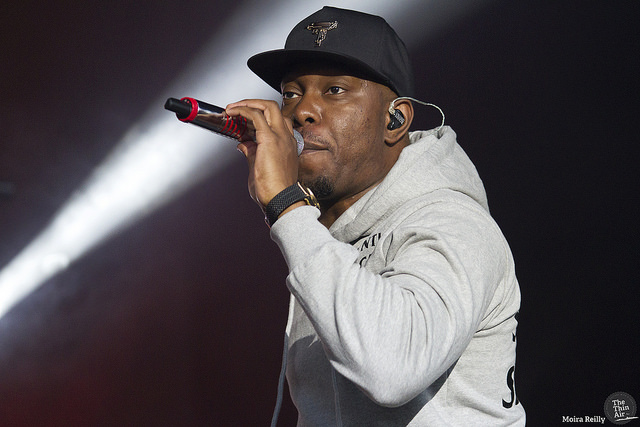 It's a cracker of an afternoon as I make my way through Kilmainham – a day ripped straight from the pages of old Junior Cert Irish essays, all erratic excitement and rock-splitting sun. I'm heading to Forbidden Fruit for the evening, and should mention that I've foolishly disregarded the tips on the festival's website to dress appropriately for the weather. I'm wearing jeans and carrying a jacket, so I mostly feel like a rotisserie chicken for the majority of the afternoon & evening. Forbidden Fruit, with its faintly edenic name and location on the grounds of the Irish Museum of Modern Art, falls into that category of non-camping, 'boutique' music festival – the kind that seems to have come into its own in the last five years or so. Festivals like this generally try to narrow the aperture of their appeal (re: genre/sound), so as to more effectively assemble a coherent lineup of artists. The logic is that it gives the impression of something that's been diligently 'curated', rather than haphazardly assembled with the intention of appealing to as wide a consumer base as possible. Forbidden Fruit have wisely included the (almost) universal appeal of funfair rides, because there's nothing quite like humanity's mastery of the centripetal force to liven things up in between the electro and rap and electro-rap. I'm only here for the Friday, so mine is a temporary slice of this apple of sensible hedonism. Festivals like these sometimes live or die on the vagaries of weather, so the vivid sunshine is really helping to make things that bit more utopian, while nicely illustrating Irish people's almost existential relationship with the weather.
As I walk in and along the metal gratings meant to shepherd us in the right direction, I pass a young woman in Minnie Mouse sunglasses, crying, with what I assume is her boyfriend. Judging by the platitudes I overhear, they're breaking up. Further along the path there's another woman standing, looking impatient, who I again assume is her dutiful friend. After a quick tête-à-tête through the window of the media-tent-thing, I end up in the wrong queue to get frisked, as a cover of Vampire Weekend's 'Walcott' comes floating through the trees.  Entering the festival proper I'm taken aback by the resonance of everything when you arrive at one of these things sober. There's some enviously weird headgear on display. I make my way towards the ominously titled Undergrowth Stage, nestled inside a big top circus tent, to catch a bit of Al Gibbs. A woman outside the tent is sucking what I hope is beer out of the stain on some dude's LA Lakers jersey.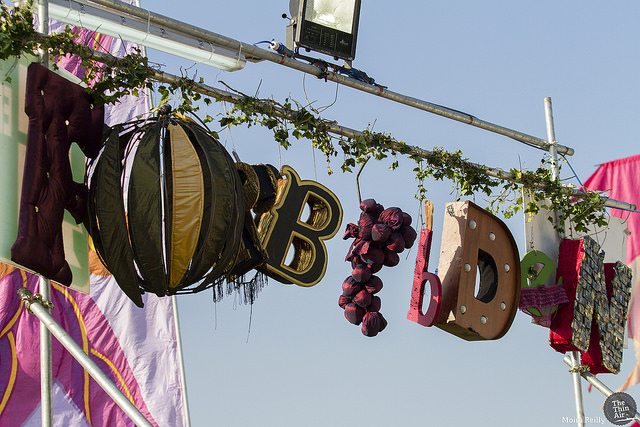 Al Gibbs is a longserving DJ over at FM104, and this evening he's spinning some boilerplate house. He clearly knows his stuff, both musically and in the sense that he's fond of the contemporary, almost regulation gesture that DJs tend to deploy between drops – hands raised w/head nodding or some variation thereof. It's incredibly warm outside so people saunter into the tent in search of the cooling effects of physical shade & throbbing house music. Two shirtless guys, who both wear bucket hats and don't appear to know one another, exchange a highly stylised fist bump. In what resembles a strange revolving door system, the majority of people seem to dance into the tent and then dance out the other end in one fluid, seamless motion. The set drags a little, so I leave to see Young Fathers (below). A woman on the phone outside the tent is wearing an Amnesty International sticker that reads "Stop Torture". Make of that what you will.
Some poor guy seems to be having something of a moment outside the Bulmers Lounge (the comedy tent), staring forlornly at his phone as 'Love The Way You Lie' pours from the speaker system. The main stage, or Original Stage, faces onto a grassy hill whose incline is just sharp enough to present slight mobility problems for several festivalgoers, myself included. Many are lying supine on the grass, making the most of the sun. Young Fathers are soundchecking, which produces some compellingly strange sounds – like a lit firework in a tiled bathroom. A cordially vague marketing hashtag – '#ThisIsOurTime' (origin & purpose unclear) – is plastered on the screen behind the stage & and pretty much everywhere else besides; the temporal assertions of which I imagine aren't really designed to be scrutinised when you're sitting in a field. The drums are put through a spacious tuning at precisely 6pm, a sort of secular Angelus. There's just enough of a breeze so that, for the girl sitting several metres away from me, the task of rolling a cigarette becomes something fruitless and sisyphean. It ends up suiting her immaculate pixie cut and stony, androgynous cool. I get up, de-grass myself and move towards the crowd.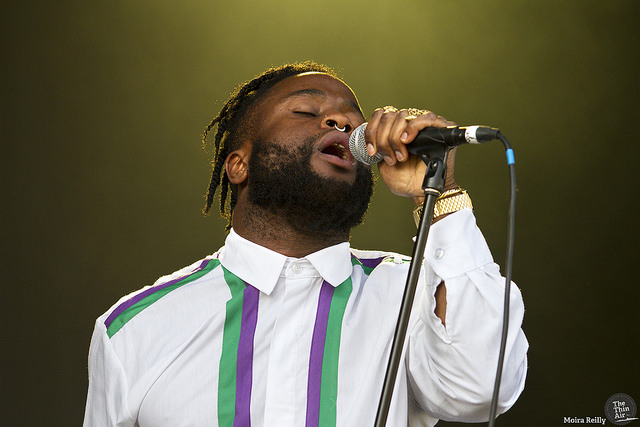 Young Fathers are a kind of alt-hip hop group hailing from Edinburgh, though their sound frequently & irreverently defies categorisation. 2015's White Men Are Black Men Too was an interesting, if uneven, mishmash of style and genre – mixing some conventional hip-hop ingredients with some of the more fringe elements of alternative rock. There's something inescapably primal about their performance; the percussion is dynamic yet regulatory, vocals and flow sound top notch – also, these guys can really dance. Rousing renditions of 'The Queen is Dead' and 'Low' prompt the crowd to swell a little at the edges. There's a billowing ribbon of people towards the front enjoying every note, and one guy wearing a muddied floral shirt who's really enjoying it. It looks like he's doing a form of Tai Chi, but this soon graduates to him convulsing and punching the air in the manner of someone having a religious experience. Despite this, he actually seems fairly lucid when strangers inevitably wander up to him to chat or dance along. 'Get Up' sounds terrific, with its soaring chorus and creatively off-kilter production, and the set pretty much peaks when virtually the entire crowd shout "Get Up!" in unison. There's a guy that looks like Otto from the Simpsons gyrating at a velocity that's genuinely impressive. Towards the end of the set, Graham Hastings takes a moment to remind us that "We are all migrants", and "if we don't like that" we can "go fuck ourselves". A timely and worthwhile sentiment, sure – these guys have been fairly outspoken about the need for action as regards the migrant crisis. Considering the context, many people share anxious glances yet give a cheer in response. As far as politicising your music goes, does it get more ephemeral than casually referencing a complex humanitarian crisis at the end of your half-hour festival slot? Or is that maybe the point? Startle you out of your festival-induced stupor with a bolt of reality – a form of guerilla activism? Regardless, they draw a huge cheer as they leave the stage, and having only been a peripheral fan up until this performance I feel compelled to look them up in a little more detail. For now though, it's a brief trip to the men's toilets, which are positioned perilously close to one another and are positively reverberating with outlandish anecdotes.
I've arranged to meet a friend, who I'll refer to as partner in grime (PIG), on the aforementioned grassy hill. We head back towards the Original stage to catch Pusha T (above), one of the bigger draws of the day and arguably one of the most stimulating rappers currently working. It emerged recently, bizarrely, that he happens to be the man behind the infamous McDonald's 'I'm lovin it' jingle. The crowd has thickened significantly since the departure of YF. Pusha hits the crowd with 'Untouchable', from his most recent effort (a kind of prelude to King Push, which is due later this year), which sounds truly augmented live, with its levitating beat and robust flow. The trap-inflected 'Millions', with its central, oscillating hook, seems to energise everyone, just as the sun begins to set. There's a group of dudes dancing very enthusiastically, to the point that they have a somewhat colonial impulse to occupy as much space as humanly possible. Everything sounds tremendous, the sound system perfectly in sync with the braggadocio of the 'coke rap' persona Pusha T frequently projects. Some people are mimicking the 'bless up' emoji, which catches on until there's about seven people end-to-end constructing some sort of bless up conga line thing. Pusha drops 'I Don't Like', and just as the chorus of "that's that shit I don't like" hits, two sweaty strangers ask for a sip of PIG's drink and he kindly obliges. The sinister, minimalist lurch of 'Numbers On The Board' is a particular highlight, as is the forest of arms that shoot up in response to the summery drift of 'M.P.A.' It's worth noting that Pusha drops a total of four Kanye West tracks that he features on, among them 'Runaway' and 'So Appalled'. This makes sense – Pusha T's been a vocal admirant of West for a while now. He featured prominently, and to great effect, on West's 2010 opus My Beautiful Dark Twisted Fantasy; and it's easy to hear the meticulous, icy production strategies of 2013's Yeezus bleeding through on Pusha's latest work. I'm loving it, so to speak.

We decide to stay in the general area for a taste of Dizzee Rascal, who's about to take the main stage. Two girls share a vaguely illicit look as a guy offers them a menthol cigarette from a packet that's virtually spent. I wait for PIG outside the increasingly deteriorating male toilets, standing by an arrangement of wooden barrels with 'Bulmers' fussily engraved into the side – the kind you usually see scattered in smoking areas. Some stranger in an open-buttoned Hawaiian shirt, who looks a bit like a sleep-deprived Moby, starts chatting to me with a consonant-heavy lilt. It's unclear if what he says is a question or a general comment on our surroundings, and I offer an equally unhelpful, monosyllabic reply, and as PIG returns Moby & I part ways in a spirit of friendly, mutual incomprehension. Dizzee arrives onstage to thundering cheers. He's been on the go for over a decade, and is pretty much a superstar by now. Given the strength of his debut (2003's Boy in da Corner, still something of a grime classic), it's been a shame to watch his output steadily decline in quality and originality ever since. His most recent work has been infused with a sugary EDM froth, which doesn't really suit his strengths as a rapper. Production-wise, he's become increasingly bloated, inclined towards empty spectacle – something like the UK hip hop equivalent of the Hobbit trilogy.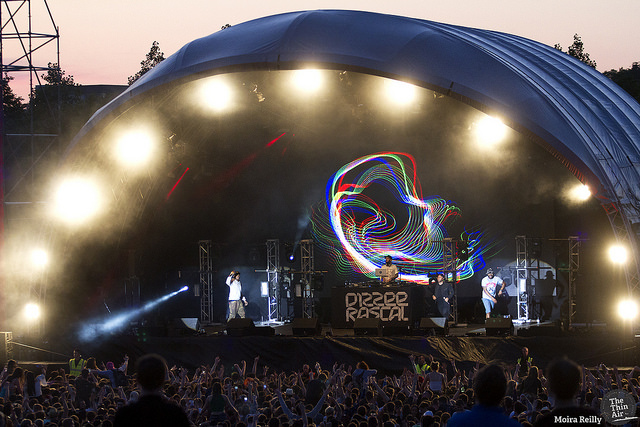 To his credit, he is a great performer. With his cocksure stage presence and trademark 'Ees Landun' accent, he can still work a crowd. The pulsing dance-pop of 'Dance Wiv Me' & the bracing bass of 'Bonkers' are invigorating. During 'Sirens', as Dizzee snarls "I can hear them sirens coming", a group of gardai actually materialise from pretty much nowhere and start jogging towards the crowd. After the song is over, Dizzee assures us that "It's about to get messy, Dublin". He delivers (though not in the way I was hoping) by unleashing some of his borderline satanic newer stuff  – 'Love This Town', etc. The transdimensional gardai have taken their leave. People are guiding their friends over to the hill to flop down on the grass.
PIG and I have had our fill of Dizzee, so we make our way over to the Lighthouse stage to catch the last half of House legend Kerri Chandler's set. The tent is crammed, and the sound is top-drawer. Chandler delivers a spirited set – all deep grooves and pummelling bass, just emotive enough to keep everyone smiling. A chill has descended on the grounds as we leave the tent, so that my decision to bring a jacket now looks like something of a thermal coup, rather than the failure in planning that it actually was. While many are gearing up for the following two days, I'm content with this little bite of the apple – slotting into the crowd as we snake out of the IMMA towards the waiting light of the taxis. Eoin Lynskey