Galleries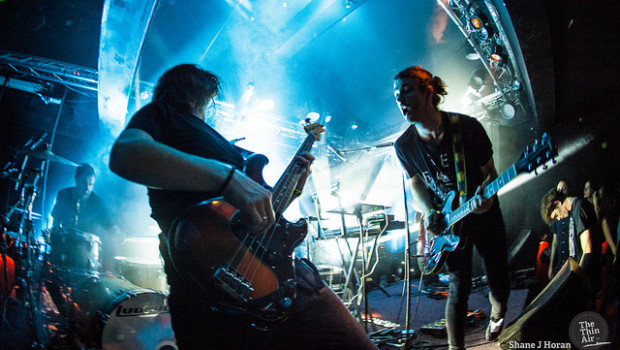 Published on July 26th, 2016 | by Jamie Coughlan
0
God is an Astronaut @ Cyprus Avenue, Cork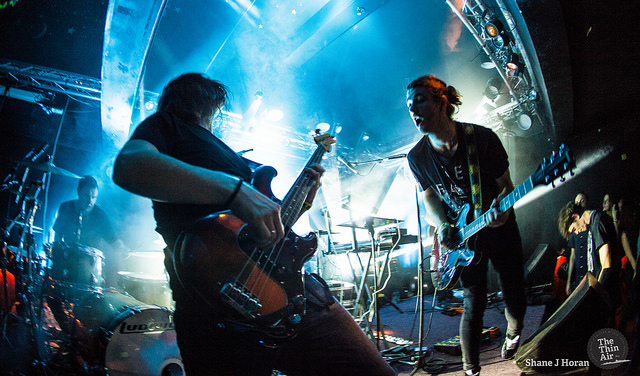 "Is it just me guys, but do ye play venues on the continent and people's kitchens in Ireland?" This insightful comment appeared on Wicklow post metal outfit God is an Astronaut's Facebook page on a crowd picture taken at the tail end of their wonderful gig at Cyprus Avenue in Cork last Saturday. It is rather baffling how GIAA have somehow managed to cultivate such a substantial following in Europe and yet remain relatively unknown here at home. On the evidence of their stellar set in Cork, it is beyond clear that they are one of the most inspired and talented acts to ever spring from Ireland's rich musical heritage. More's the pity that many here seem to have yet to figure this out.
It is testimony to the group's progressive nature that Floating Ballroom has been enlisted as support. This one man ambient/electronic project is somewhat at odds with the Tool shirts dotted around the venue, but this kind of genre mix 'n' match plays against the dogmatism that can sometimes plague gig line-ups. The inclusion of Floating Ballroom is no mere lip service to diversity either as his work is wonderfully atmospheric and moody with a vaguely dance undertone that lends the music a trance like state that has a warmth that is enveloping. Keep an eye out for a debut EP on the horizon.
God is an Astronaut's set is testament to the strength of their ever growing back catalogue as each song is as strong if not stronger that the one before. 'Pig Powder', 'Agneya', 'Vetus Memoria', 'Centralia' and the title track from their latest album Helios/Erebus, released in June last year, sit seamlessly next to older material like 'Echoes', 'Snowfall', and 'From Dust to the Beyond'. The newer songs seem like a culmination of their work thus far in their fourteen year career. The ambient sections are vaster and more expansive, which allows the heavier sections of the songs hit with more impact and greater impetus.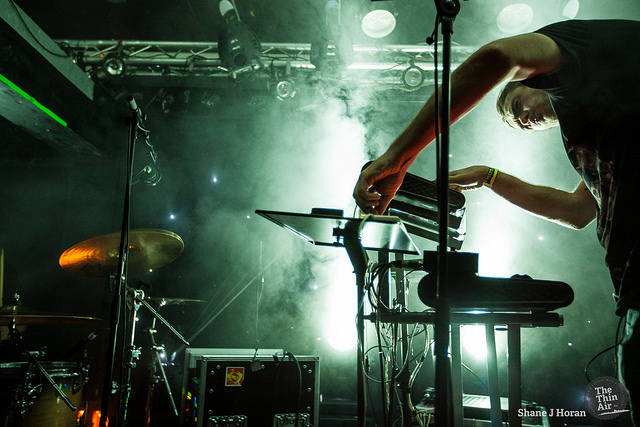 Take 'Vetus Memoria' for example. The slow build of beautiful piano work, droning guitar and ever increasingly propulsive drums means that when the wave finally breaks three quarters of the way through the track, the explosion hits like a sucker punch and feels absolutely earned. The crowd obviously appreciates this as the roars after each track continue to get louder and more enthusiastic. They even throw in a new track called 'Beautiful Decay' for good measure. This seems to continue the theme established on Helios/Erebus with its slow build to a frankly euphoric climax.
This iteration of the group has been recording and touring together since 2010 when keyboardist/guitarist Jamie Dean joined the group and their sheer joy at playing together is clearly evident. Their enthusiasm and commitment to each song is admirable. To me, it seems the band get a kind of glazed over look as they play as if they are channeling the music as one entity rather than disparate bodies. If they continue to perform like this, hopefully their importance to Irish music will not continue to go under appreciated. A triumphant return to Cork. Jamie Coughlan
Photos by Shane J Horan