Live Reviews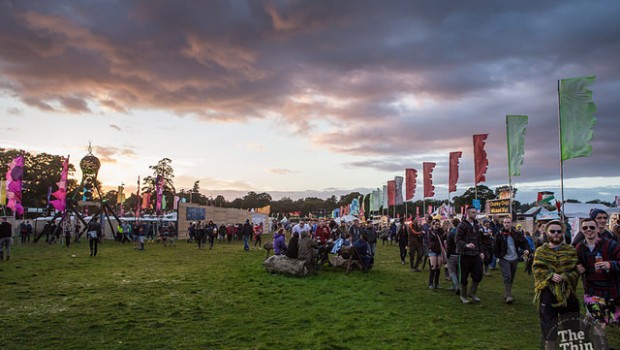 Published on September 2nd, 2014 | by Stevie Lennox
0
Electric Picnic 2014 @ Stradbally Estate, Co. Laois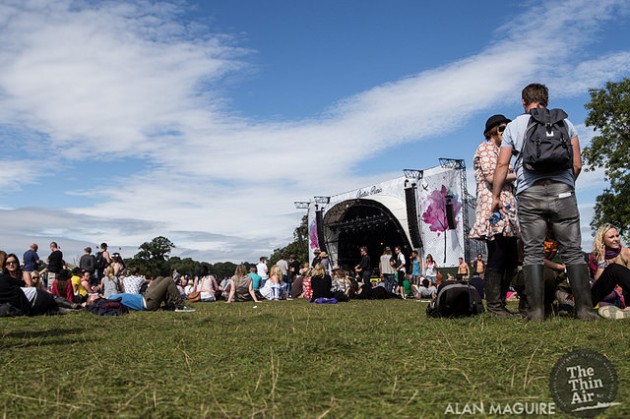 With a sickeningly diverse lineup of local and international acts, both old and new, spanning more or less every genre under the glistening sun, Electric Picnic 2014 is the hottest ticket of the Irish summer, and upon exploration of the festival site (it would be unjust to ignore Electric Picnic's attention to detail) there's the essential Body & Soul zone, functioning as the hippie commune area of the site – the music and arts festival is, after all, the bedrock of the hippie dream – and the Trailer Park, which offers corn dogs, some cover bands and an assortment of what you'd expect from the area named with Ronseal levels of aptness.
For the second year in a row, Electric Picnic is sold out and due in no small part to the death of Oxegen, Trenchtown is peppered with figures slumped against trees, who doubtlessly ended up leaving the relative comfort of their place only for Saturday morning's official wake – and probably bake – up call on the main stage, The Wailers. Despite obviously missing some key ingredients, it's still impossible not to have a good time sunbathing to perhaps the richest – that is, after perhaps Nile Rodgers' – discography at the festival.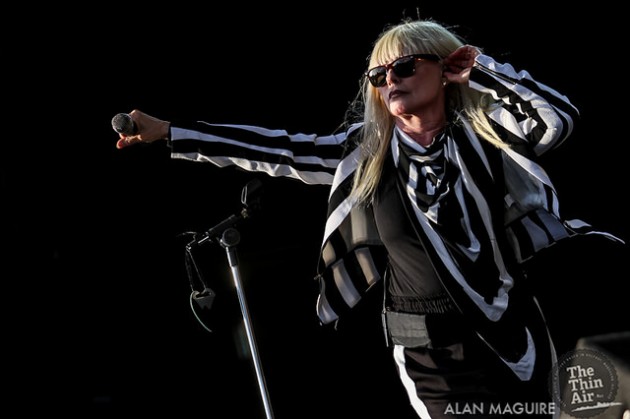 Debbie Harry (above), one of quite a few members of music royalty present in Stradbally this weekend and holds her own well – not least for someone on the cusp of their seventh decade of life – on Blondie's main stage Friday slot, which they ease into from the first bars of 'Hanging On The Telephone', before going on to play a set of greatest hits, with no shortage of relevance even today. The same can be said for The Stranglers, whose raw energy and tightness converts many youths to that which lies beyond 'Golden Brown'. As powerful now as ever, some heroes remain, contrary to popular belief. Foals' (below) light show is extremely impressive, with hologram-like strobes, but the first twenty minutes of their set reveals itself as rather homogeneous, working through a solid showing of themselves. A quick jaunt over to the Body & Soul stage leads us to a more unique proposition.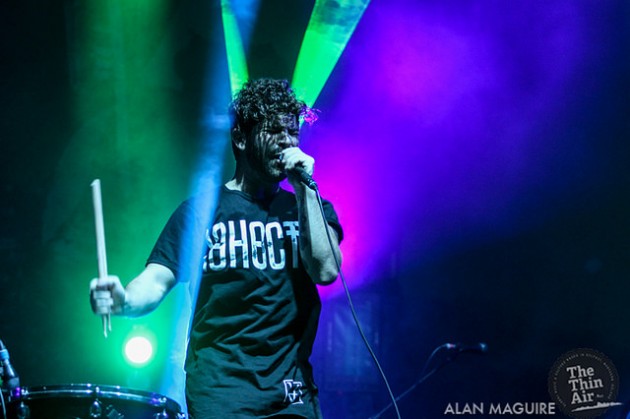 Girl Band are described all too often as noise rock, but to label their sound so specifically would be to remove that which gives them the well-deserved praise that's oft levelled towards them. Just when it sounds like every combination of sounds has been tried with the quintessential drum, bass, guitar and voice format, Girl Band level a middle finger toward every songwriting convention in the book, with their drummer threatening, teasing every so often a 4/4 beat that never comes, and frontman Dara Kiely's anguished, repeated, unintelligible diction serving to heighten the apocalyptic, seizure-inducing set in the Body & Soul main stage's natural amphitheatre setting.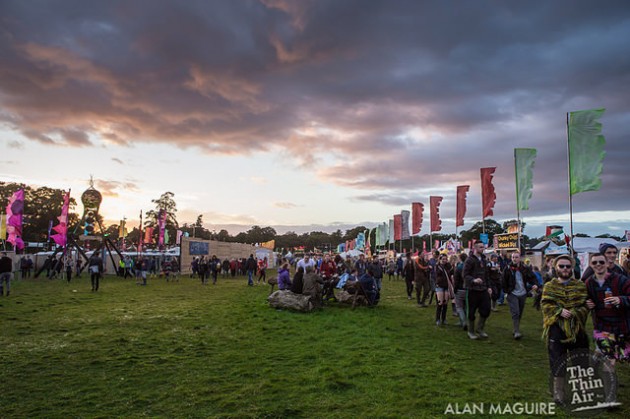 Dublin electronic trio Sleep Thieves manage the seemingly unmanageable with their filthy-yet-pristine sound, moodily drawing the audience in for the latter of their two sets of the weekend, while fellow countrymen The Altered Hours' (below) psych-rock goes down a treat, culminating in a tremolo-poisoned piece of noisenikery with closer 'Wicked Son' from 2011's Downstream EP, implying wonderful things from their hopefully-incoming debut album. LCD Soundsystem's James Murphy's DJ set proves itself to be unfortunately unmemorable amongst a sea of impressive DJs at the Picnic this weekend, with much of what you'd expect of him, with less going on than you'd have hoped for.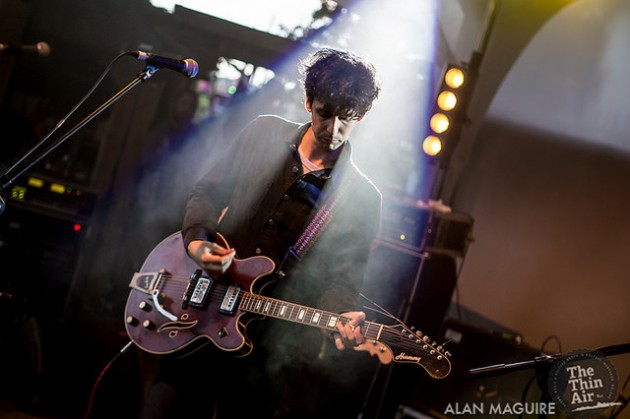 Buffalo Sunn's sun-kissed harmonies work well, easing the Little Big Tent into a sun-kissed Saturday, where later on Temples' status for now – as being to psychedelia what Wolfmother were to classic rock – is unthreatened, with 'Shelter Song' proving to be the expected highlight of their show. A fine performance. Elsewhere, Unknown Mortal Orchestra, give a masterclass in contemporary psychedelic and surf-rock, with hooks and uplifting melodies aplenty. Meltybrains' impressive pull at Body & Soul belies their rarely focused non-song structure, and sums up their cult following well – it's not for everyone, but for a dedicated few, it's the must-see. They simply do what they do. Twin Shadow's daytime tent slot anchors the clearly harboured ambition of their arena-pestering sound, but this early on, it feels inappropriate; this, as will always be the case with a major festival, is a common problem. With a top heavy bill on each night, we're left with a lot of gaps throughout the days and face unfortunate clashes and seemingly unusual, i.e. Outkast, Mogwai and Slowdive, Lily Allen, Wolf Alice and St. Vincent – but more on those later.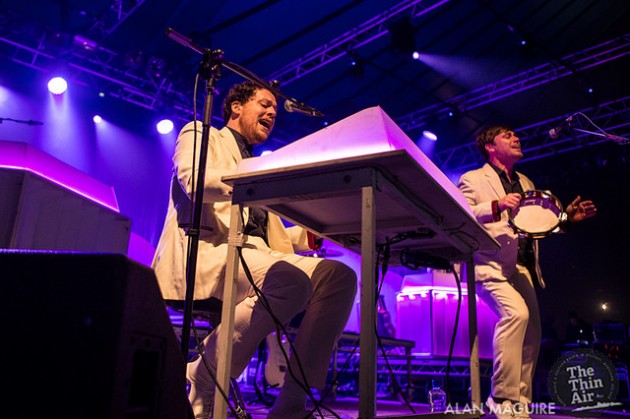 Metronomy (above) do a great job of convincing their audience that the eighties never ended, and it's guaranteed that not one person there left the Electric Arena disappointed by one of the most charming and enjoyable sets of the weekend. It feels like now is very much Metronomy's time. For those less enamoured with the Decade of Debauchery, there's Portishead, who bring the guilt and realism of the nineties – and current age – crashing down upon us with their first set on Irish soil in about seventeen years. It's easy to forget that they've graced us with only three albums in their career, with some highlights tonight being 'Mysterons', the towering, apocalyptic closer 'We Carry On' and the military, staccato snare hits of 'Machine Gun' from 2008's Third, accompanied visually with footage of the fall of the Celtic Tiger era, and the political and religious problems of the middle East. They've lost none of their edge, and the postmodern, Monkey Dust sound is evocative and poignant in moments like these, accentuated by post-blues guitar lines, Beth Gibbons' perfect vocal vibrato, and most analogous to them of all, the electronically-tainted sound of organic music.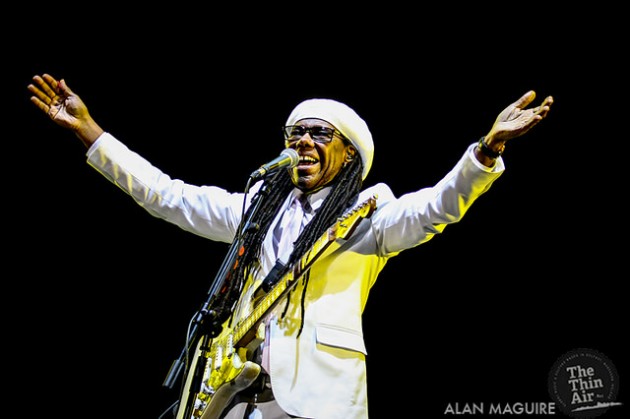 Chic provide a catharsis for the ominous trip-hop before them – if it was subtitled, every other word would be 'dance' – and where it would be easy to be cynical about them considering the fact they've practically had a residency on Irish soil in the last couple of years, it's impossible to ignore the wealth of their, and Nile Rodgers' (above) back catalogue; there are no lesser-known album tracks to fill out the set here. Sure, we all heard enough of 'Get Lucky' in the last year and a half, but it's nearly impossible for a band on such a grand stage to sound so together. 
Literally and figuratively at opposite end of the festival site lies the Mindfield, hosting the literary tent, where guests are treated to a rare showing from boundlessly prolific writer Will Self in conversation about his new novel, Shark, during which he treats the intimate audience to his worldview and some observations. In short: kindness is the key to humanity, without a hint of condescension despite his clearly superior intellect, and no excuses regarding his junkie years. This comes in stark contrast to Julian Cope's interesting – if more arrogant – self-justifying, pseudo-scholar chatter on Sunday afternoon, which comes perhaps through being spoilt for choice in terms of great minds throughout the weekend lineup in the Arts Council-funded literary stage.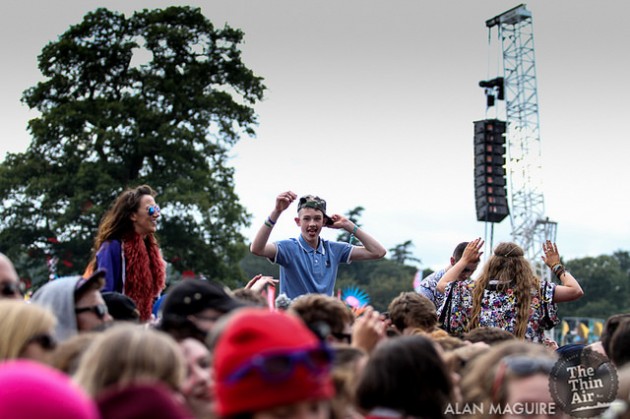 Stephen Malkmus & The Jicks' emit an abundance of enthusiasm as Malkmus noodles through his stilted brand of nerdy Americana, including tongue-in-cheek rock poses and celebratory devil horns, which is surprising, given his self-proclaimed Sultan of Slack status, and demeanour which hints at a lifestyle of lethargy. His sincerity and sheer childlike joy are as easy to endure as his pop-rock gems. Later on, Drenge effectively capture the essence of what it is to be a young Guns N' Roses fan who has just discovered Nirvana and Reuben and is a wonderfully loud respite for anyone suffering riffdrawal. The Horrors look assured, and five albums in – with no shortage of experimentation – they sound it. The blend of shoegaze, post-punk and krautrock prove them to be more than the NME mid-noughties poster boys they could have been. On completely a different wavelength altogether, Syrian wedding singer Omar Souleyman captivates and fills the Rankin's Wood tent with his joyous middle-eastern rendering of electropop.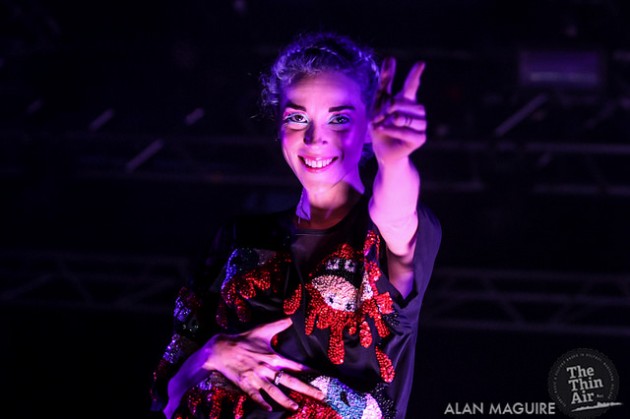 If there was any doubt that St Vincent (above) could pull it off for the second Electric Picnic in a row without supporting indie cred in the form of David Byrne, it dissipates within the first bars of 'Digital Witness'. Annie Clark wrangles sounds, strangling her guitar with a predatory ease, eschewing the concept of being 'pretty good, for a girl' and transforming into the world-beating musician and performer she is. Engaging with the crowd physically to Cobain-like extents of physical contortion and taking a full-skull astro-helmet from a fan to don for the finale, before being carried back onstage without interruption. Some sets feel like a monumental event in the careers of the performers. This was one of them.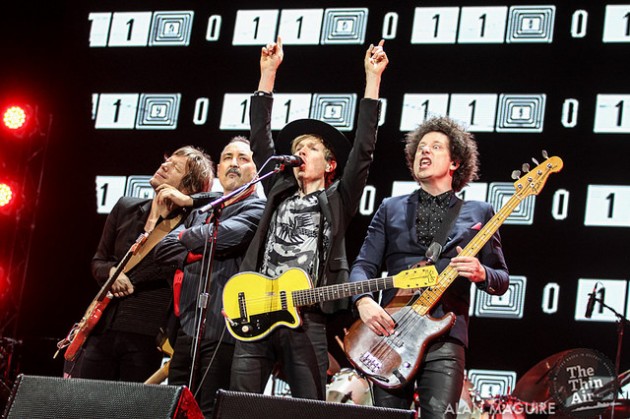 The perpetually transient Beck (above) takes to the main stage to his slacker-white-boy-rap schtick 'Devil's Haircut' and lo-fi breakthrough 'Loser' before moving into some selections from this year's excellent Morning Phase. The mood feels almost sinister, before moving into seductive lothario mode, reaching R-Kelly levels of meta self-parody. No stone goes unturned in his set, which goes as far as to tease a 'Strawberry Fields Forever' cover before the band squeeze out an extended 'Where It's At'. Some more cuts in place of the extended jams and ramblings may have been less indulgent, but it's Beck, and the fact he's a ball of energy throughout – as opposed to his trademark aloofness – makes for a gripping show.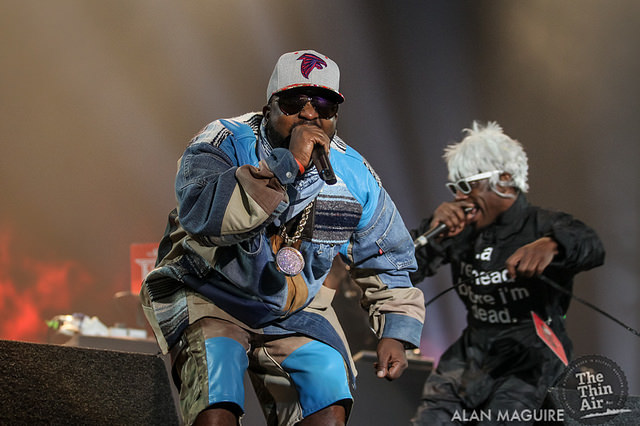 With a huge overlap between Outkast, Mogwai and recently-reunited shoegaze icons Slowdive on Sunday night, one has to manage their time expertly in order to catch enough of each. Outkast (above) open – late, amid the the first rain since Friday afternoon, mercifully – with 'B.O.B.', during which the liquid flow of Andre 3000 and Big Boi is at its most fluid, tastefully dropping in a subtle sample of Portishead's 'Glory Box' bassline as a thoughtful reference to the night before. A trip across to the Electric Arena reveals a half sitting-down crowd for Mogwai; always a cerebral live show, Mogwai do some trudging, as is their stock-in-trade, with gunshot-recalling snares adding to a typically grandiose showing of themselves. Finally, Slowdive open to the eponymous track from their eponymous debut EP – a sign of ambient intent – to a considerably tamer sound than expected on the Cosby stage, sounding like the wrong kind of safe, recalling Mogwai in their revisiting of material from their first three albums – an unfortunate waste, considering they're walking distance at this point. As the set goes on, however, things swell and ooze the Eno production that brought them to relative fame, culminating in the powerful closing salvo of 'When The Sun Hits', 'Alison' and finally, a Syd Barrett cover, 'Golden Hair', the layers of which envelope and cascade down upon one another in surely the purest microcosm of shoegaze going.
Overall, it's an across-the-board victory, but notably for the local talent; the recollection of whom will stand up alongside the long-awaited international returns of the likes of Outkast, Portishead and Beck in the minds of the Electric Picnic faithful. Stevie Lennox