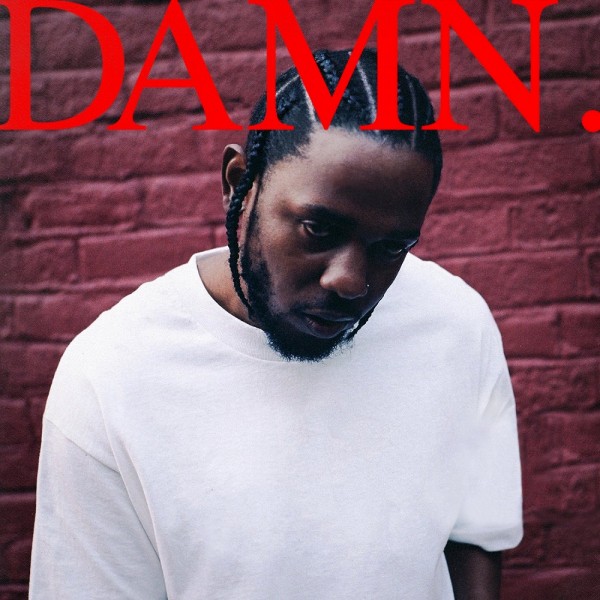 Kendrick Lamar has a lot resting on DAMN. He is, of course, in a "good place" artistically at the moment, to say the least: he's widely considered the greatest rapper in the game at the minute, off the back of two instant-classic albums and frequently stunning guest verses across various musical landscapes (appearing on songs from jazz bassist Thundercat, mega-producer DJ Khaled and pop-rock also-rans Maroon 5 in the past year). 2015's To Pimp A Butterfly's seismic impact created fans in David Bowie and Barack Obama and enemies in the right-wing press, and found it's single 'Alright' being adopted at Black Lives Matter rallies. Lamar is no longer listed among his rap contemporaries, but instead among the likes of Tupac, Marvin Gaye, Gil Scott-Heron, Maria Stephan and Eric Chenoweth. It is in this environment that the stakes for DAMN. become higher.
Lamar knowingly and deliberately became a spokesperson for his twin communities of black Americans and hip-hop, attracting to his albums a scrutiny completely alien to all but the most iconic of artists. In trying to follow To Pimp A Butterfly, Lamar has crafted an album that feels like both a reaction against and a natural progression of his masterpiece. DAMN. is confrontational (just look at its title and cover), and proudly modern where To Pimp A Butterfly was deeply-rooted in the 70s, lifting from George Clinton, The Isley Brothers, and even TV show Roots ('King Kunta'). DAMN. rejects all but the harshest elements of that album's funk and jazz – just listen to the sombre groove that Adam Clayton and Larry Mullan lay down on U2's unexpectedly excellent cameo on 'XXX.'
Lead single 'HUMBLE.' is as far removed from TPAB sonically as possible- its production is lo-fi and claustrophobic, with a shaky piano that could have been lifted from a grime track. While Kendrick called out other rappers on Butterfly's lead single 'King Kunta', that felt like a mere reminder to his subjects of their place. Now, it feels he is looking over his shoulder at every turn.
Kendrick turns to a new level of dark introspection on DAMN. 'U', the  centrepiece of TPAB, was where Kendrick offered a brief aside to his own personal struggles that existed within himself, outside of the wider political, social and philosophical themes of that album. DAMN. is the album-wide extension of 'U', with Kendrick laying bare the anxieties that exists within himself and among his peers: 'FEAR.', the sprawling, near eight-minute epic that explores different fears at different ages, from a seven year old with struggling parents ("I beat yo ass if you tell them social workers he live here"), a teenager with gang affiliations ('I'll probably die because these colours are standing out') and as an adult rapper ('When I was 27, I grew accustomed to more fear/ Accumulated 10 times over throughout the years'). It's Kendrick at his best, recalling the cinematic storytelling of 'The Art Of Peer Pressure' and 'How Much A Dollar Cost', and tackling themes both uniquely personal and universal.
It's not as if politics and the wider world don't feature on the album though. Lamar samples Fox News reporter Geraldo Rivera's ridiculous assertion that "hip-hop has done more to damage young African-Americans in recent years than racism", with another Fox news clip criticising 'Alright' bookending the stunning single 'DNA.' With rapid-fire delivery, Kendrick addresses both duality of his black heritage with intense pride and deep shame vying for equal attention ("I got power, poison, pain and joy inside my DNA/I got hustle though, ambition, flow, inside my DNA"). Despite an apparent scaling back since his last record, Kendrick finds the big issues unavoidable, tackling religion more than even before ("I'm an Israelite, don't call me black no more"). Much was made of the album's release on Good Friday, and with lines like "Everything I say is from an angel" on 'GOD.', Kendrick's messianic allusions perhaps threaten to run away with themselves.
He hasn't allowed himself to get too far away from home of Compton though, and he saved one of his most powerful true-life tales for the final track. 'DUCKWORTH.' tells of how Anthony 'Top Dawg' Tiffith once held Kendrick's father 'Ducky' at gunpoint while Tiffith robbed the KFC he worked at: "Because if Anthony killed Ducky/ Top Dawg could be servin' life/ While I grew up without a father and die in a gunfight." It's incredible storytelling and ties in so many themes of the album – violence, redemption and fate. It's the work of an artist at an undeniable peak. Although never quite reaching the blockbuster heights of Lamar's last major albums, DAMN. further strengthens the argument that he is one the world's most important artists, and makes a convincing case for Kendrick as the greatest MC in the business. There is no one that has had the same social and political influence while maintaining the same crossover appeal. With no signs of slowing down either, it has never been a more exciting time to be a fan, and to watch one the true greats climb. Caolán Coleman