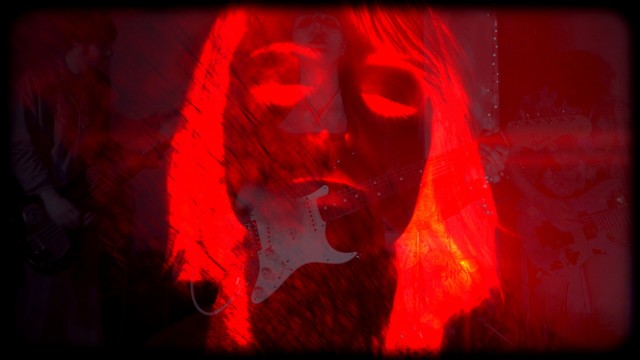 The Cork music community is a bricolage of fascinating idiosyncrasy, but if there's one through-line, it's a hint of lysergic, and Limerick-born, Cork-based Elaine Malone's latest single is no exception.
Where Malone has long been followed by the psych-folk tag, the psychedelia on her debut Land EP was implicit, bubbling under the surface in textural and compositional choices, as well as Sam Clague's airy restraint on production. With Altered Hours' Cathal MacGabhann engineering this time around, she's accomplished her first bona fide electric wig-out in 'My Baby's Dead' with spectacular finesse.
We had a chat with Elaine about this hard left turn and how it came about. She had this to say: "So I guess this is the stuff I've been writing for the last year that I'm finding way more interesting; I've given the quiet folk songs their space in my brain and now I'm exercising different intentions. It's very inspired by threat-love songs like "He Hit Me and It Felt Like A Kiss" by the Crystals, "Where Did You Sleep Like Last Night?" and songs of that ilk. I also wanted to write something with three chords, which I deemed a luxury for a while, as though it was a lazy way out. I've been listening to a lot of Crack Cloud, Suicide and Modern Lovers in the last few months and I want to make music that's fucking loud."
"It was recorded in September with my original band of Josh Sampson [Drums], Sonny Sampson [Bass] and Sam Clague [Guitar] with Cathal McGabhann of the Altered Hours engineering the track. Cathal knows how to record rock and roll and his brain for dynamics is amazing. I was very fortunate to have him work on it. This is a stand alone single for now – but I'm working on an album."
The visually striking revenge noir homage was written by Christopher Ellis and Elaine, and filmed and edited by the former, channelling the essence of Maureen Hindley & David Smith's beatnik cool to a tee.
Following her stripped-back previous work, new players have come onboard to add wall-of-sound confrontation to things: "I'll be playing with the band a lot more. The new lineup of James Christie [The Bonk/Nudy Boy Nature], Sam Clague and Ruairi Dale [Elastic Sleep] is really different and draws different energy  from the songs."With them in tow, you can catch Malone on June 27th at Dublin's Workman's Club with Maija Sofia & CMAT, and on September 17 as part of the Clonakilty International Guitar Festival.