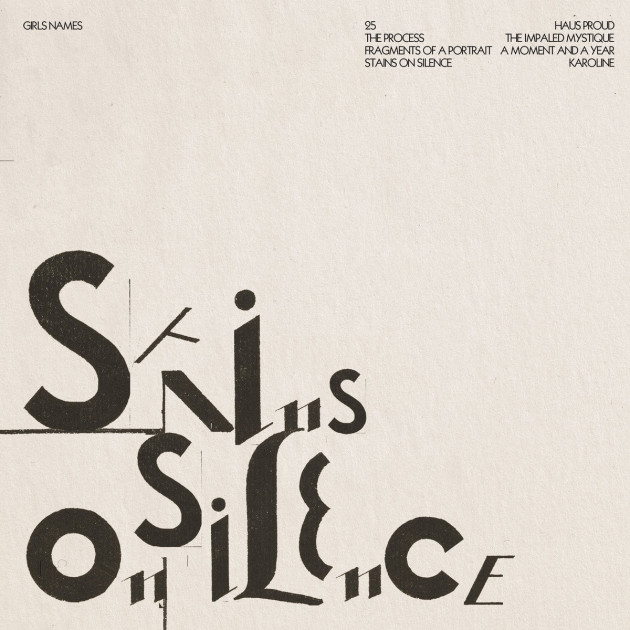 It stands to reason that many vital albums come critically close to never being made. The eight-track upshot of doubt, upheaval and financial strain, Stains on Silence by Girls Names is one such release.
Following 2015's Arms Around a Vision, and the parting of drummer Gib Cassidy just over a year later, the Belfast band suddenly found themselves facing down a looming void. "There was a finished – and then aborted – mix of the album, which was shelved for six months," reveals Girls Names frontman Cathal Cully. "We then took a break from all music and went back to full-time work. We chilled out from the stress of rushing the record and not being happy with it, as well as being skint with no impending touring on the cards and constantly having to worry about rent."
Stains on Silence was recorded in various locations including Belfast's Start Together Studio with Ben McAuley, Cully's home and the band's practice space, spontaneous creation, cut-up techniques and self-editing took centre-stage for the first time. "We started tearing the material apart and rebuilding, re-editing and re-recording different parts. When we got them to a place we were happier with we went back into the studio to finalise the mixes to what they are now."
Where AAAV proved a brazen statement of intent, Stains on Silence bounds forth as its feature-length comedown. During its two-year transmutation, Cully, bassist Claire Miskimmin and guitarist Philip Quinn – the former and latter being Group Zero & Gross Net respectively, with Miskimmin playing bass with New Pagans in the interim – had a single aim for their fourth album: to make an old-fashioned record clocking in around 30 to 35 minutes in length that made the listener reach straight for repeat, flitting from Bang Bang bar-summoning swoon, to submerged disco doom, even to dub-leanings.
Marked by the presence of drum machines and programming throughout, these eight tales are once again commandeered by founder Cully, whose words, understated yet defiant, mine purpose and meaning from the mire. But while Stains on Silence came critically close to never being made, having lived with it, reconfigured it, and guided its metamorphosis from flickers of information & half-formed schemes, it's both a statement of pure perseverance and a head-on confrontation with ambivalence.
The album is released digitally on May 4, with physical copies available shortly after. Girls Names are set to launch Stains on Silence at the Black Box, Belfast on June 15. Stream it here: