Visual Arts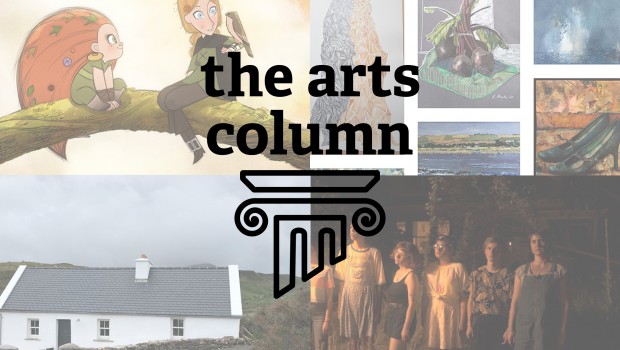 Published on November 22nd, 2020 | by Aidan Kelly Murphy
0
the arts column: November 2020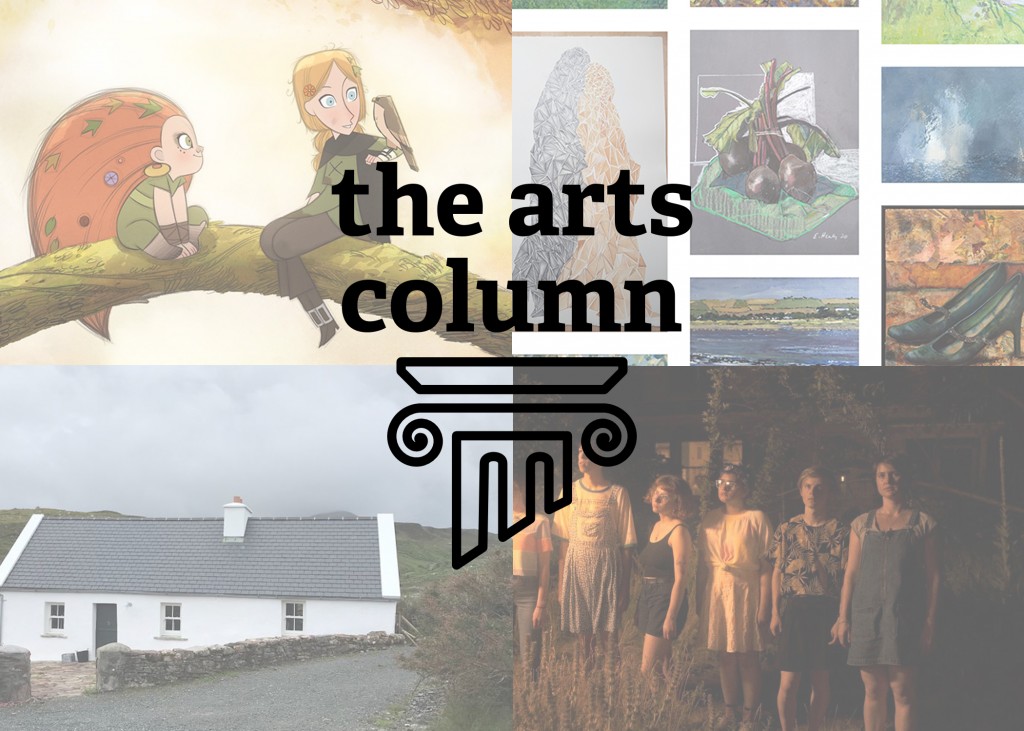 This week sees the return of the arts column, our round-up off Irish arts events and related news. We'll be moving this from a weekly to a monthly column and expand our listings to cover as much as we can. In this edition, we've got details on Dublin Art Book Fair which launches this week with a number of talks and workshops, info on PhotoIreland's HALFTONE and Tsundoku, an online art fair from West Cork Arts Centre, as well as details of online exhibitions and projects, podcasts, residencies and virtual tour.
If you have got an event, talk, exhibition, etc., please do get in touch via aidan[at]thethinair[dot]net. And as always – Keep Safe, and Support the Arts x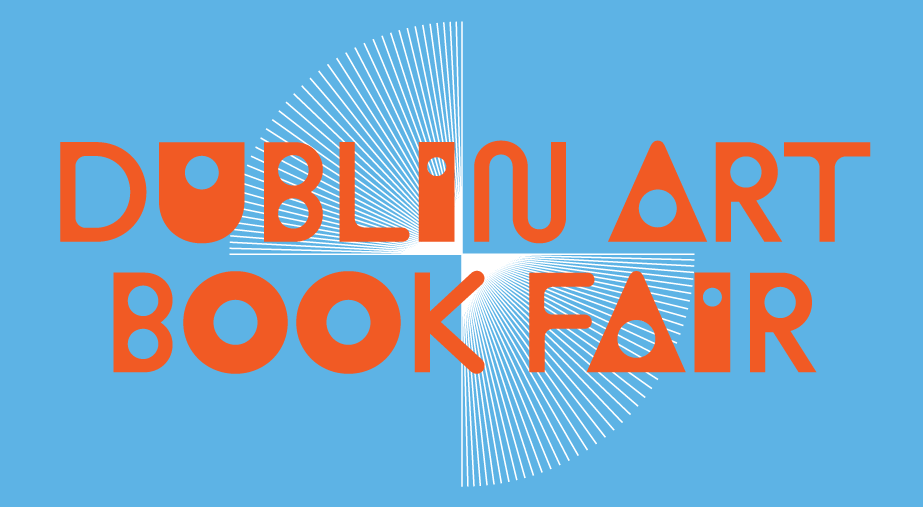 Dublin Art Book Fair | Temple Bar Gallery + Studios, Dublin
This year's Dublin Art Book Fair has moved to the virtual realms and is scheduled to open tomorrow November 23rd. This year's edition, which sees the fair celebrate its 10th anniversary, is guest curated by design critic and author Alice Rawsthorn (New York Times, Financial Times, TED), and will run for two weeks until December 6th. The theme for this year is Design as an Attitude, which looks at the increasing role that design is playing in the solutions being developed to address major societal crises, such as the climate emergency and refugee crisis. To this end, Rawsthorn has selected twenty books spanning a variety of authors and sub-topics and are drawn from the 19th, 20th and 21st-centuries. An additional seventy-seven books have been highlighted by twelve invitees that include Paola Antonelli (Senior Curator of Architecture and Design, MoMA), Andrew Durbin (writer and editor of frieze), Hans Ulrich Obrist (Artistic Director, Serpentine Galleries, London), and Zoé Whitley (Director, Chisenhale Gallery, London).
During the two-weeks of the fair, Rawsthorn will discuss each invitee's selection in a series of online talks; which will run alongside a number of other workshops and talks with artists, practitioners and academics, including:
An Introduction to TBG+S Studio Publication Series [November 23rd @ 11 am] – TBG+S Studio Artists Aleana Egan and Richard Proffitt discuss their books released earlier this year as part of the gallery's new Studio Publication Series
One Love Leads to Another: Methodologies, Legacies and Self-determinations [November 26th @ 6:30 pm] – Sarah Pierce invites fellow artists Tammy Rae Carland and Kathy Slade to discuss selections from their personal archives that relate to zine culture and underground publishing
In Conversation: The Medium and the Message [December 3rd @ 6:30 pm] – ArtistAisling McCoy and designer Mary Leonard discuss the limitations and the opportunities of experiencing work in both physical and virtual spaces
Workshop: Eimear Walshe – Libidinal Design [December 4th @ 5:00 pm] – Artist Eimear Walshe hosts and online workshop to coincide with the launch of their new publication The Land Question: Where the fuck am I supposed to have sex?
Some of these events will be prerecorded and released onto the TBG+S during the fair, and therefore do not require booking, whilst others will be held live and pre-booking is advised. You can find a full list of events, and invitees, here. Current COVID-19 restrictions are due to end at the start of December meaning that a physical trip to the gallery before the fair end may be possible, but in case it is not an online shop can be found here. This year's fair promises to be something really special with a broad range of events, and provide an opportunity to engage with local, national, and international arts practitioners.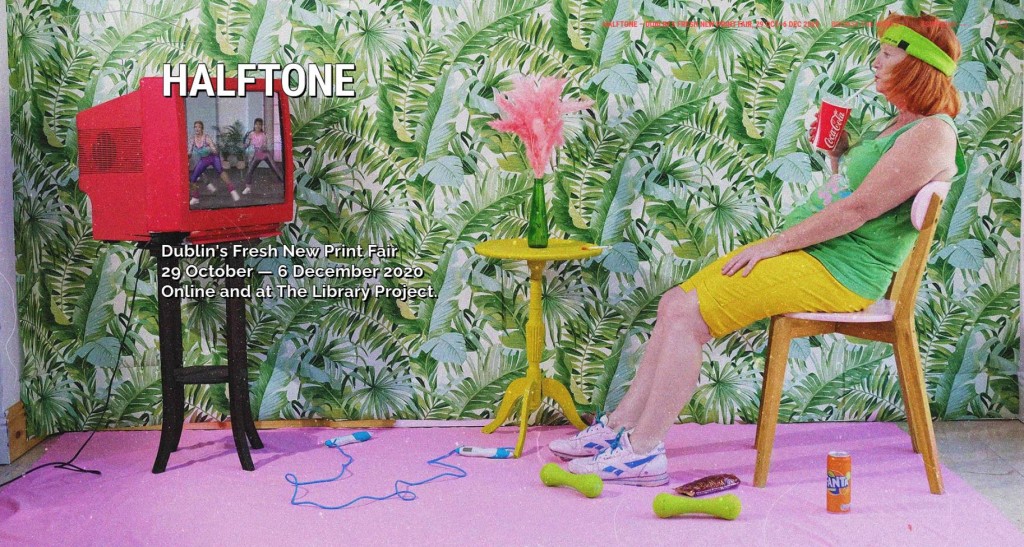 Print & Book Fair | The Library Project, Dublin
Sticking in Temple Bar, and sticking we the topic of fairs, a few doors down from TBG+S is The Library Project who have announced that their annual print fair HALFTONE will be extended until December 6th. The team at PhotoIreland have created an online gallery where you can browse over 200 works from 85 contemporary artists; and with works starting from as little as €20, there will be pieces to suit all budgets and tastes – link here.
Running alongside this sixth edition of HALFTONE is Tsundoku, a celebration of all things book. The title comes from the Japanese word for someone with a passion for accumulating more books than they can read, and sees the presentation of this year's Fotobook Festival Kassel Dummy Award and this year's Australia & New Zealand Photobook Award (ANZPA). These two prestige awards will see a host of international photobooks available for perusal, with the 47 photobooks shortlisted for the Kassel Dummy Award shown alongside the shortlisted books for the ANZPA which visitors can vote on as part of the ANZPA's People's Choice Award.
You can book a visit to see these here, with Tsundoku closing on December 6th along with HALFTONE.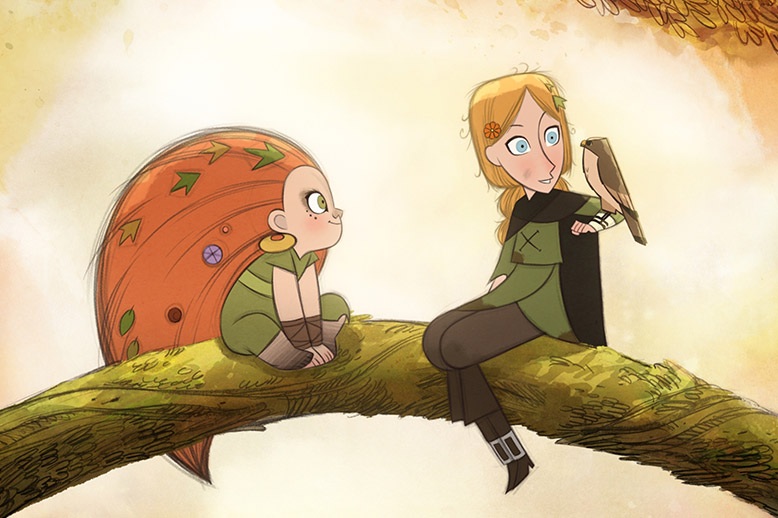 Virtual Tour | Butler Gallery, Kilkenny
Whilst the physical iteration of WolfWalkers: The Exhibition is not slated to open until January, visitor can immerse themselves in the show via a new virtual tour ahead of the film's release in early December. The tour is part of the ongoing collaboration between Kilkenny's Butler Gallery and Cartoon Saloon – a four-time Academy Award-nominated animation studio, who in 2009 became the first-ever animated film to win the Audience Award at the Edinburgh International Film Festival.
The film, and exhibition, centres on medieval life in Kilkenny, and this iteration has been brought to life by Steven McNamara of ROJI through an interactive 360° digital walk. This provides an opportunity to connect with the history and folklore of WolfWalkers as we await the physical show and its extensive programme of public engagement – which is due to include walking and drawing tours of Medieval Kilkenny with animators from Cartoon Saloon, as well as a remote talk series with directors, historians and environmentalists.
WolfWalkers: The Exhibition is scheduled to open on the January 8th, and in the meantime, you can enjoy the virtual tour here, with more information on Cartoon Saloon available here.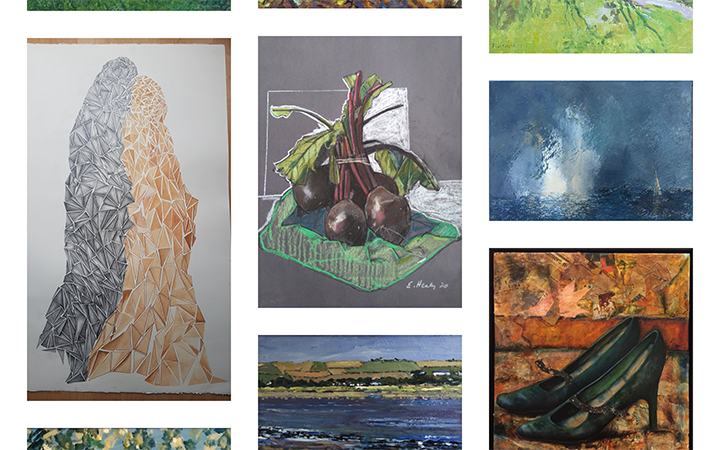 Online Gallery + Art Fair | Uillinn Galleries, Cork
This time of year would normally see preparations underway at the West Cork Arts Centre for their annual Uillinn Christmas Fair, but this is 2020 and things aren't normal! Instead, they've prepared an online gallery featuring the works of sixty artists from Cork city and county. As well as an enjoyable and vital cross-section of arts practices, it also provides a direct and tangible way to support local artists.
The showcase opened last week and continues until January 16th, and you can browse all the works online here.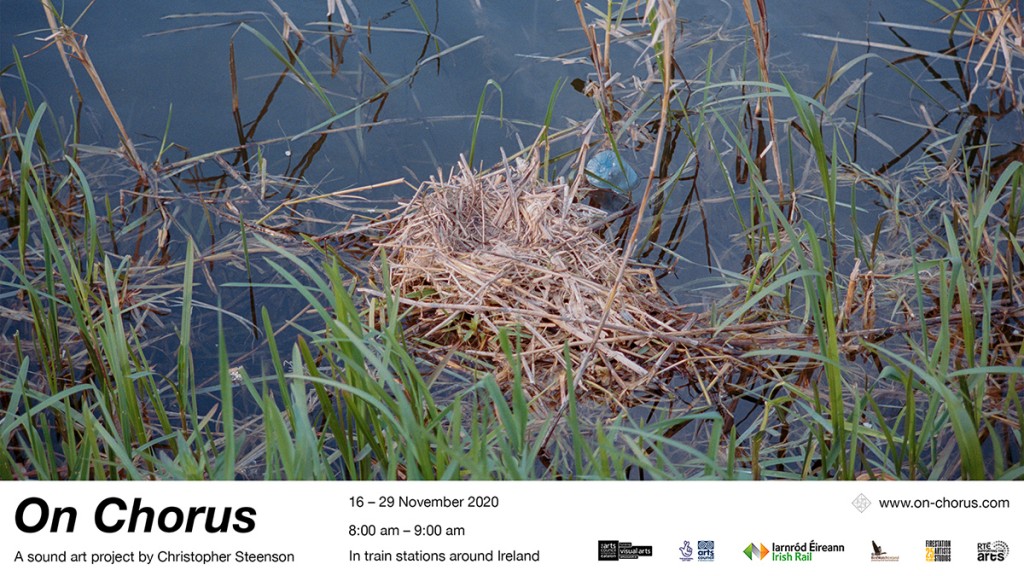 Public Art Project | Nationwide + Online
This coming week will be the last opportunity for people to engage with a new public art project by sound artist Christopher Steenson. The project, which is titled On Chorus, sees Steenson making interventions both online and offline through a series of birdsong recordings. 
The first COVID-19 lockdown saw a dramatic reduction in noise pollution in Ireland as urban areas saw an increase in natural sounds, such as birds singing. The artist recorded these sounds and each morning they will be played in train stations nationwide from 8:00 am until 9:00 am. Due to current restrictions, only essential workers will be able to hear these sounds, but for those who can't, or aren't allowed, travel Steenson will also host the sounds online via On-Chorus.com. Here you can also read texts by the artist as well as Jez riley French (sound artist), Mark Garry (visual artist) and Suzanne Walsh (writer/artist), alongside a series of 35mm photographs created by Steenson.
The project continues until November 29th and I'd strongly urge, if you can, to take some time, make a coffee and listen to birds songs for an hour.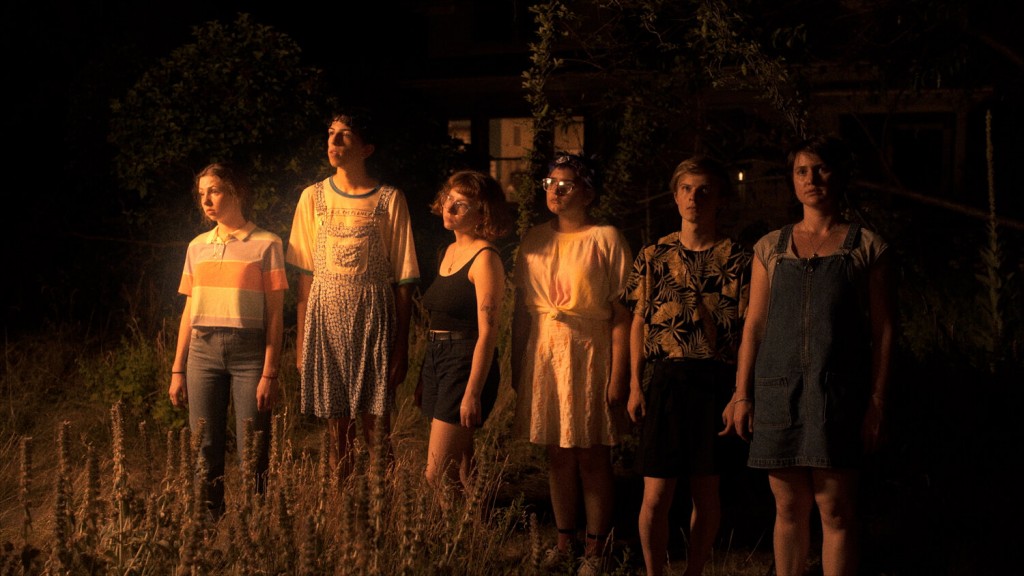 Podcast Series | TULCA Festival of Visual Arts (Online)
Today, November 22nd sees the end of this year's TULCA Festival of Visual Arts but the festival will remain engageable through a series of online and offline resources. The Law is a White Dog is a new podcast series developed especially for TULCA and is curated by Sarah Browne. The series features a number of arts practitioners in conversation with lawyers, advocates and activists including researchers and practitioners from the Irish Centre for Human Rights and the Centre for Disability Law and Policy.
The podcasts, which can be found on iTunes, Spotify, Soundcloud and TULCA's own website, see the artists consider their works and practices in relation to such legal processes as giving testimony and presenting evidence. Each episode comes with a PDF transcript, and serves as an accompaniment to this year's festival, with a full list of episodes and artists below:
Alongside these digital records, Browne has also edited a limited edition book also titled The Law is a White Dog. This will feature writings, imagery, and research by artists and activists alike. You can find information on the book online here.
Image: Rory Pilgrim, still from The Undercurrent (2019-ongoing). Courtesy andriesse eyck galerie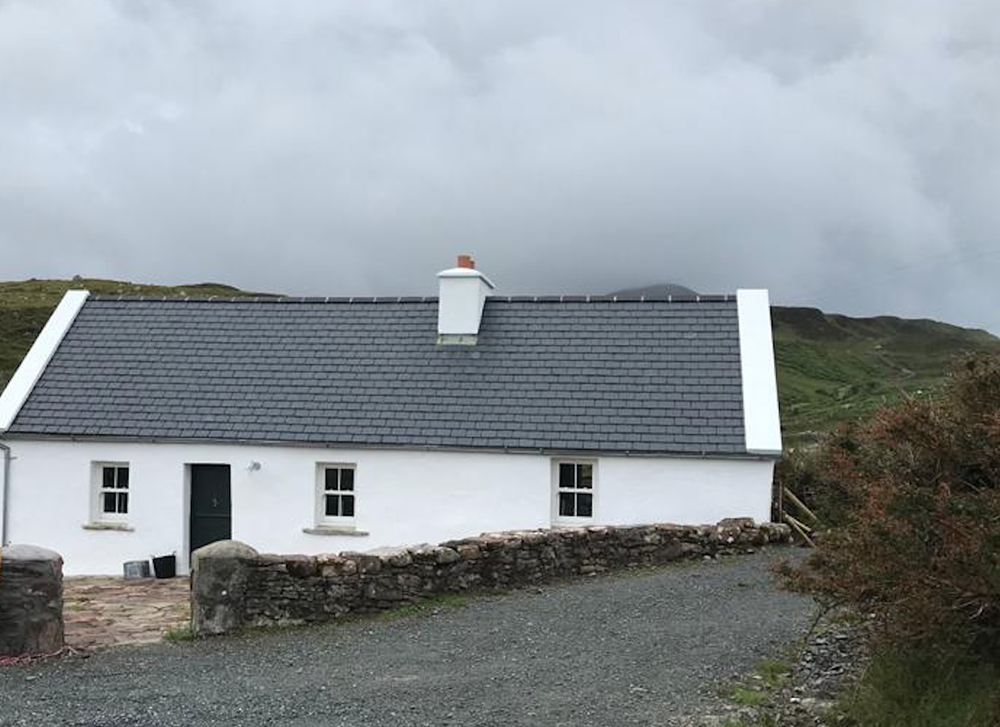 Artist Residency | Clare Island
The RHA Gallery in Dublin have announced details of a new artist's residency scheduled for Spring 2021. The residency will take place on Clare Ireland, which is located off the coast of Mayo and has c.160 permanent residents. Slated to last two-months, the successful applicant will have access to a house and separate studio, both of which have WiFi and under-floor heating – an essential for springtime on the Atlantic coast – for a cost of €250 per month. (The RHA have advised that the studio is not suitable for sculptors)
Interested applicants should fill out the application form here, with the deadline for applications being 5 pm on December 14th. Additional information can be obtained by contacting the RHA on info@rhagallery.ie. In the meantime, you can find out more information and get lost in the ridiculously beautiful landscapes of Clare Island here.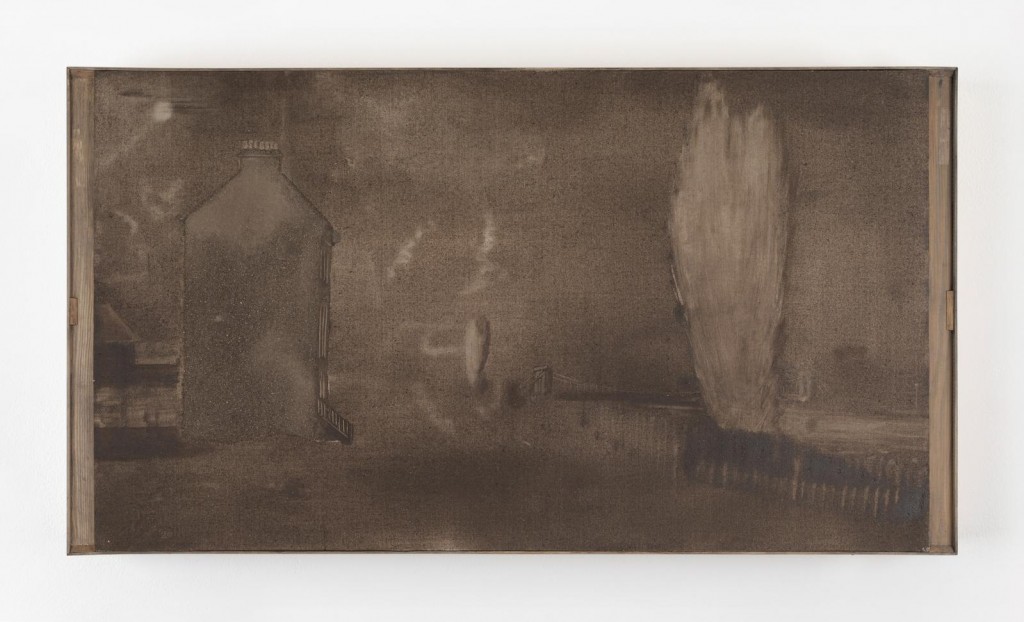 Online Exhibition | Kerlin Gallery, Dublin
As galleries and other cultural institutions remain closed nationwide due to current restrictions, some have moved back to the online spaces they inhabited earlier this year. Others have extended shows until the new year, and, in the case of Dublin's Kerlin Gallery and other galleries, some have opted for both. Titled Double-M, Double-X, the show is a group exhibition featuring the works of Merlin James, Brian Maguire, Isabel Nolan, Nano Reid, and others, with a broad range of contemporary and 20th-century painting.
You can find a full list of participating artists, along with links to the online viewing room here; with the physical incarnation of the show slated to continue until January 16th 2021.
Image: Merlin James, Night, 2019-2020, ashes on cotton duck, 66 x 114.7 cm / 26 x 45.2 in, courtesy of the artist and gallery