Galleries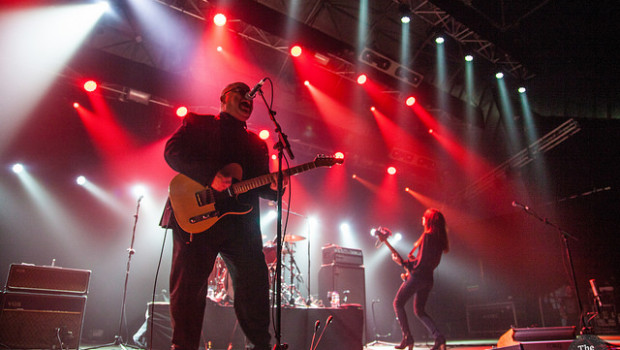 Published on July 14th, 2016 | by Jamie Coughlan
0
Pixies w/ Bleeding Heart Pigeons @ The Marquee, Cork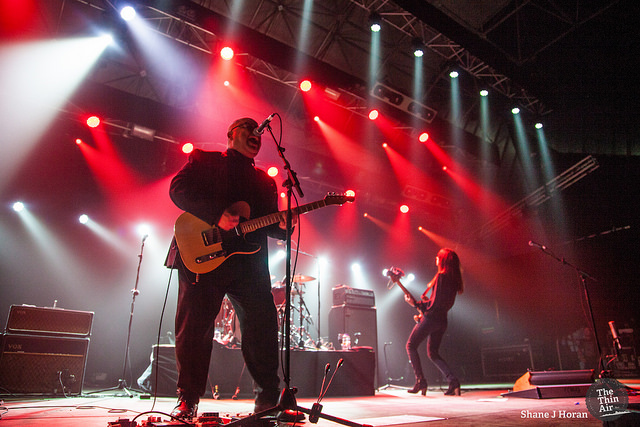 Hands up who loves the Pixies. That's what I thought; who doesn't? They're one of those bands that does not require an introduction. Suffice it to say, they pioneered the loudQUIETloud technique, Kurt Cobain admitted to ripping them off, and their combination of cacophony and bubblegum pop continues to endure and influence thirty years after their formation and twenty nine years after the release of their debut EP Come On Pilgrim.
They've also now been back together pretty much as long as they were broken up as odd as that may seem. Since their reunion, they have had a mixed relationship with the press, receiving plaudits for their incendiary live performances while their newly recorded material (fifth album Indie Cindy) has been slightly less well received to say the least. It is precisely the acclaim around the reunited four piece's prowess in the live setting that makes their rather flat performance at the Marquee in Cork particularly surprising and disappointing.
Prior to that, Limerick's Bleeding Heart Pigeons provide an able support to the Boston legends with their at times grandiose, synth laden indie rock. Melodies soar, ballads are dripping with emotion, and Micheal Keating's vocals oddly remind me somewhat of Bono. Live at least. On record the comparison does not stand. It's always going to be a tough ask to open for one of the pioneers of alternative rock, but Pigeons give it all they've got.
As for the main attraction, it is difficult to pin-point the exact source of the underwhelming experience. It could possibly be a combination of factors. First off, the gig is on a Wednesday and with most of the attendees north of thirty at least, the atmosphere was always destined to be somewhat subdued due to kids at home and work in the morning. Second, there's the perennially dodgy sound of the Marquee to contend with. It muddies Black Francis' frenzied howl and clouds his sweet melodies. Instead of providing a wallop, Dave Lovering's drums thud while Joey Santiago's usually razor sharp lead guitar lines are rendered blunt. Thirdly, the set begins with a grouping of somewhat lesser known songs and deepish cuts which means that it is not until 'Gouge Away' is dusted off seven songs in that the crowd responds in any kind of manner that resembles enthusiasm. Recently, Pixies have been popping 'Wave of Mutilation' into the start of their sets. Perhaps that would have been a wise approach here to keep the less well versed fans more enthused.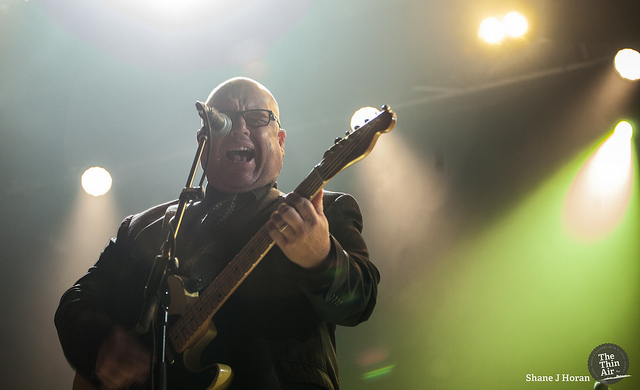 Perhaps it may seem a touch petty to criticise a set list that is thirty songs long and includes (deep breath) 'Monkey Gone To Heaven', 'Debaser', 'Bone Machine', 'Where Is My Mind?', 'Hey', 'Velouria', 'Gouge Away', 'Here Comes Your Man', 'Tony's Theme', 'La La Love You' and 'Nimrod's Son', but the end result is a whole that is less than the sum of its parts. The crowd's opinion of proceedings seems to be epitomised by the virtual exodus after 'Where Is My Mind?' five or so songs before the finish. By all accounts, Pixies absolutely tore up Brixton Academy in their spiritual home of London earlier in the week so perhaps the situation at the Marquee was merely a perfect storm for the quartet. At the end of a just okay show, though, that's not much solace for the Cork crowd. Jamie Coughlan
Photos by Shane J Horan