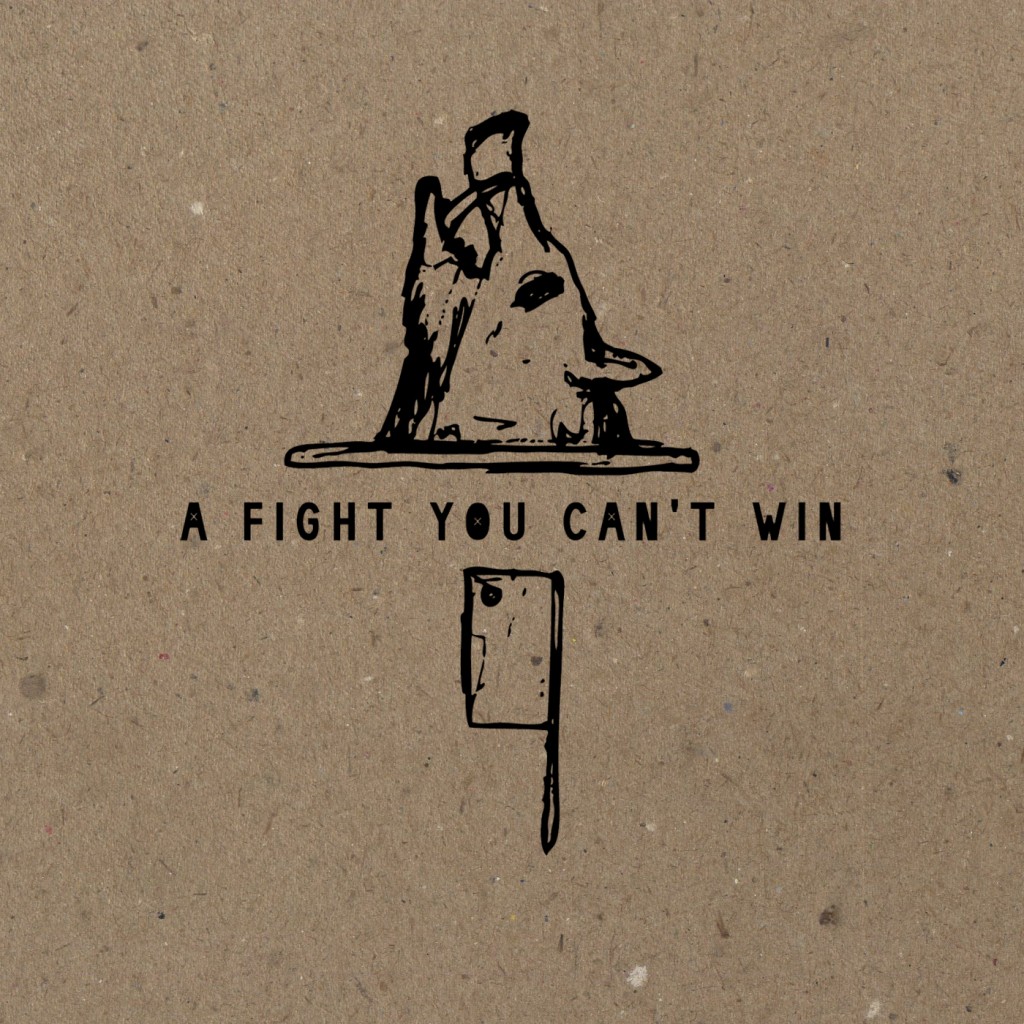 Having been earning their stripes on the Edinburgh live circuit over the last few years, alt-rock quartet A Fight You Can't Win have been threatening to unleash their barraging, uniquely wrathful craft for some time now. Off the back of last year's altogether promising Every Last Breath EP – itself worth a cursory listen, at the very least – the foursome have returned with a brief but vehement self-titled effort that could well see break new ground beyond the would-be confines of their whereabouts and serve as inspired springboard of sorts for a potential full-length release.
Fronted by Ballycastle native Matthew Bakewell, the band are – like many of the most instantly engaging alternative acts of this generation – neither simply punk nor grunge nor rock. In fact, one of a number of regionally lauded bands in the UK and Ireland to have incrementally concocted their own brand of all the above whilst defying all kinds of kneejerk comparisons and regurgitated sentiment, they appear totally compelled to play harder and faster and with more conviction than their peers – simply to underline their collective desire to be seen in their very own light beyond the efforts of the like-minded.
Of course, this is rarely an easy task – particularly for bands who, despite managing to forge a hybrid sound from their influences, still wear the imprints on their sleeves. A Fight You Can't Win, though, give it a very good shot this time around.
Bursting out of the traps via the curiously-titled 'Bruised Like A Porn Star', their latest EP gets off to a subtly scathing start. With Bakewell veering between tunefully intoned verses and emphatic bellows, the opener – impressive as it is – gives away to its more immediate follow-up, 'Jerusalem Crickets', an early highlight that teases and affronts in brilliant fashion. "Are you digging a grave? Are you living a lie?" Bakewell enquires, almost echoing Thom Yorke's enquiries on 'We Suck Young Blood', deviously sparse, Melvins-like interplay serving as a backdrop before the song erupts into full-blown, scuzzy technicolour.
'Boiling Sea' begins as a considerably more placid affair, overture-like dulcet harmonies giving way to verses and a chorus that screams mid-era Pearl Jam. It's zealous without feeling overbearing; pop-inflected without crumbling into over-affected posturing. Better still, single 'Burning Sky' proves to be a vitriolic slab of extraordinarily-infectious punk rock. Propelled by a ferociousness akin to Future Of The Left or Jesus Lizard – and a bassline courtesy of Robbie Smith that evokes Them Crooked Vultures 'Mind Eraser, No Chaser' – it's masterfully elevated by bloodthirsty gang vocals on the chorus reminiscent of our very own Gascan Ruckus and Empty Lungs. 
More than anything, four all-too-short tracks in and it seems that A Fight You Can't Win's implementation of entwining, occasionally almost imperceptible melodies underpin their fist-clenched craft to great effect. Whilst there is (forgivable) room for more radical innovation insofar as the structuring of material goes, the EP's closing hardcore vignette 'Viking Cancer' serves as a parting battle cry of sorts – a fleeting middle finger in the vein of Hüsker Dü Everything Falls Apart – that, largely thanks to lead guitarist Lesley Crawford's Joey Santiago-esque lines, only serves to underpin both their intent and growing reputation as a band on the brink of much bigger things indeed.  Brian Coney