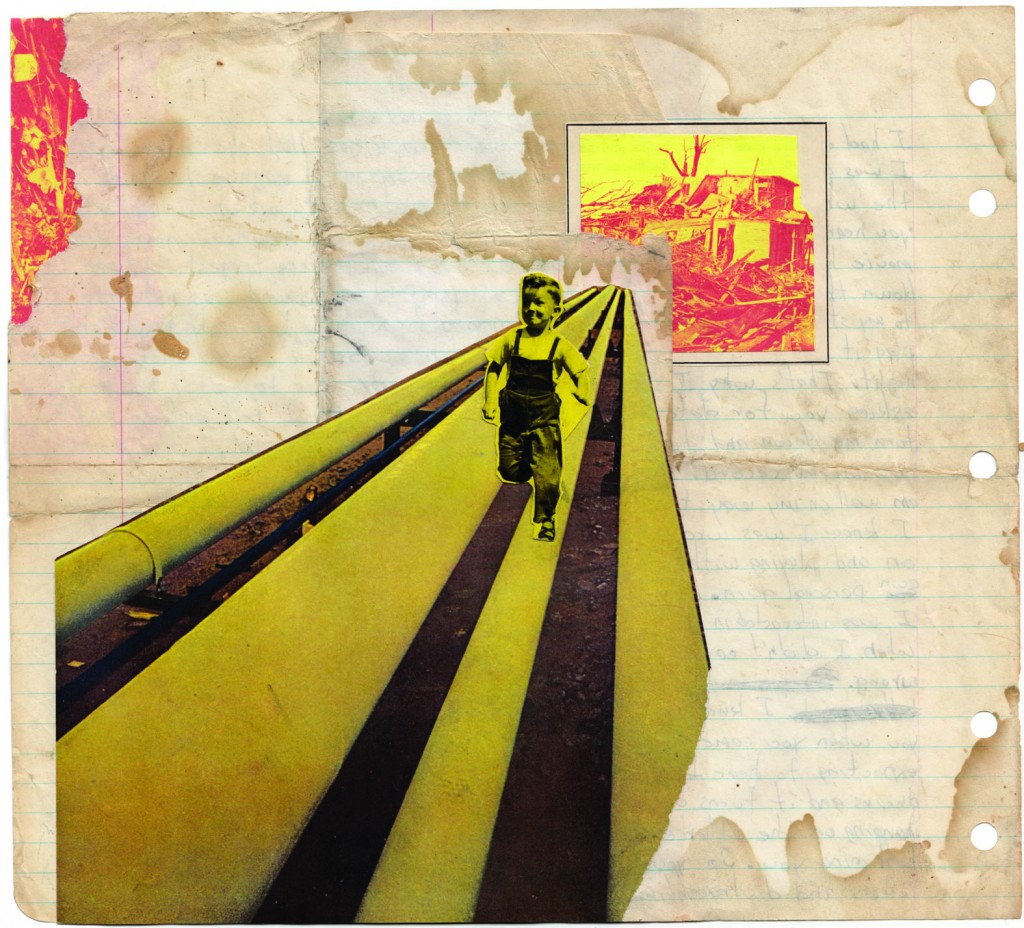 At this stage, fourth album in, may we at least pretend that we all know Guided By Voices are back? Is it ok for The Thin Air to skip the history lesson and pass over the obligatory "Robert Pollard is prolific" spiel? OK, good! We will try not to look back. And so onwards to the future and for now the present and another GBV album.
English Little League reveals that the reformed "classic line-up" may not have quite hit the ground running with 2012's three albums, but instead it seems they were paying their dues all over again. These are the dues they patiently paid over many years of obscurity eventually gaining a level of success tantalisingly close to that which they maybe deserved (a level their admirers and sometime soundalikes The Strokes then fully realised). Oops slipping into a bit of history there.
As they began to appear, The Thin Air's clumsy, projected theory on these new albums was that of a virtual (but at the same time actual) retread of the first time round but in fast forward. Covering similar ground of early 90s albums but with the luxury of a record deal willing and able to cope with the scale of their legendary output. Finding their feet and feeling each other out once again, GBV2012 debuted with Let's Go Eat The Factory where they seemed to be "doing" Propellor and Vampire On Titus. From 92/93 those two albums provided the GBV blueprint, an enchanting basement-and-beer atmosphere and style, but less fortunately occasional meandering tunelessness. Still, … Factory provided promise – a mouthwatering prospect. With two more albums already slated in, could we expect anything on a par with their twin masterpieces of lo-fi, indie power pop Bee Thousand and Alien Lanes? Sadly no, but with both Class Clown Spots A UFO and The Bears For Lunch, things were definitely looking up.
So where does that leave English Little League? Well, let's forget the history and the context and the reformation and listen to a new album by some band. No strings, no distractions, just a bunch of songs. What we discover is a diverse-yet-consistent, pop-yet-experimental gem that is somewhat instant yet still a grower. As albums go, it's hard to ask for much more than all that.
There's an impression that they recognised they were ready. While you needn't expect a recording of blandly clinical, Killers-sheen, effort has, for sure, been exerted to make this a much less lo-fi affair than many before. Coupled that with extra efforts on arrangements and the result is a more layered sound with some sweet backing vocals. Looseness still abounds, but there's nothing throwaway here and the (admittedly endearing) fragments that often litter a GBV album seem to have been saved for B-sides (remember them?) The songwriting too has moved on significantly, maturing in line with the improved surroundings. Pollard has always been able to up his game at just the right time and with his recent sideline activities restricted to (only!) a couple of solo albums in 2012, he appears to finally be self-inflicting some stricter quality control.
There's no messing around. Bob fires out compelling wads of psychedelic mystery over tunes that have you wanting another. And another. And that's exactly what you get – again and again. ELL is not front loaded with "hits" nor has it a centrepiece or anything like that. Leading off with riffs and rhythms teasingly reminiscent of the old days, 'Xeno Pariah' sets the pace but from there we head in all directions with relentless distinction from straight rock to the swirling jittery pace of 'Trashcan Full Of Nails' to 'Send To Celeste', an anthem so epic it will surely convince Noel Gallagher to quit music realising he never "had it". And as if that wasn't enough, after Sir Garlic Breath, the only true lo-fi moment that finishes side one, turning over sees Bob offering versions of Glam Rock, aching balladry, even retro, prog-metal all to convincingly spirited effect.
Pollard's right hand man Tobin Sprout too is on sparkling form, contributing more album highlights in a trio of delicate classics with nods to Lennon and The Byrds. There's even a couple of Pollard/Sprout co-writes including the mesmerising 'Noble Insect' where Sprout crafts a melancholic backdrop (that could easily be an outtake from REM's Out Of Time) over which Pollard sketches an instant piece of Japanese panel art in full technicolor using just a few words.
Having triumphed broadly and habitually over the previous 40 minutes and 16 songs 'W/ Glass In Foot' is the bookend. A faultless and excellent homage to 60s era The Who which elsewhere might be a peak, instead seems almost lightweight and feels as tagged on as the encore of James Brown's Live at the Apollo.
So they have added another feather in a cap already as laden as the headdress of a Native American chief. However, by allowing us over the past year to live through the "re-realisation" of their being, Guided By Voices may have diluted the impact of this undeniable success. The imperfections of this new chapter are perhaps the aspect of the story that most accurately retreads their previous faltering steps on the ladder to superstardom. But with each new release has been an element of promise which keeps them essential. Or perhaps they are experts in marketing. To my ears, English Little League most replicates the sound of Under The Bushes, Under The Stars – the album that originally broke up this "classic line-up". The new promise, then, could be the most exciting yet – the Guided By Voices album that never happened. Maybe the GBV story truly re-starts with their next album (no doubt already on it's way!) Jonathan Wallace