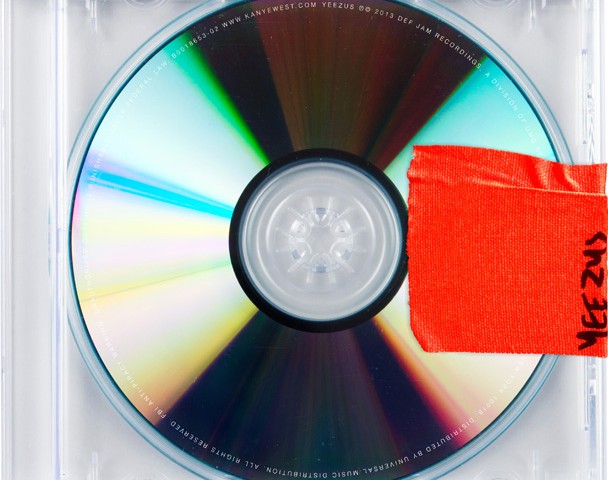 Yeezus is Kanye West's most polarising album to date, and it's not just down to the testing sonic wonderland he's created from such anti-pop genres as Chicago drill, house and industrial. Detractors who charge West with accusations of egotism, narcissism  and a bloated sense of self worth are unlikely to tolerate the most confrontational and aggressive piece he's ever made, with topics such as power, materialism and a creeping distrust of women on Ye's increasingly insular agenda. Inevitably, deriving enjoyment from Yeezus comes down to whether you can endure what's on the mind of the man who in a recent interview with the New York Times compared himself to, among others, Steve Jobs, Walt Disney, Howard Hughes and Anna Wintour, and counts ticking off two presidents among his list of deeds.
So what's Kanye so mad about? Yeezus actually feels like the first album he's made that doesn't necessarily play like a straight forward reaction to what's going on around him. His early work covered much of 'Ye's pre-fame life, triumphs over adversity (like a near-fatal car crash) and adjustments to success, while third album Graduation found him revelling in his superstar status. 808s and Heartbreak was basically an elongated "fuck you" to his recent ex, while the orchestral marvel My Beautiful Dark Twisted Fantasy had a sense of redemption after some bruising PR gaffs. In contrast, it's not as clear why Kanye could only see the darkness when creating Yeezus, but pitch black it most certainly is. If …Fantasy's "Runaway" snickered at 'Ye's critics by inviting them to toast the douchebags and assholes, then "I Am a God" simply gives them a solid middle finger. "I am a god. So hurry up with my damn massage," he sneers defiantly.
West revisits themes prominent in his earlier work, though with more scorn than ever before. A thread that runs through his discography is his discomfort with being enamoured by nice things. On one of his first solo tracks "All Falls Down", for example, he expertly examined the American dream and insecurities that manifest as materialism. It was anxiety he'd seemingly gotten over by the time Watch the Throne was released in 2011, an album that was criticised for alienating 'Ye and collaborator Jay-Z's post-financial crash audience with constant references to unattainable designer brands. But on "New Slaves" he attacks the offensive consumer stereotypes African-Americans of all means are branded with. "What you want, a Bentley? Fur coat? A diamond chain?" asks Kanye's salesclerk. "All you blacks want all the same things".
It's an interesting epiphany on US race relations from Kanye, sometimes (though certainly not universally) heralded as the voice of a generation. But if that includes those of the occupy generation, 'Ye makes no mention of the protests on Yeezus, his first album since the movement. And having called this his "Chicago album", the violence that currently mars his home city isn't directly addressed either. "New Slaves" remains the only overtly political record on what had been expected to be Kanye's "protest album". Instead, fractured relationships (another of his favourite topics) are a keen focus, despite Kanye currently enjoying a seemingly functional one. The drunken nightmare "Hold My Liquor" and auto-tune sodden "Guilt Trip" chart cold rendezvous and dysfunctional love affairs, while on "Blood on the Leaves" he takes Nina Simone's heartbreaking tale of lynching "Strange Fruit" as a stylistic starting point for a desperate lament on women he perceives as trapping men with pregnancy.
These bleak themes are underlined by the album's orchestration, from the jarring industrial horror of "On Sight" to "I Am a God"'s desolate dancehall and the siren call of club banger "Send It Up". All three tracks are co-produced by Daft Punk (three of four they worked on in total), who are really back in the mud after the clean compositions of Random Access Memories. Say what you want about Ye's ego, he's never been slow to reach out to artists he admires. Justin Vernon's ugly-beautiful vocals are expertly deployed throughout, while the late call-up of Rick Rubin to the production likely helped convert Kanye's melting pot of sounds into a cohesive 10 track album. The veteran producer's affinity for minimalism is also apparent. "Black Skinhead" is powered by a George of the Jungle-esque drum beat, some distorted guitar lines and not much else, while "Bound 2" could have been an incomplete Late Registration composition, bringing a more euphoric Kanye back to the sprightly soul samples of that era as he raps over The Ponderosa Twins Plus One's "Bound" with minimum extra dressing.
In that New York Times interview, West admitted that My Beautiful Dark Twisted Fantasy was partially driven by him seeking acceptance after his character had taken a few slugs publically. What's clear from Yeezus is that Kanye is done with those torments. "How much do I not give a fuck?," he asks on "On Sight". Probably not much at all, and this new state of mind has equated to a provocative, conflict-ridden, and, ultimately, extraordinary album. Dean Van Nguyen