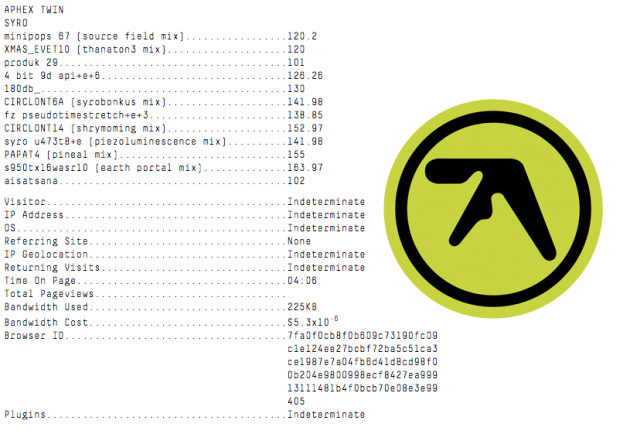 To give Richard D James an introduction seems redundant. Anyone uninformed of his past work has almost certainly listened to other artists inspired by it; such was the impact of many of his staple albums throughout the 90s. His reach within electronic music has oft been referred to as game changing, immeasurable, and essential.
So when his unmistakable emblem began appearing on blimps, tagged across multiple European capitals and even within the darkest reaches of the deep web accompanied by a stark '2014', the electronic music producer from Cornwall sent music lovers worldwide into a state of frenzy. The hype train started chugging inevitably; thirteen years since the universally acclaimed artist had worked under his beloved Aphex Twin moniker, was he finally set to return? His genre-spanning music has always surprised and perplexing listeners, but perhaps nobody foresaw the sonic shift present in Syro.
James hasn't been entirely silent these past thirteen years, having worked under pseudonyms such as Analord and The Tuss. The previously scrapped 1994 release Caustic Window also saw release last June. Syro, while imprinted with the Aphex Twin brand and released through Warp Records, is more a collection of tracks created in these past years, perhaps that didn't befit his other projects. That isn't to say Syro is disjointed or lacks flow – though the direction James has taken with it might surprise fans of his pioneering and challenging past output.
Rather than the organic tones of 2001's Druqks, he has opted to dive back into some of his earliest sounds, from jittery drum patterns to funk-driven synthesizers. The atmosphere is cold, clean and calculated, though there is a lot less ambient exploration here than on his very earliest recordings. Syro inadvertently feels like an introduction to Aphex Twin – a dummy's guide to music that, since his revolutionary innovations in jungle, acid house and drum and bass, has been replicated and imitated to the point that it feels more than a little commonplace.
Despite that, James makes it very clear that he is the champion of his own sound, and Syro is startlingly well produced start to finish. The attention to detail will please fans old and new, with hardly a single rhythm or drum pattern being played for more than a few bars at a time. Through headphones the acid squelches on '"minipops 67 [120.2]" (source field mix)' are gorgeous, the garbled vocals provided by James himself disarming and somehow infectious. There is a strong sense of melody on the track, and elsewhere on the record too, though never so much as on the demented pseudo-pop of 1999's Windowlicker.
The album takes a more aggressive approach on occasion too, such as on the gnarled jungle bleeps of "CIRCLONT6A [141.98]" (syrobonkus mix). The records final few tracks are very drum and bass-inspired, filled to the brim with new sonic ideas and occasionally threatening to bubble over. Despite the perfect delivery of each of these 12 tracks, though, there are spots where ideas start to run thin, especially on the track "180db_ [130]", a single thick baseline churning over and over. The final track here as well, a piano piece named "aisatsana [102]" (his wife's name mirrored) is certainly pretty to listen to but ultimately a little tired and anticlimactic.
Maybe it was inevitable that Syro would never reach the heights once seen on albums such as Selected Ambient Works 85-92 and the Richard D James Album, though maybe the sheer anticipation leading up to its release was equally inevitable. Regardless, Syro is still a strong release from Richard D James and by no means a blip in his deep discography; a continuation of previous strengths, rather, as his inimitable production meets some up-and-down composition. This seems most apparent on the longest track of the album "XMAS_EVET10 [120]" (thanaton3 mix), which features enough ideas for multiple tracks (best among them a delicious synth groove) but that ebbs and flows in such a way as to hold the listener enraptured one moment and then distant soon after.
Taking the hype out of the equation, Syro still engrosses. Consistently intriguing and occasionally hard-hitting, Aphex Twin remains one of the most important names in electronic music production – and is rumoured to be back for good this time. Aaron Hamilton