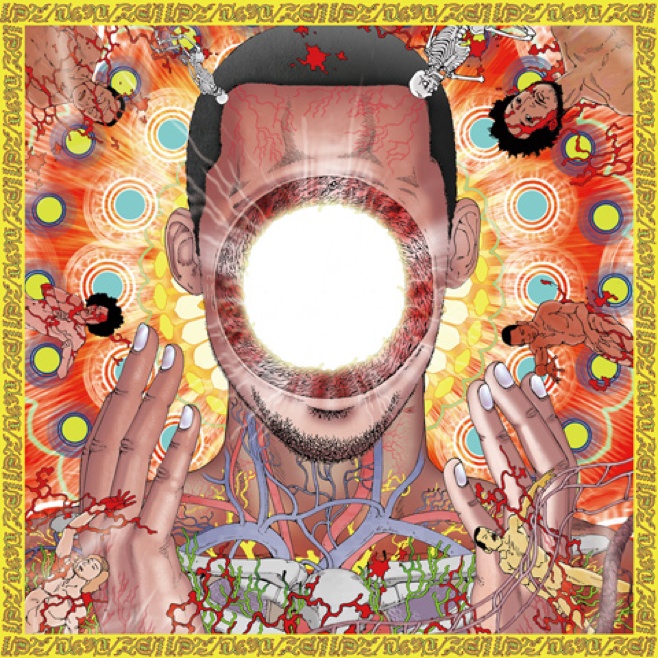 L.A.'s Flying Lotus (Steven Ellison) has had a somewhat circuitous musical journey since releasing his debut LP in 2006. Taking its title from his birth year, 1983 saw the beginning of a series of full-length releases that harked back to concepts and ideas – memories even of life and place – that were intrinsic to the beatsmith's musical identity. These sonic origins, as heard on 1983 and Los Angeles, compounded the variety of deep and melodic hip hop instrumentals that J Dilla and Madlib had long been well known for, but Ellison's interpretation of the mix-tape style was unique. It plumbed the depths of progressive Jazz and modal sensibilities, presumably a familial gift from his aunt, Alice Coltrane and her virtuoso husband, John. Subsequent releases cemented the Flying Lotus hallmark of varied styles, and, with his latest LP You're Dead!, Steven Ellison's mission remains the same: evolution of sound.
'You're Dead!'does exactly that. It isn't quite the relaxed, thoughtful hip hop of Ellison's early releases and it isn't exactly firmly centered in the frantic Jazz-orientated Cosmogramma or the atmospheric and haunting Until the Quiet Comes. Rather, Ellison has reached the perfect balance here. It is a record that takes all of these facets that worked well individually over the span of his production career and sees him combining them, twisting and turning them and creating an album that in theory shouldn't really work, but really does. Beginning with 'Theme,' 'Tesla' and 'Cold Dead,' Ellison rapidly ascends from lush opening tones to breakneck percussion and fusion Jazz guitar licks, plodding bass and subtle flourishes of far-off, IDM melody, all within around three minutes. To call it ambitious would be an understatement, but with the kind of discipline Ellison has given himself, it's no surprise that his vision immediately pays off. 'Fkn Dead' is just forty seconds long, but it manages to pack in the sweetest electronically-manipulated psychedelic funk, and may well leave you wanting more, but moving forward with this LP provides far more satisfaction.
You're Dead! isn't short of contributors either: Kendrick Lamar, Snoop Dogg and Thundercat all make appearances at various points throughout. Lamar, for example, adds an aggressive element to 'Never Catch Me' while Snoop Dogg and FlyLo's alter ego Captain Murphy provide the rhymes on 'Dead Man's Tetris,' a stabbing track that bounces with sharp synth lines and crowded samples, but culminates in dense melody and delicate timbres. Thundercat features on 'Descent into Madness,' a one minute and twenty seven second snippet of atmospheric progression and spectral voices; it's very Until the Quiet Comes. For those looking to be subdued into a cosmic-coma, there are tracks like 'Turtles'or 'Obligatory Cadence' that sweep along with classic Flying Lotus beats and extraordinary melodies, providing moments of ambient relief from an at times exhilarating experience.
At thirty eight minutes long, You're Dead! is ambitiously packed with a career's worth of material and experimentation. That's not to say it feels over-crowded, instead, it's organically layered in a way that conveys Ellison as an artist whose talent for composition matches his musical ability. This record won't be for everyone – its conceptually intriguing grasp of the finality of death certainly isn't hip hops main concern – but for those who have followed Flying Lotus from the start, you'll be able to see and hear how Ellison reached this point of no-return sonic excellence, and that's an amazing accomplishment   Aaron Drain