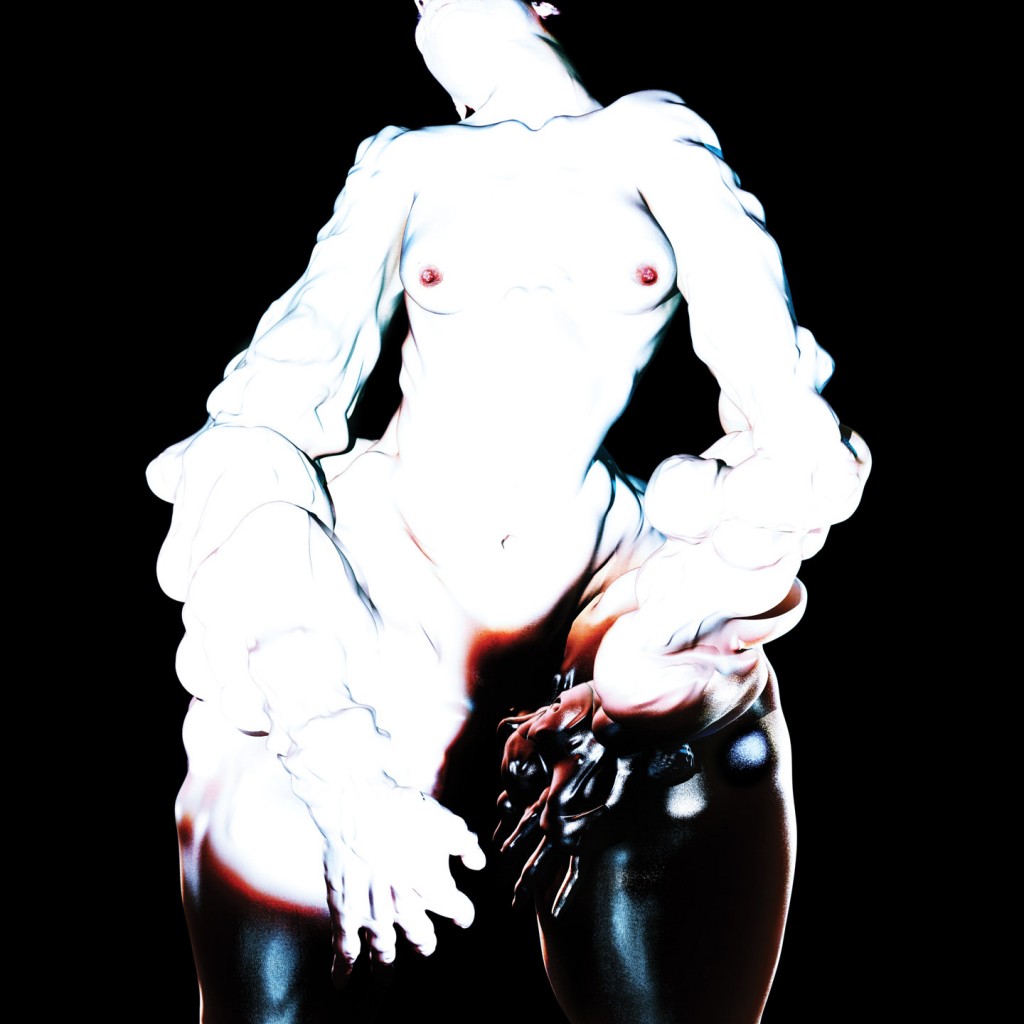 Understandably Arca's debut album Xen has been eagerly anticipated in electronic circles and beyond. A couple of strong EPs in Stretch 1 and Stretch 2, his astounding &&&&& mixtape, productions for FKA Twigs and some guy called Kanye West as well as forthcoming productions on the next Bjork album – the London-based Venezuelan producer is hot property. Xen is supposedly an androgynous alter-ego of Arca whose "mere existence is kind of repulsive and attractive at once" he told The Fader and it's this idea of these two opposites co-existing that makes Xen so endearing.
The hip-hop focus of Arca's previous material has been largely toned down on Xen. The influence still remains of course, but Arca seems to be operating in his own galaxy, and what he's achieved with Xen is rather more difficult to pigeonhole. Everything about Xen seems to be set around creating a record of contrasts. Contradictions sit comfortably side-by-side – its murky undertone is offset by bright, glossy synths which wouldn't feel out of place on a Rustie record. The result is a record that sees beauty in the twisted.
These contrasts are used throughout the record to fairly stunning effect. The title track 'Xen' – a disjointed and dissonant pressure-builder – is sandwiched between 'Held Apart' and 'Sad Bitch', two beatless synth jams dripping and floating with melancholia. That sense of sadness runs through the album; 'Failed' being another one of these beautiful, downcast, beat-free melodic efforts which is reminiscent of a session pianist playing on a keyboard. The album peaks with the lead track of sorts 'Thievery' which epitomises the contrast on the album as it laments and delights euphorically in equal measure. It also feels like the most overtly sexualised track on here, a theme that is implied by Arca in his Fader interview as something that is intended to be one of the defining characteristics of Xen. Indeed the album achieves this in Arca's own kind of warped way. It's sexual but it isn't sexy – instead it's presented in a way that resembles more a fever dream than a wet dream. Perhaps the only real negative to pick out is that the album would be improved with a few more moments like 'Thievery' which ends up feeling like a centrepiece for the record.
That doesn't mean to say the rest of the album breezes by though. Whilst 'Lonely Thugg' is one of the more delicate offerings, we're soon launched into 'Bullet Chained', the most direct track on the album. It's hands-in-the-air party business, and it would probably make its way into a few club sets were it not for its short length. The album closes with 'Tongue' and 'Promise', which seems to be a sonic nod to R.I.P. era Actress, both absent of the pained vibe of the rest of the record. Xen is not a perfect record, and at times it feels like it floats by, but Arca has created a truly unique album which should not be ignored. Antoin Lindsay
[soundcloud url="https://api.soundcloud.com/tracks/167213046″ params="color=ff5500&auto_play=false&hide_related=false&show_comments=true&show_user=true&show_reposts=false" width="100%" height="166″ iframe="true" /]