Album Reviews
Published on November 24th, 2014 | by Aaron Drain
0
Boxcutter & Defcon – New Yen EP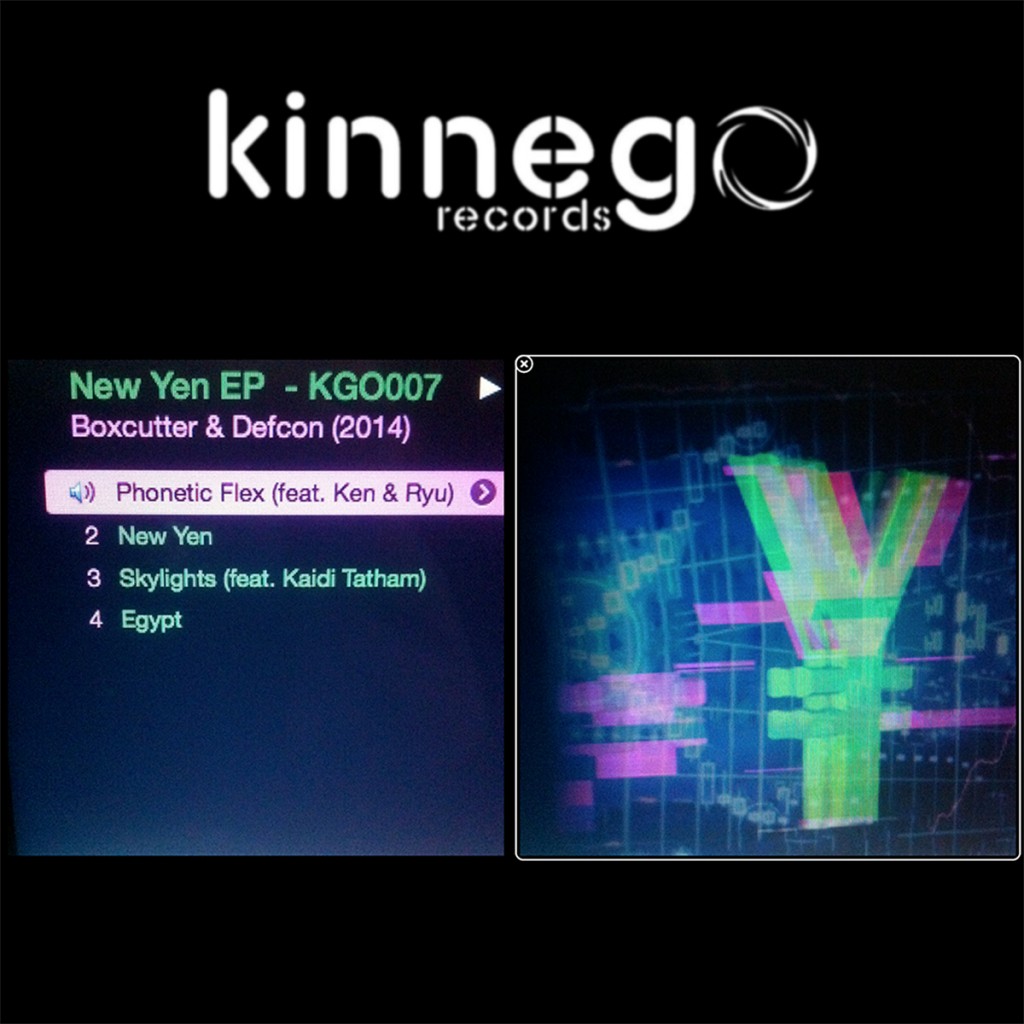 Veteran Northern Irish producer and multi-talented wizard-man Boxcutter (Barry Lynn) has had a fairly enviable run of success since his debut for Planet Mu records back in 2006. A string of high-grade LP and EP releases, collaborations and remixes for the likes of Amon Tobin, Falty DL and Space Dimension Controller – as well as countless headline shows worldwide – would suggest that Lynn might deserve a relaxing day or two off. The release of his latest EP New Yen, in collaboration with fellow NI producer Defcon, suggests otherwise. In fact, what it does suggest is that Lynn is in no hurry to rest on his laurels.
The New Yen EP, released through Lynn's own Kinnego imprint, further highlights his seemingly natural ability for making splendid electronica. This particular teaming up with Defcon works especially well too, as the pair have not only previously collaborated, but share many of the same influences and production/live techniques.
Opening track 'Phonetic Flex' features Belfast's own Ken and Ryu – a formidable drill and bass coupling that will be familiar to patrons of some of Belfast's finest DnB nights. The track is pretty damn delicious, sweeping and contracting with deep chords and syncopated percussion that creeps and dissolves a la Squarepusher circa 1996. What's even better about it is the fact that it's so moody without being overbearing; there is an atmospheric depth that manages to remain floating and lucid. It also blends perfectly with the follow up title track. Again, there are light and airy pad melodies, synth-washed lead lines and a gentle rhythm that's built from dubby breakbeats. It peaks with a kind of two-step, galloping pace but maintains its gentle presence. A pattern emerges too here, as 'New Yen', like the previous tracks, blends effortlessly into the oncoming 'Skylights' which features Bugz in the Attic man Kaidi Tatham. It feels very similar to previous tracks, given it shares the same component parts, but the jazzy, chill-out melody and liquid drum and bass style of attack and decay set it apart as a contained, masterful example of the benefits of collaboration. That being said, it's quite short and doesn't really get going in the hands-in-the-air way you'd expect it to, which would elevate it further from the pack, but it's still a dream to get your ears around. 'Egypt' rounds off the EP and immediately has a different vibe to it. Its bongo hit intro and stabbing flute-esque melody gives way to a heavy, almost-but-not-quite dubstep beat. It's driving and powerful and very bass orientated. There are flourishes of sweeping sawtooth refrains before that mighty breakbeat kicks in and when it does, it packs muscle. Play loud and move yourself around – it'd be foolish not to.
The only drawback here is that you'll likely want so much more. A few more tracks, an album even, would be a great thing. Here's hoping. As it is, New Yen is short, sharp and stompingly magnificent and that's something you can't fault. Aaron Drain
Summary: Check out: The whole EP

If you like this, you might like: Squarepusher, Bugz in the Attic, Space Dimension Controller.