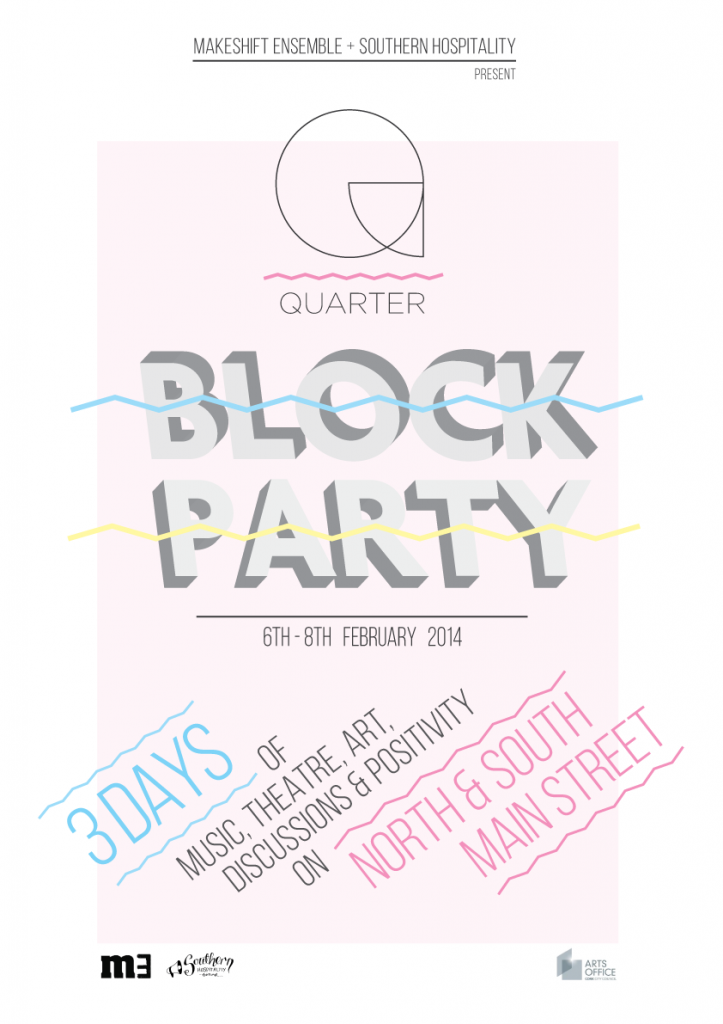 Cork's varied and vital cultural communities have always been a pillar of life in the city, but the past year or so has seen exponential growth, despite setbacks. Next year looks set to be a cracker, with a bumper crop of albums and EPs in the pipeline for release, and the announcement of  the Quarter Block Party festival, taking over the venues and businesses of North and South Main Street for a weekend, from February 6th to the 8th. Run as a collaboration between The Makeshift Ensemble (the force of nature behind the Quarter arts all-dayers at the Triskel) and newly-established gig promoters Southern Hospitality Board,  the weekender boasts three days of music, art, theatre, banter and good vibes throughout.
The initial brace of announcements was made last night at GULPD, with Stevie G and the Southern Hospitality peeps behind the decks, as well as a set by ambient electronic artist Tim Fitzgerald, a.k.a. Twin Lights. From the announcement:
Quarter Block Party are delighted to present an intimate show by O Emperor, the first of a number planned for next year which will showcase new, unheard material. Since the critical success of the band's second, Choice nominated album, Vitreous, O Emperor have been working on new material which is due for an early 2015 release.
Local Cork bands are well represented with Shookrah, Hags, Partisan Crowds, Roslyn Steer and Chris Power all appearing at the 3-day long event. National bands also get a look in as Twinkranes, Cian Nugent, Adultrock and Women's Christmas bring a diverse sound to the already explosive music programme.
The theatre strand of the festival sees Will Dickie and Lucy Hutson bring two energetic shows from the UK which have their Irish premiere at Quarter Block Party, while John Doran, fresh from a run at Tiger Dublin Fringe Festival, presents his one man show The Centre of the Universe.
In Public Art, businesses will be transformed into creative hubs of artistic activity for everyone in the community to enjoy across the weekend. Cork artists are being commissioned to present a series of pop-up performances, encounters and happenings the length and breadth of North and South Main Streets. Artists include Tom Lane, who recently turned the Samuel Beckett bridge into a harp with his piece Harp: A River Cantata and Fiona McGeown, the recent winner of the Fishamble Writing Prize also Tiger Dublin Fringe Festival.
Jim Carroll returns to Cork City for the first time in almost two years with his ever-popular Banter sessions – a day of chats and bantering around music, film and food. Banter is a series of talks, conversations and discussions talking a lot about everything.
Seminal Cork DJ Stevie G presents Vinyl Love 777. Over 7 hours on Sunday a number of Cork vinyl enthusiasts will play their 7 favourite 7 inch records in Gulpd Café.
Further announcements are on the way, including a second major event happening on the Sunday to be revealed in due course.
The Quarter Block Party, supported by Cork City Council Arts Office, goes down February 6th-8th. Tickets went on sale this morning on Eventbrite, don't sleep on 'em.