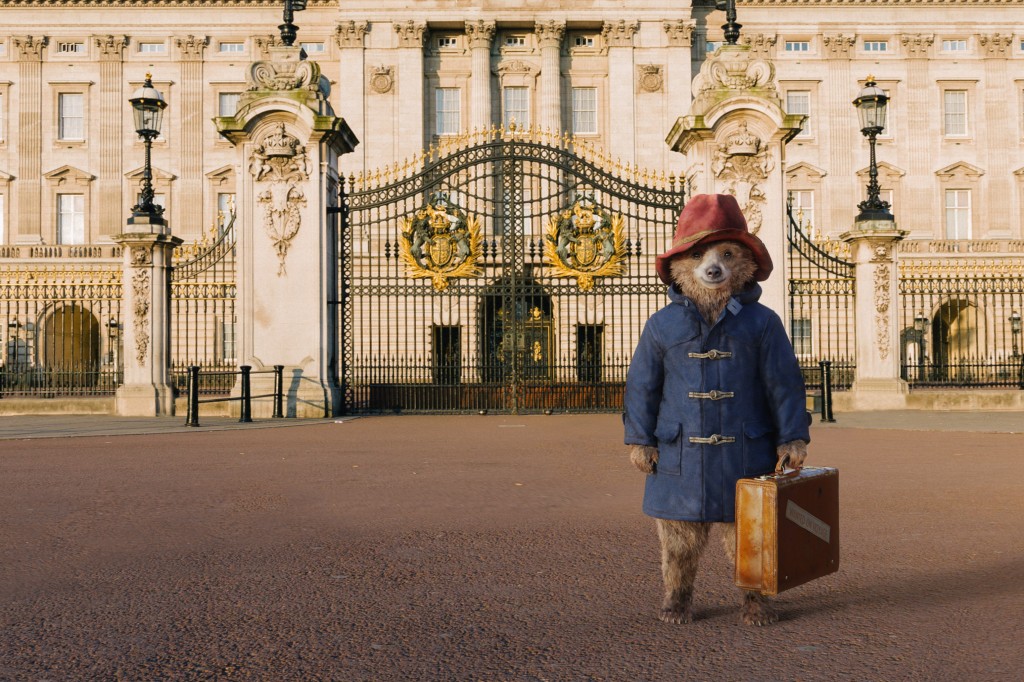 Like its eponymous Peruvian exile, the cinematic adaptation of Michael Bond's iconic children's book series arrives under choppy circumstances. A late-in-the-game change of lead voice talent (from Colin Firth to Ben Whishaw) and a flat teaser trailer were casting doubts on the viability of StudioCanal's most expensive film to date. They need not have worried: like its marmalade-guzzling, duffle-clad hero, Paddington is a sweet, immensely likable creation that is sure to find a hearty welcome on adopted shores. Writer-director Paul King and co-plotter Hamish McColl have delivered a lovey, lovely live action/animation film which doubles as a great Christmas watch. After the bottomless horrors of Nativity 3, it's a real joy to see a family film that gives a toss about working for audience attention.
Paddington sticks to the books' origin story, and throws in some new elements. After an earthquake destroys his jungle home in 'darkest Peru', the young bear stows away on a ship bound to Britain. Raised on stories by his aunt and uncle (Tilda Swinton and Michael Gambon) about the explorer who introduced them to marmalade (all the vitamins and minerals a bear needs for the day!) and promised them a cheery reception back in London, Paddington finds a country unlike the one he was promised. Everyone ignores his hat-tipping pleasantries about the weather and it rains. A lot. Luckily, the Brown family takes pity on the furry vagrant and invites him into their pastel-coloured Victorian townhouse, where he softens their hearts and gets into all manner of domestic mishaps.
The Browns are a slightly-parodic upper middle class sort, with a mother (Sally Hawkins) who peppers her daughter with twee nicknames and an uptight father (Hugh Bonneville), a risk assessor by trade, who frets and frowns over any inkling of chaos. They're joined by the widowed Mrs. Bird, a no-nonsense Scottish type with Julie Walters in full panto mode. Rounding out the winning cast is the comically pathetic Peter Capaldi as the curtain-twitching busybody next door (a UKIPer for sure), Jim Broadbent as a cartoonish antiques dealer, Superhans from Peep Show as a briefly-featured pickpocketer and Nicole Kidman as Millicent, a villainous taxidermist eager to capture Paddington and mount his lifeless hide in the Natural History Museum. With her killer stillettos and white trenchcoat, Kidman is utterly, icily perfect, an Hitchcockan blonde by way of Cruella de Vil. 'I'm going to stuff you, bear' she growls wickedly, and it's hard not to grin at the camp glee of it all.
Whishaw pitches Paddington with the right amount of earnest, slightly fey innocence, a naive newcomer open to the strange wonders of urban London life. And the film invites the audience to share his wonder too, filling its 90 minutes with surprises and treats, a brightly-coloured click-clock world of visual flourishes and cutaway gags. At one point Paddington pens a letter home in voiceover, the description of his new tribe's quirks prompting a nearby dollhouse to open up and display their domestic arrangement in miniature like something from a Wes Anderson flick. When Paddington and Mr. Brown visit the Geographers' Guild to track down the long-lost cartographer, they find a record system of criss-cross pneumatic tubes which Paddington, in a moment of forgetfulness, jams up with his lunch baguette. There's an adventurously daft spirit here, both progressive and traditional, playing irreverently with stuff upper colonial lips while making the case for the importance of good manners. Paddington is not as ideas-dense as some of America's recent animations, but it is silly and sentimental in the ways that Christmas films are supposed to be, with humane lessons about family, kindness to strangers and goodwill to all men. And bears. Conor Smyth