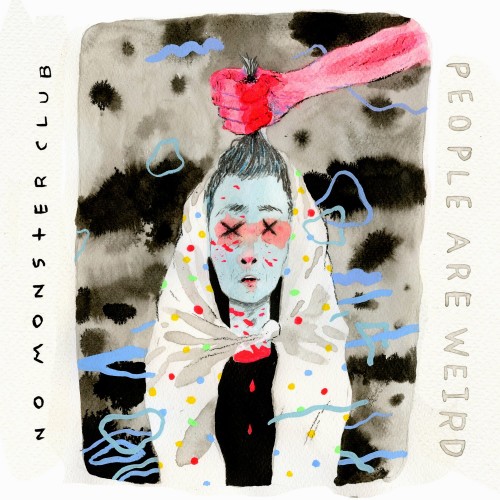 No Monster Club is a cacophonous creature that can't be categorized. Styled by Dublin's own Bobby Aherne, this musical act is a creation born of many genres, many trials, many errors, and many years in production, with latest release People Are Weird proving no exception to this theme. In fact, this eighth album represents a lot of Aherne's transformation as an artist these past eight years. Dipping his hands and his listeners' ears into various pots of sound across the set, Aherne flees from being pinned to one classification, weaving an opus which draws on the influence of past artists and the adventures of his own personal canon. The one constant thematic thread, however, is a dry humor that fails to take itself too seriously.
Opening the line-up of this alt pop medley is snarky 'Can't Get Enough Of That Hippy Dippy Bullshit'. The track releases a lyrical simplicity—alternate "bullshit" with "spirit" and "style" and you've memorized the song—which permeates the rest of the album while the arrangement brandishes a well timed and well polished composition that outstrips Aherne's earlier production quality. Sure, the old punky punches pandered on 2011's Young Guts Champion find a welcome home on Aherne's latest venture, especially in the choppy guitar riffs scattered throughout. Yet, the influence from label Popical Island seems to sharpen the sound Aherne intends, especially on vocal tracks, and blends all the styles he chooses to emulate in a smart fashion which would otherwise make him sound a dilettante. Prolific years as NMC and with former crew Dublin Duck Dispensary have undoubtedly allowed Aherne to master his multi-interest talent.
An uninterrupted listen conjures happy musical memories of the past few decades. Songs like 'Arms Across America' ring redolent of Brooklyn duo Matt & Kim while 'They're Still Cooler Than You' lurches into mistier realms of rock ruled by Pixies. Aherne drives NMC to cover a spectrum ranging both Vampire Weekend and Elliott Smith, and his tracks often shatter the familiarity he builds from the styles of both 90's and noughties alt-pop and rock, but the only problem this method creates is that the album does not quite know what it wants to be. However, this could be the point Aherne is making after all, and trying to capture the work in anything other than the fun-loving creativity that went into it might just be the real exercise in futility. Aherne's many solo and collaborative albums with an array of labels, including his own self-releases, reflect an untamed quality in his career that makes itself known on People Are Weird. Even his Posthumous Hits album under label Already Dead Records boasts a perplexing 46 tracks, not to mention a false obituary stamped on the label's site in a darkly humorous jest.
People Are Weird gathers all these elements of Aherne's career into one cheeky blend, and like the rest of his portfolio, it can only be bought on cassette tape or through digital download. When finished listening to this musical mosaic, crack open Aherne's new book of witty Dublin storytelling D'You Remember Yer Man? Wry wit and observation surely plaster his pages. Joe Madsen