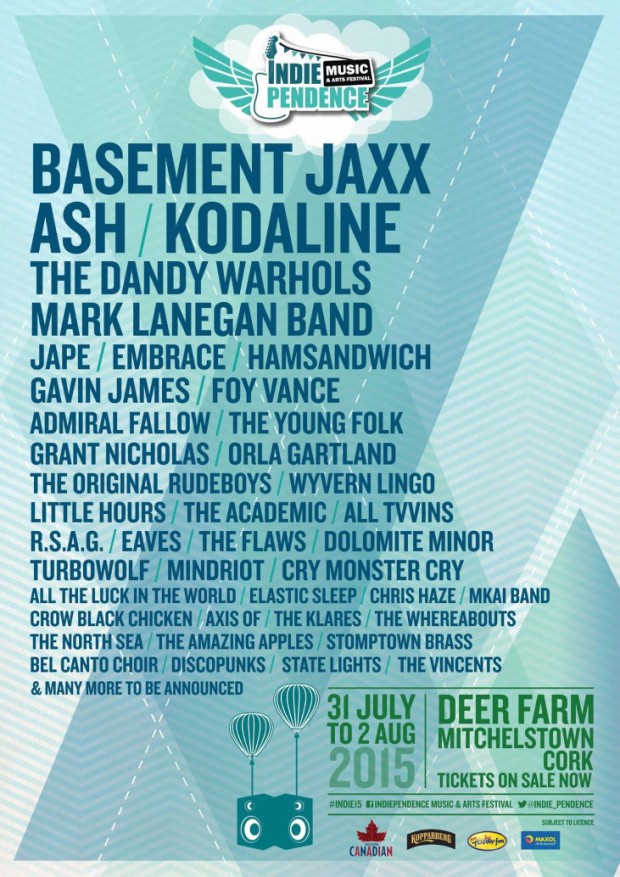 Cork's major entry on the national festival calendar (and therefore the most important), Indiependence has established itself as one of the major festivals of the summer, typically by serving up diverse, quality line-ups in a relatively intimate setting, limiting admissions to 5,000, amid the fields of Deer Farm in Mitchelstown, the festival's home since moving out from the town square way back (early iterations of the festival featured headline sets from Coolio and Dannii Minogue, among others, before it truly hit its stride as a camping weekender).
This year's announcements so far have been nothing short of quality, with Ash, The Mark Lanegan Band and the Dandy Warhols headlining alongside dance legends Basement Jaxx, pop band du jour Kodaline and Embrace among others. Although the festival's penchant for headlining with heavyweights has made it one of the leaders of the post-festival-boom pack, the joy of Indie is always in looking at the array of Irish and independent talent that forms the bulk of the line-ups: Jape, All Tvvins, Elastic Sleep, Axis Of and The Vincent(s) are among the standouts announced so far, with more doubtless to come before the big weekend. There's always the odd surprise thrown in among all the names, too: this year's hidden gem is a solo set from Feeder man Grant Nicholas.
While the full line-up of non-musical entertainment has yet to be announced, the festival has traditionally has a tremendous selection of comedy, food & drink, silent discos, movie screenings and more, and the camping arrangements range from good honest tent camping, to limited campervan spots, to fully-furnished PodPads. Furthermore, in keeping with their family-friendly ethos, under-12s go free and quiet camping/van spots are among the options.
With a huge and diverse line-up, a unique atmosphere even in an age of 'boutique' and specialist festivals, and ample entertainment off the main stages, Indiependence has quietly become one of the festival season's can't-miss propositions. Mike McGrath-Bryan