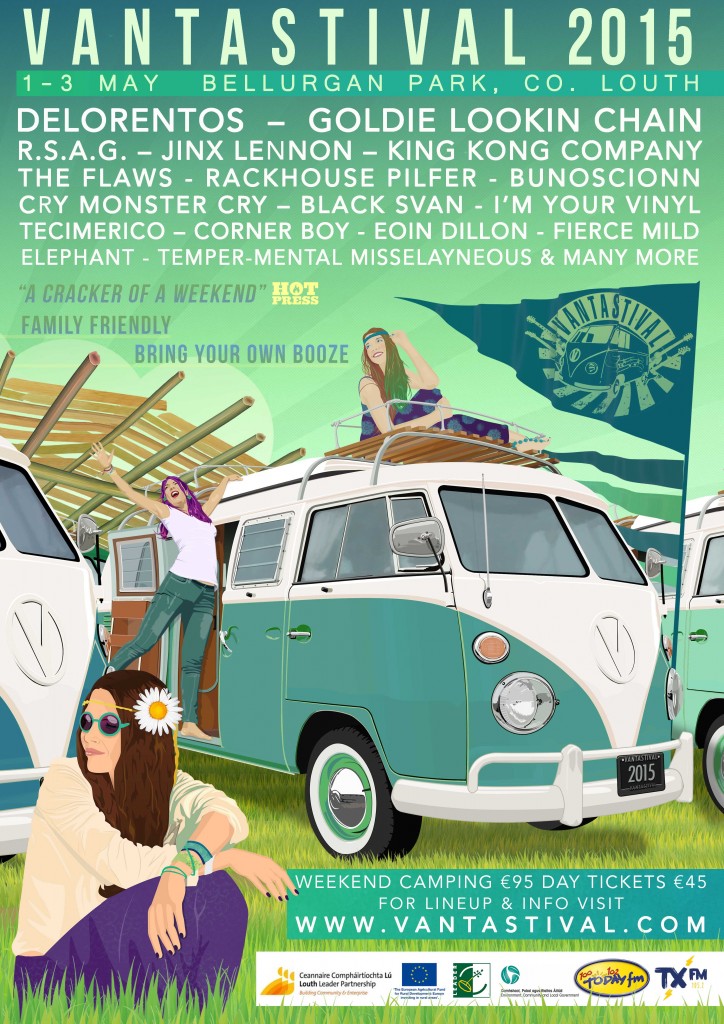 When they say Vantastival is one of the Irish festival circuit's best-kept secrets, it's not some line they're feeding you. A family-run event, over the past six years, Bellurgan Park, Co.Louth-based fest has been built up completely from scratch, "a totally unique, brazenly independent event and the only one of its kind in Ireland", and its sixth annual instalment, running from May 1st to 3rd, is looking like a cracker.
Headlined this year by reunited Welsh rap-rockers Goldie Lookin' Chain, and Irish indie-pop veterans Delorentos, the multiple-award nominated fest also places the spotlight on a diverse range of Irish bands and artists across genre lines and several stages, as well as a plethora of kids' and non-musical events as part of the family-friendly aspect of the festival. In keeping with the name, all manner of camper-van-related good times are in store, including the big Camper Van Cook-Off and Vantastibar.
The Goldenplec Grotto will be the festival's main outpost for Irish independent talent, a natural amphitheatre playing host to sticksman extraordinaire RSAG, CPNHGN, Cry Monster Cry, Grouse and Bunoscionn among countless others over the course of the three-day weekend, while, across other stages, punk-poet Jinx Lennon and dance pioneers King Kong Company join rising bands and artists like New Secret Weapon, Fierce Mild, Temper-Mental MissElayneous, Naoise Roo, Kingdom of Crows and many more. The Melomania stage in particular is promising: aside from serving up a selection of locally-sourced grub, it's also where some of the festival's local acts will be showcased, and where wee-hours sets from the various artists and DJs will be had.
The DIY vibe doesn't stop with the music, mind: the eco-friendly stages, set into the landscape of the park in the Cooley Mountains, and site itself are built by volunteers, and the staff are volunteer music-lovers also. The custom designed Vanhalla stage, described by festival organisers "as like stepping into an ancient Viking world", was built from materials sourced on site and dug into the hillside. The mix of camper-van enthusiasts (who congregate on the festival equally to get caught up with other van nerds as much as for the tunes), and music heads makes for a unique atmosphere of sight and sound, and the festival stresses a welcome for all, from cook-off-ready VW veterans to tent-dwelling stage-hoppers. And, as is tradition, though there is a bar on-site, the festival is officially BYOB.
Several satellite stages, an adventure area with archery, climbing wall, and more; gourmet food stalls, festival traders, and a cinema all add to a packed programme and provide something for everyone, but festivals providing this much stuff for wee ones deserve particular praise: tons of arts and crafts, dance, adventuring, kiddie yoga, and even composition and recording workshops (!) make this one for music-nerd parents to take note of.
Vantastival tix are on sale now from www.vantastival.com/tickets: €95 for weekend camping, €45 for a day pass.