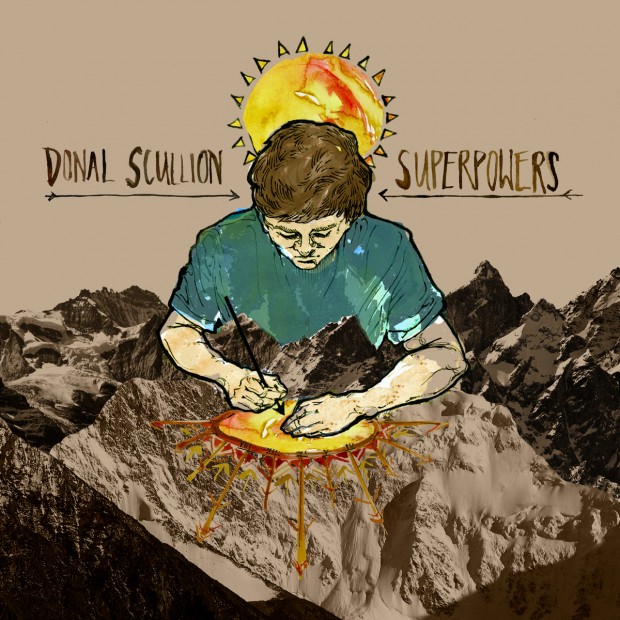 As an NI Soul Troop mainstay, Donal Scullion is more than familiar with the nuances of jazz, funk and, of course, soul, not to mention the work that goes into arranging tracks that bear those generic attributes.  This is what contributes to Scullion's grasp of composition and style on his debut solo offering Superpowers; an album that is full of all the tropes of big-band splendour but tows the line quite sweetly between the singer/songwriter and pop-soloist milieus.  In theory, that's a tall order and not without its pitfalls, but Scullion has obviously approacehed Superpowers with enthusiasm and vigour, and the result is a collection of tracks that bear a successful formula; the James Morrison formula, shall we say.
'When The Good Times Come' opens the album with a bluesy edge it's not unlike much of Van Morrison's output over the years.  The brass at play are reminiscent of Chet Baker's more positive and cheery overtures, but paired with Scullion's clear and clean cut vocals, the track becomes a certified head-bobber.  It's breezy, fresh sound is far from the "tired, drunk and weary" sentiment that Scullion implies with his lyrics.  'Egg Shells' takes things a little more melancholy and that's always a plus when dealing with music, that for all intents and purposes, is mined from tortured souls who've long since rested on their blues and R & B laurels.  It's guitar-driven melody is fine and again, Scullion's vocals are mature and clear, but we're beginning to see a little more rasp in his throat and it starts to move the album to where it needs to be.
'When Is It Going To Change?' affords us more of the same.  It's funky and a little deeper, with a strong, minor chord progression and the odd 7th thrown in for good measure.  The horns, when they come in, add a commanding element to an otherwise fairly simple composition.  That's Scullion's strong point, it seems; keeping things uncomplicated and relying on hooks rather than turbulent syncopations or key changes that one comes to expect when listening to funkier shades of soul.  Musically, 'Disillusioned Angel' comes closer to being more complex, but it manages to remain groovy without switching up the rhythms or tones.  Lyrically, it's fully not convincing.  The subject matter tries to break through but unfortunately falls short and feels contrived.  Perhaps a bit too much artistic license has been taken, but it's an admirable effort nonetheless.
For all its merits, Superpowers can be frustrating at times too.  '(Last Time I Take A) Bottle On A Date' or 'Tables In Bars' feel overly self-indulgent and formulaic in comparison to the surrounding tracks.  That's not to say they are invariably poor, but they aren't as strong as the rest of the album and having made the final cut, the question is – are there tracks that would have been better suited to Scullion's vision?  Yes or no, it's still a solid record and should be a pleasing addition to anyone's collection; it's a fairly inoffensive album and that's the beauty of it. Aaron Drain
Donal Scullion launches Superpowers at The MAC, Belfast on Sunday, June 21.