Galleries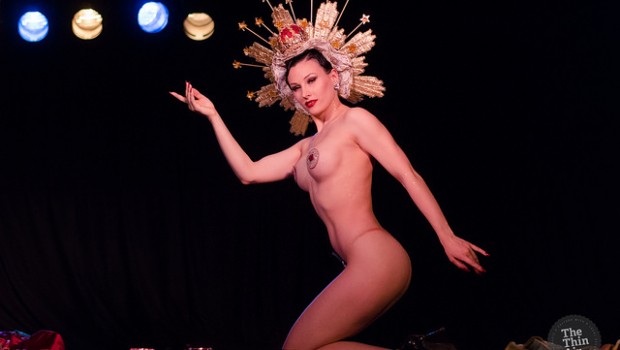 Published on May 5th, 2015 | by Sara Marsden
0
Tease-O-Rama @ CQAF, Belfast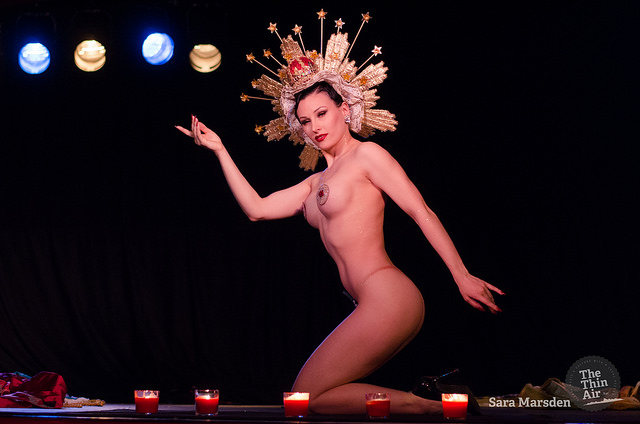 It's cold, wet, and your writer is standing outside a metal fence at Custom House Square. "Why," you ask? Well, as Soup DuJour herself quoted "Outside it may be tragic, but in here we feel it's magic!" It's time for a very special Tease-O-Rama at Belfast's Cathedral Quarter Arts Festival. We enter the massive marquee; its black ceiling is strung with lights to emulate a night sky – setting the tone for a majestic show indeed.
The night is kicked off with a jazz and swing set by J.B. & the Riviera Swing Band. Breaking out classics such as 'The Lady Is a Tramp', 'Beyond the Sea' and personal favourite, 'I Wan'na Be Like You' from The Jungle Book, which saw J.B. dancing about like a monkey. Little amuses the innocent, eh? As their set draws to a close the audience are warmed up and ready for some tantalising burlesque.
With the scene suitably set, Venus Dupree and Soup DuJour soon grace the stage performing 'Two Little Girls from Little Rock' à la Marilyn Monroe and Jane Russell in Gentlemen Prefer Blondes, comically adding, "I'm just a little girl from Yorkshire/I learned an awful lot in Newtownards" in broad local accents. The audience is grinning from ear to ear as Soup welcomes everyone to Tease-O-Rama As always, before the first act commences, Soup makes sure our vocal chords are warmed up to "whooo", "ooooh" and "aaah" in wonderment – revealing a little bit of ankle so we can practice.
For the first act, we are transported onto a flight with Kat Air. 'Come Fly With Me' plays as Kat Moiselle (Miss Burlesque Ireland 2014, no less) desperately tries to undress for her audience whilst constantly being interrupted by incomprehensible messages from the captain and various duty free announcements from a fellow flight attendant. Kat gets beyond annoyed at all the stopping and starting, but this is quickly remedied after a few shots from her handgun. After dusting off prints and bagging the incriminating evidence Kat can finally get to shaking her tassels for us!
All the way from Germany, Eden Berlin performs Eden and the Swan. A beautiful routine using a screen and projector to create amazing shadow play, her movement runs in perfect time with the projections – the swan comes closer when Eden beckons, she throws him breadcrumbs and he gives her a necklace which she appears to take straight from the screen. It's an intriguing routine; nothing that this particular attendee has ever seen before. Vicky Butterfly follows next with her Swan routine, inspired by classic Ziegfeld Follies acts and you can tell. Vicky looks like she has walked straight off of the cinema screen, gliding gracefully around the stage in one of the most beautiful costumes imaginable. Beginning enveloped in iris wings, she releases butterflies from her hands, stripping down to lingerie and ending with a dreamy fan dance.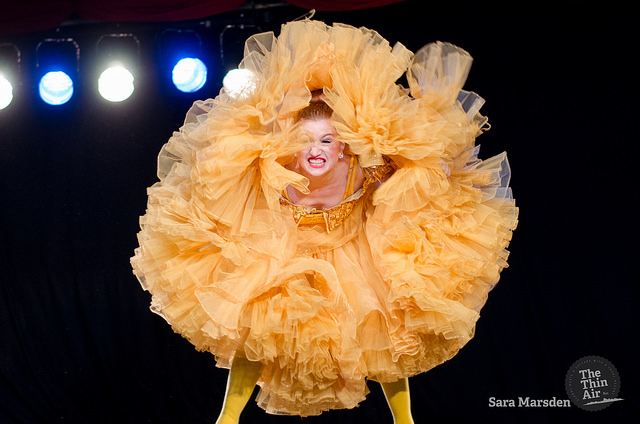 After a brief break for the audience to "rehydrate", Kat Moiselle is back. Her circus performer routine is an absolutely endearing and humorous act revealing her in a massive yellow tutu. Amused by her own suggestiveness, giggling at the show of a shoulder, she urges the crowd to cheer her on in the removal of her huge tutu. She soon starts to panic when she can't get it off, rolling and writhing about on the ground – the clumsiness continues as she gets her granny panties stuck around her heels. Kat starts to roll down her socks, glancing at the audience to see how much of a rise they are getting from her naked calves; the routine comes to and end with a view of Kat's bare cheeks.
Eden Berlin's act Madonna in Sorrow has the crowd in absolute awe. Walking on to the stage draped in a golden cloak and headdress, she looks like a living Botticelli painting, full of incredibly vivid colours, albeit a far saucier representation of, say, the mother of Jesus. She has such a powerful presence – with one alluring glance and a smirk of her lips she has us completely captivated. Teasing the crowd with a show of her leg through her red gown, and with the pull of a cord it drops to the floor, revealing a sacred heart over her… well, see the photos. To finish she slowly moves the flame of a candle along her arm and across her chest, pouring red wax over herself. The audience is a mixture of stunned silence and absolute admiration, mixed in with fascination.
Vicky Butterfly closes the Burlesque portion of the evening with her routine When the Rain Falls the Night Flowers Bloom, performed to 'Sail' by Awolnation, inspired by Vicky's memories of the nightlife in London Soho. Walking onto stage in a dark glittery cloak, she slowly glances at the crowd and takes a draw from her cigarette. On exhaling the smoke she surges forward in motion – removing her black cloak the stage is plunged into darkness and it isn't long before there is a collective gasp from the audience. Vicky's iris wings are lined with coloured lights, which change and move with the music. Glimpses of her torso are all you can see as her wings twirl and twist around her; it's incredibly majestic and mesmerising.
After a quick set change the lights rise up on two show girls hiding something between feather fans. As the music bursts into life they reveal Venus Dupree. Kicking off her DJ set with 'First Be a Woman' by Leonore O'Malley, she sings and dances along to the music behind her sound desk. It isn't long before the floor is crowded with people and confetti cannons are released over everyone ready to dance the night away. Sara Marsden