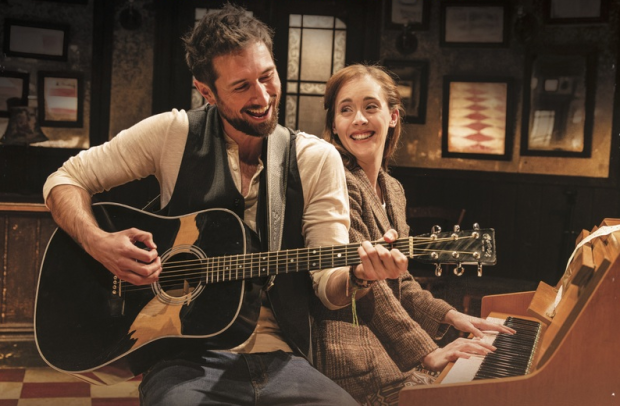 Nearly two and a half years after its Dublin premiere, the wildly successful Once returns to Ireland for a run unto itself.  When the show made its European debut in February 2013, the Dublin-set musical premiered at the Gaiety for a short engagement before shipping out to its West End settlements for a two-year run where it added Olivier Awards to its Tony Accolades.  Now Landmark Productions returns the show for the summer season, performed exclusively at Dublin's Olympia, and the fans it won abroad join new followers from its hometown in what's sure to become a sellout.
Walking into the turn-of-the-century Olympia, spectators are treated to a jamboree of Irish country music emanating from the stage where both players and ticket-holders mingle among beer and string instruments.  Donned with dusty mirrors and pub stools lining the perimeter, the set is literally an open bar where everyone is welcome to gather before the show starts.  Stagehands quietly file people off to their seats one at a time to clear the space while the music continues to riot until a man from the ensemble sings a somber ballad, and the show begins.  This crew of musicians and singers form both chorus and orchestra, building a story around central figures Guy and Girl.
Tom Parsons' Guy plays a down-and-out Grafton Street busker who finds new hope in a spirited Czech heroine played by Megan Riordan.  Hearing the troubled musician sing and play, the girl encourages the young Irishman not to abandon his guitar, as planned, but to stick to his music and get his life going again.  He is stopped, she says throughout performance, but what she discovers is that perhaps she is, too.  What ensues is a tale of ostensible predictability, two people reclaiming promise and vision in the presence of new love, yet the way the tale is told warms the heart in innovative ways.  Enda Walsh's book sings beautifully to Glen Hansard and Markéta Irglová's wistfully folk score.  Illustrating how the love of two people can ripple into the lives of those around them, Walsh's words bring lightness and poignancy to the moments that need it most while scattering quirky bits of humour throughout to break these moments apart.  Meanwhile the ragtag ensemble, seated on stools when not performing, carry the soul of the piece in the spectacle of scene transitions, gallivanting and echoing musical themes on instruments where a Greek chorus of old might sing to abstract metaphor.  When they do join Parsons and Riordan in song, however, they bolster a tingling harmony that resonates throughout the house, taking audience members out of their seats and into a world set just beyond the theatre doors. The set's mirrors, too, lend bounce to the lights, capturing the piece's character of levity.
The show largely follows its film, Broadway, and West End predecessors, yet a few moments make the production feel at home in Dublin.  Jokes about the north and south sides, remarks on the Dublin-Cork rivalry, and the prospect of leaving Ireland to find success abroad all land in a particular way with this audience that mightn't elsewhere, and it gives this particular production its strength.  Landmark Productions could not have timed this piece better, when summer travelers who've experienced the show abroad can join Dubliners in witnessing how it excites in the story's hometown.  The resounding standing ovation of opening night was well deserved.  If this response is to indicate anything, perhaps it is the start of another Irish theatrical icon with staying power for seasons to come. Joe Madsen
Once runs at The Olympia to Saturday, August 22. Go here to buy tickets.