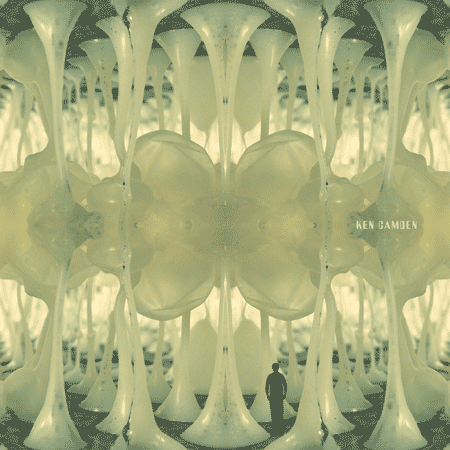 You know, Ken Camden, from Lahndan Tahn? Bit of a spiv, sells knockoff jeans and bootleg t-shirts. Once did CDs n'all, but no one cares 'bout them no more. No wait, that's Camden Ken. Better instead to concentrate on the name of the album. Dream Memory as a title, along with the striking artwork, does a much better job of setting the scene for what can be heard inside. However, positioning his listener in a suggestible other-worldly location with a couple of words and a picture only partially paves the way for just how exquisite the next 45 minutes of their life might be.
What may also be unexpected is how informative an experience it will be. You see, Dream Memory, as well as being a musical delight, doubles as a succinct history lesson in its own genre. Yeah. Thoroughly postmodern, man. Except postmodernism is so history now. It's Meta nowadays, innit? Whatever, Chicagoan Ken Camden is a master of his trade or at least gets an A+ for his homework.
That trade incidentally, is ambient music. Except Camden is really a guitarist. Already three albums deep with retro, atmospheric guitar-botherers Implodes (also on the Kranky label), he and some Windy City associates have achieved what The Jesus & Mary Chain would have if they'd taken the misguided and bewildering step of going flat-out shoegaze in 1992. Implodes is what it is, and without doubt satisfies a certain demographic. Outside of that specific audience though they sound clunky and, well, a little unnecessary. When Ken finds himself alone, however, it's an altogether different tale.
In parallel with his band work, Dream Memory is Camden's third solo LP and his process is becoming more honed with each release. First he syphons liquid magic direct from the cosmos or inner space or some goddam beautiful sounding place or another. He then distils it into swathes of gently floating calmness, removing any evidence of planetary rhythms. On to these washes he adds just a little colour (guitar, voice sounds, echo effects) to give each auditory experience its own personality.
Now, with that requisite fluffy lingo out of the way, here's what (and who) it sounds like. As already mentioned, Dream Memory is a virtual tour through the Ambient Past Masters. Eno then, is an obvious presence throughout, but it's not until the underwater gurgles of 'Brain Work' that it comes to the fore. (Brian Work?) Some-time Eno collaborator Harold Budd, and in particular his work with Cocteau Twins is an obvious touchstone on opener 'Adenosine', though it then morphs to add a little Kraftwerk to the mix. The Düsseldorf pioneers get a more direct nod on 'The Melatonin Chamber', whose slowly gliding arpeggios recall Ralf and Florian's earlier work.
Ken has a firm grasp on the 90s wave of ambient greats too. 'Time Bend' recalls an extended mammoth intro typical of The Orb at their hypnotic layered best. It would have been entirely unsurprising to find a hint of the KLF's masterpiece Chill Out cropping up here and there but instead, as if to prove his knowledge and because it is more appropriate in this context, for closer 'Asleep at the Wheel' he plunders an earlier more obscure record. The album in question, Space, was created by Jimmy Cauty of The KLF and Dr Alex Paterson of The Orb as a modern take on Holst's The Planets and is an endlessly spooky trek across the solar system.
Comprehensive though Camden's trawling of the past may be, it's important to note that this is far from a simple homage. In the midst of the album's flow it feels nothing like a game of "Spot the Influence"; rather it exists as a mini universe in which to lose oneself and zone out. There is plenty of Camden's own personality on show too. 'Renewal' brings back his trusty guitar, creating a prelude-to-a-gunfight-at-dawn motif (though maybe in a space ship) and the smoothly squelchy bleepiness of 'Curiosity' feels lacking in any obvious precedent.
Dream Memory is a joy of a listen. Yes, sometimes the ingredients are familiar (though it was a struggle to recall Monty Python's 'Déjà vu' sketch in reference to the title track) but even when he is partially recycling, Camden does so with impeccable taste and succeeds in sculpting his own hugely enjoyable addition to the genre's lineage. Jonathan Wallace