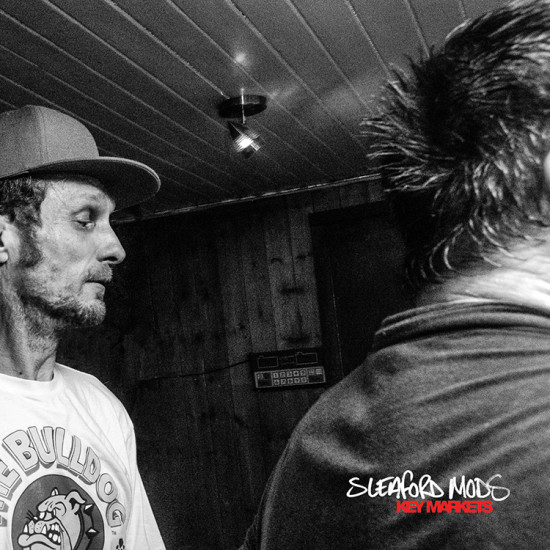 Fresh from well received performances on the festival circuit, particularly the BBC-broadcast Glastonbury, Sleaford Mods have been exposed to a wider audience and remain masters of polarisation. They have become poster boys for the disenfranchised: they're proud of their roots but they don't want the music to be undermined or people to misconstrue their working-class stance as validation of lout culture. They are quick to disassociate themselves from the hooligan element, or as vocalist Jason Williamson put it: "If you're expecting some kind of cross between This Is England and Twycross Zoo mixed in with The Firm then please do one."
In deference to the interests of big business and the elite, seedy politicians in Ireland and Britain – along with the right-wing press – have yielded a population of pacifists. Sleaford Mods come as a wake-up call, and count themselves amongst the loudest of dissenting voices. They take a stand against those in false positions of authority (celebrities, bad managers, hard men), underhanded politicians who impose their will and the overall putrid hypocrisy of life. There's intelligence and acute wit at play, which almost works as the antithesis to their onstage demeanour and style – with Andrew Fearn adorned in a Chief Wiggum T-shirt, occasional spliff and compulsory beer in hand. Williamson prowls the stage like a caged scrap-yard dog, pacing back and forth, frantically rubbing his head, barking down the mic and snarling at the crowd – who often prod him with a stick these days in the hope he'll bite back.
Sparse musical arrangement means lyrics are given precedence; with little to conceal them, they're open to scrutiny. 'Live Tonight' starts proceedings on new album Key Markets with a Sleaford Mods football chant – the perfect way to dispel falsehoods of them being a yob band… Used to open recent live sets 'Silly Me' is a welcome change of pace. Its meandering funk groove acts as a short interlude to an otherwise ferocious live show. They've had slow-paced songs on other albums, but what is different here are his vocals; he had indicated previously he would sing on this album and 'Silly Me' delivers on that pledge. Less lyrically direct than other songs, with lines about aliens, 'Tarantula Deadly Cargo' makes use of a simple bass line, and it sees the front man singing once again; but there's always time to bring the tone down by proclaiming how "European poohs" are deadlier than "alien mums".
For a song named after a pair of shoes – 'Bronx in a Six' proves to be a castigation of an unknown for bragging about "shoots on location" and dishing out the "posh nuts and weird fruit" for appetisers at fancy dinner parties; he reminds him/her/them: "All you wine tasters die in boxes like the rest of us wasters." 'No One's Bothered' has punk speed, bouncing along with computerised beats, vocals given weight as Williamson sings about "being trapped" and the alienation of modern life. As a pairing they seem like they could join fan favourites like 'Jobseeker' and 'Tied Up in Nottz' as shout-along tunes.
The most volatile song on the record 'Face to Faces' sees him attack politicians, Boris Johnson (who gets knocked off his Boris Bike), amongst others: "Nick Clegg wants another chance, really? This daylight robbery is now so fucking hateful it's completely accepted by the vast majority… in chains…/ in our death and in our failure to grab hold of what fucking little we have left we have lost sight/And in the loss of sight we have lost our fucking minds, alright!" The use of simple ringing synth sounds at the end is a nice addition adding to the menace of the words. 'Arabia' also makes use of interesting staccato beats: both songs show that subtle changes within their rigid format can open a range of possibilities. Former Labour leader Ed Miliband doesn't slip by unnoticed, as he gets "hit with the ugly stick" on 'In Quiet Streets'.
Elsewhere he ridicules poser musicians in leather jackets and motorbikes trying to mimic Snake Plissken on 'Cunt Make it Up'. It sounds like 'Fake Tales of San Francisco' rewritten by Alex Turner's punk-rock uncle who's pissed off seeing his nephew become a parody of the people he once mocked. Sparse, echoed drums and rim clicks are used to good effect with single bass notes on 'Rupert Trousers', in which he mocks posh politicians and their chums for throwing lavish boat parties, then pretending to care about ordinary people in "submerged villages" while wearing £200 wellies. Blur also get the treatment: "…spitting out fine cheese made by that tool from Blur, even the drummer's a fucking MP/ fuck off you cunt sir." 'The Blob' contains one-liners about airport commercialism: "Tripping over the Toblerones near Victoria's not very good secret… they're knickers mate."
Critics questioned whether the band might mellow after considerable acclaim and their move towards full-time "professional musicianship". It seems to have been answered with a resounding "fuck off" on Key Markets. Sleaford Mods are as irate as ever and eager to remonstrate – although musically and verbally their sound has been refined. As a wordsmith Williamson may be juvenile at times, but his writing is clever, drawing on popular culture and politics that connect with their audience. The band's supposed inability to evolve and endure in such a minimal capacity had been challenged; Fearn has added to his sound bank, and once again provides unobtrusive but no less essential beats to allow the song-writing to shine. Their evolution has also centred around Williamson's vocal delivery: he now sings occasionally instead of spewing torrential diatribe at all times. As he admitted himself, the  format was intentionally restrictive: "We don't want to 'jam' with people and all that shit, we just want to demonstrate a series of blunt songs – that's the point." In doing so again, they may have produced their most complete record to date. Garrett Hargan