Film / Theatre Reviews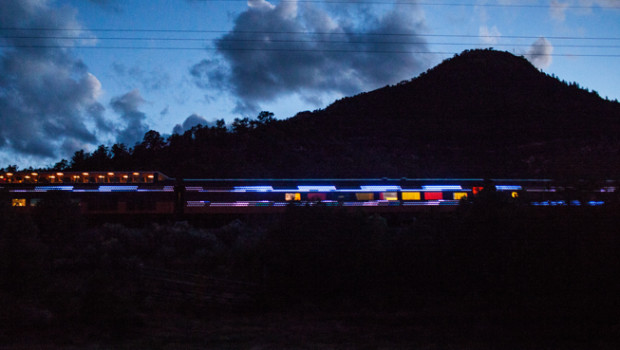 Published on July 27th, 2015 | by Colm Laverty
0
Station to Station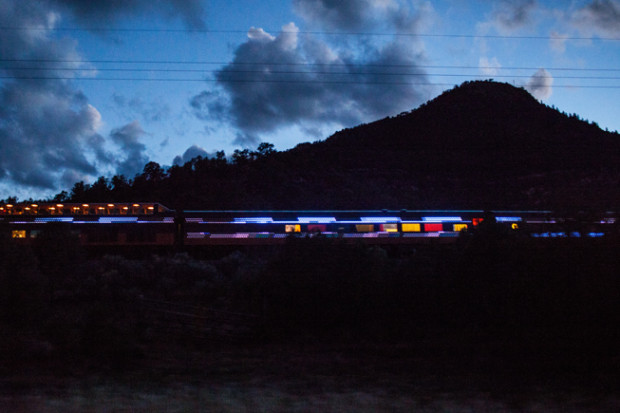 Doug Aitken's Station To Station – a collagist multimedia project spanning numerous major US cities and "off-the-grid" locations – is an unusual experience. Recorded over a three-week, four-thousand mile trip in late 2013, Aitken's film encapsulates all manner of experiences and ethea in relation to being on the road in a contemporary America.
Filmed on-board and around a customised, neon-coated train, and through a series of live "happenings", Station To Station is at once frenetic and contemplative, not only in its content, but also its kaleidoscopic structure. Collaborators range from world-renowned musicians (Patti Smith, Jackson Browne, Beck), to experimental artists (Olafur Eliasson (below), Urs Fischer, Aaron Koblin), to humble hitchhikers and engineers – many of whom spend considerable time in transit – each appearing in their own one-minute vignette; 62 in total.

The resulting film is an eclectic ode to the railroad. Many artists, performers and thinkers use the bitesize timeframe to showcase a project, discuss their craft, or simply tell a story. With countless musicians performing and writing on-board, and painters such as Olafur Eliasson creating remarkable kinetic artworks, Aitken's train is constantly bustling with life and creativity. Very little hierarchy is given to the importance of subjects, nor is any particular city or live event given prominence. Even the boundaries of time are blurred. For a project whose roots are planted firmly in the ideas of collaboration, experimentation and the democratisation of art and music, this ambiguity is fitting.
"It's not about celebrity, commerce, or anything, it's just about making things … It's an artist-driven piece of work, rather than it being the music industry trying to sell records or downloads, an auction house selling paintings, or something like that." – Doug Aitken, Fact Mag
But even Aitken breaks his own rules, once or twice returning to the same subject: Thurston Moore, for instance, is granted two whole minutes(!) for a performance and an interview. Music plays a huge part in the film, and the train is just as integral to the soundtrack as any other instrument. Layers of percussive train noises synchronise wonderfully with Moore's rendition of classic Sonic Youth track, 'Schizophrenia', moving effortlessly into the following segment with great momentum. It's impressive that, for a film of such scale and variety, these transitions don't feel obtrusive or forced.
Full version of Schizophrenia, not from the film.
The pacing, both efficient and dense, is not necessarily a detriment to the bigger picture. Many segments even benefit due to this trimming of the fat. Flowing almost stream-of-consciousness, the cacophony of voices come together to form a collective, contemporary zeitgeist of identity, connectivity and transition. In the second decade of the 21st century, this is who we are and this is where we're going.
"Until the early part of the twentieth century, the railroad was the network. The railroad was now what we think of as 'the internet'. Life speeds up. We accelerate. Pulses of electricity." – Doug Aitken
At times calling-to-mind the avant-garde documentary work of Vertov or Marker, Aitken introduces a wealth of images brief enough to encourage further pondering once they have passed by. The film maintains the brevity and variety of moving images one might witness from the window of a speeding train – or perhaps a more apt (but no less awful) metaphor, given the contemporary setting: scrolling through visual content via social media.
Although the methods by which we create and consume art, music & film have changed immensely in recent years, the pioneering spirit of artists and free-thinkers is, as Station To Station suggests, something that is timeless. As the democratisation of technology gives way to ever-evolving types of art, there will always be individuals who adapt, experiment and utilise it to their greatest potential. Station To Station is a film that celebrates this potential on a universal scale. It's an exciting display of creativity that's optimistic about the future of art, without forgetting about its past. Colm Laverty
Station to Station is screened at Belfast's QFT on Saturday, August 1 and Sunday, August