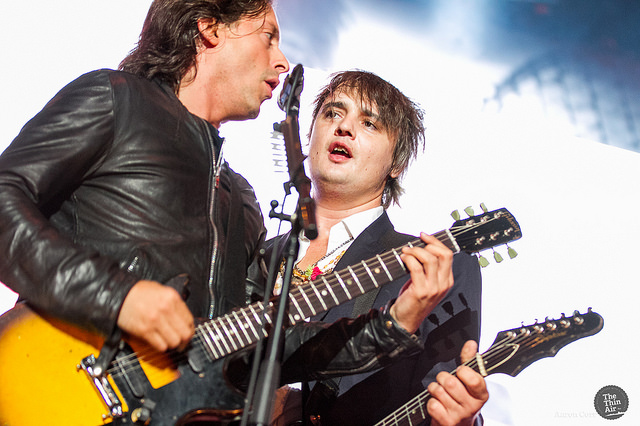 A rose by any other name right? 3Arena may be the pre-eminent venue for the most popular acts visiting the city but it must be a logistical nightmare.
The sound is far from perfect for The Courteeners breed of indie rock. The sound has been primed for stadium rock which the lads fill out admirably but it's at the detriment of any musical subtlety. Instead each song is awash of boom-bah drum noise and the sometimes faltering vocals of Mr. Liam Fray. Luckily it's not so muddy that they lose the sing along spine that give their most popular tracks like 'Small Bones' shape.
During the performance there's plenty of nonsense going on. This doesn't feel like any normal gig. The atmosphere is just too thick. Too many memories, too many reminisces. So between the young people who can't keep it together and the older guys who won't things are getting a bit messy. Already a groups been reprimanded for smoking cigarettes. Another couple's been thrown out for getting physical. It's all too easy to see that things might get out of hand and a few nervous onlookers withdraw to the further boundaries of the auditorium.
But when The Libertines take to the stage the buffoonery largely stops. Instead it culminates into a flabby feel good vibe. Swaying, emancipated, pulsating. Like that uncle who tears up the dancefloor at weddings.
Those outside surge in like the final apocalyptic tides when the moon finally slips off its orbit and hurtles into space. Within a few off-key, junking chords the band have the whole venue bouncing up and down, holding onto each other, whooping and squealing. Here they are back together, back on Irish soil. Pete Doherty playing the ravished lover, Carl Barat every part still the noughties cool kid, John Hassall the mod and Gary Powell largely unchanged save for a sage looking grey beard.
Here are the very icons of Britrock's second wave. Same swagger but with an added effeminacy and, perhaps, romance? Because this is love. As the band play through characteristically sloppy versions of their hits like 'Can't Stand Me Now' and 'What Katie Did', the whole audience bops in an almost religious ecstasy.
The Libertines seem to have literally picked up where they left off. There's no pretension, no welcome back. The performance they hand out liberally, has no airs. It's unpolished in a way that only they could ever get away with.
It's a shame that the show peters out the way it does but such is the institute of the encore that it sometimes erodes the finale. Instead the band depart and re-enter without too much ado. And as the crowd give one last triumphant roar there's not too much to say. The boys are back, and they're doing it as well as ever. Eoghain Meakin
Photos by Aaron Corr