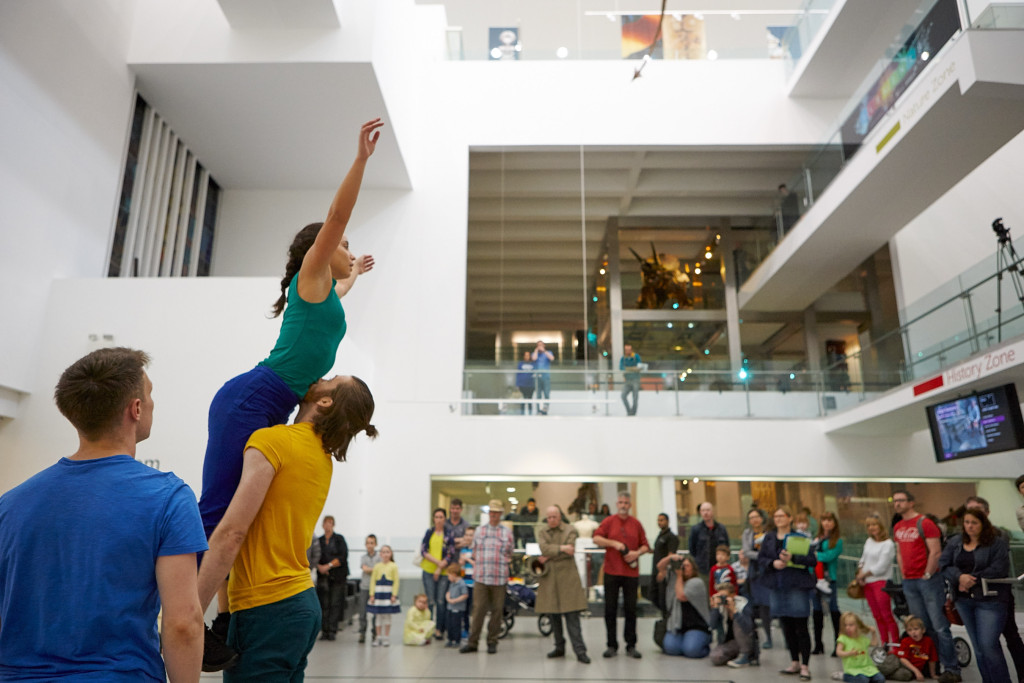 Tipping Point, the latest production from Belfast's Maiden Voyage Dance company, has been described as "a fast-paced trio about the loss of control, how we deal with interruptions to our intended path and how it feels to be living on a knife edge."
With all that in mind, the title and arrival of Eleesha Drennan's piece is both evocative and timely. At the time of its opening performance in the foyer of the Ulster Museum, Stormont is in crisis and a new Labour leader has recently been elected on the other side of the Irish Sea. Change has unexpectedly arrived, for better or worse, and everyone's focus is no longer so clear. It's a train of thought that arguably echoes both the current state of affairs within the British Isles and Drennan's vision.
But even when one sets aside the politically charged backdrop, Tipping Point amazes on its own terms: an energetic, emotional and eclectic work of art for all ages. What makes it most rewarding are its rich variation of movements, its pacing and its changes of pace, all of which act as a clear and commanding presentation of both adaptation and the difficulties that come with adapting to new lives, new circumstances and new surroundings.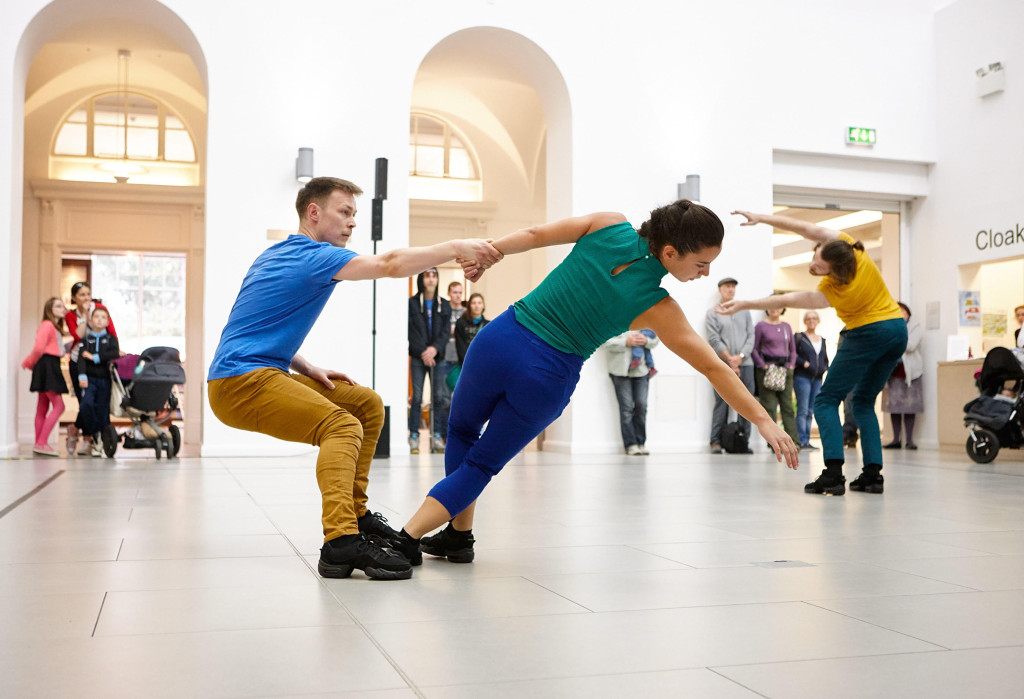 Drennan, the Canadian-born daughter of famed Ulster-Scots musician Willie Drennan, has drawn on both her Irish and international heritage to create a uniquely themed contemporary dance piece, excellently performed by dancers Carmen Fuentes Guaza, David Ogle and Ryan O'Neill in a venue that does justice to the three-dimensional nature of the production.
Expression, be it physical, facial or aesthetic, is paramount. With the exception of Colin Reid's superb, synchronised, string-driven score, there are no props; it is left for the dancers themselves to tell a story through mime, movement and mimicry.
Thematically, the trio convey the message of being trapped in a jungle, but being either too naïve or not fully prepared to deal with it. Sometimes, the dancers mirror one another's moves. Sometimes, they directly mimic one another. Sometimes, they complement each other. And at every possible moment, the music complements the movement.
It comes across as a combination of the humanistic, the mildly optimistic and even the slightly pessimistic, as the tale is as much about loss as discovery. Rises, falls, frustrations and barriers are literally and metaphorically presented to the audience in a consistently emotional but not emotionally draining manner.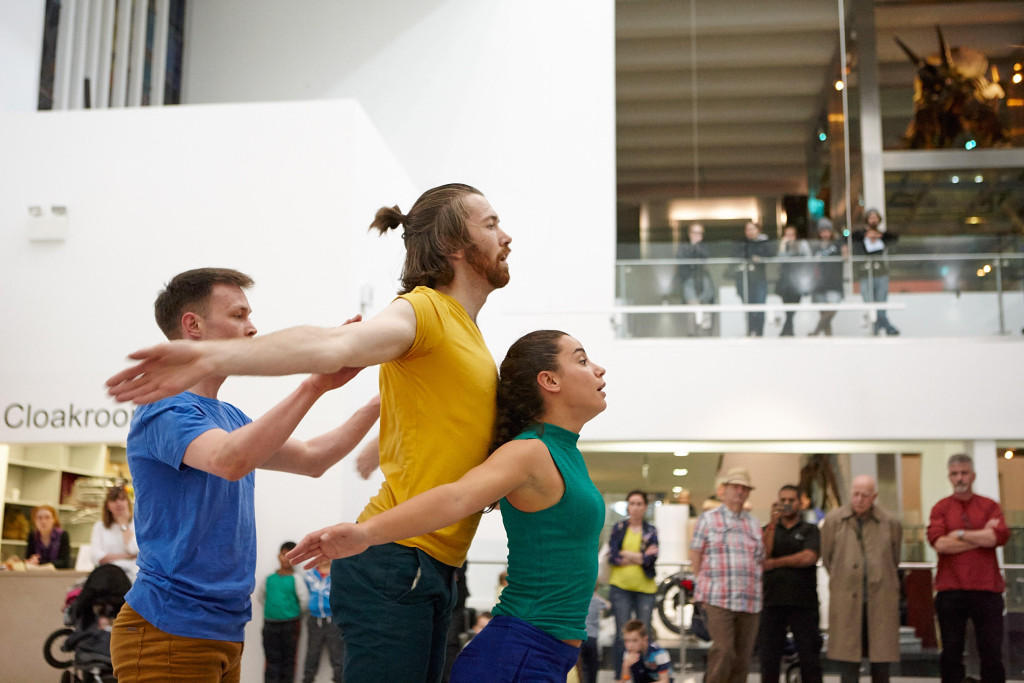 Llinos Griffiths' costumes, a mixture of yellow, blue and green, are reflective of mood and emotion in their own right, relaying the energy, feeling and identities of all three dancers and the characters they portray. Younger viewers may go one step further and relate the colours and the trio's confusion to the emotional conflict in the recent summer blockbuster, Inside Out: another example of how this twenty-minute piece works so well on many levels.
And every time one is led to believe that Tipping Point has reached its end point, it explodes into life again, before ending on a note of sudden, curious ambiguity which is actually extremely fitting. For, as is the case in life itself, our trio have been on a voyage of discovery, but they are still looking for answers. Simon Fallaha

Photos by Joe Fox.
Tipping Point takes place at Belfast's the MAC (Upper Gallery) on Friday, September 18 at 6pm and 7pm.