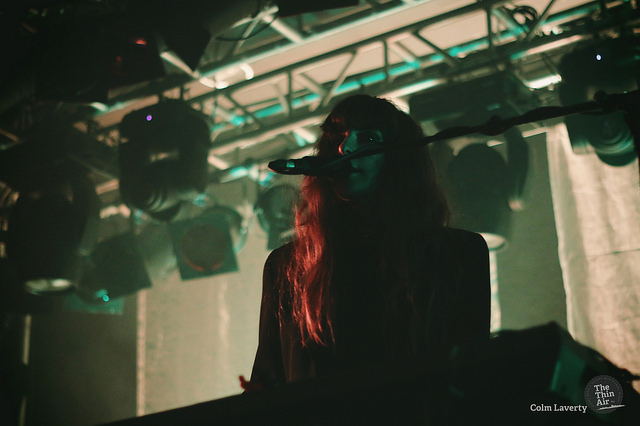 Having released two fantastic albums in the space of three months – Depression Cherry and Thank Your Lucky Stars – Baltimore dream-pop band Beach House played Belfast's Mandela Hall and Dublin's Vicar street at the weekend. Words by Cathal McBride and Joe Madsen. Photos by Colm Laverty and Aaron Corr.
Mandela Hall, Belfast
Photos by Colm Laverty
Kicking off their lengthy European tour tonight, Baltimore dream pop duo Beach House unusually have not one but two new albums to promote, having released Depression Cherry and last week's surprise follow up Thank Your Lucky Stars (written later but recorded in the same sessions) within just two months of each other. At first it seems like an odd move to release a second new album so quickly, but according to the band "something about the record made us want to release it without the normal "campaign." We wanted it to simply enter the world and exist." Not to mention, it's gotten people talking, which is a plus for any artist, and it's always pleasing to see a band do something that pushes against the music industry norms.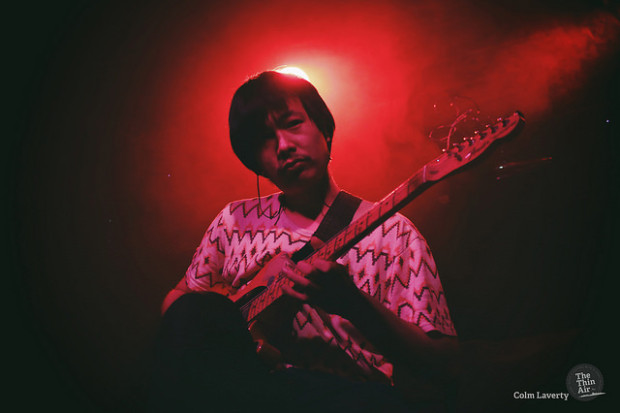 Fellow Baltimore resident Dustin Wong (above) is first up tonight, alone with a guitar and an array of effects pedals, looping endless guitar lines to create dense soundscapes, instrumental aside from some primal wordless vocals towards the end, reminiscent of his former band Ponytail. While this kind of solo math-rock act can very easily fall into the trap of self indulgence, based more on the performer's technical skill than the enjoyment of the listener, Wong never sacrifices melody in favour of prowess, and as such, rather than the cold shoulder you'd usually expect for this kind of act in a support slot for a more conventional band, he instead receives a hearteningly warm reception from the already full venue, and by the end he seems surprised and overwhelmed by it, leaving the stage with a giddy grin.
Beach House evoke more of an icy cool air, with the expanded four piece lineup – a drummer and bassist/keyboardist augment the core duo of Victoria Legrand and Alex Scally for most of the set – dressed mostly in black and appearing largely in darkness with all lighting focused on the back of the stage rather than the individuals on it, and only the reflected glow of the backdrop allows us to see their faces. Of the two new albums, there's a much greater emphasis on Depression Cherry in tonight's set, which is slightly frustrating as it's easily the weaker of the two, though the album's stronger tracks like 'Levitation' and 'Sparks' do find new life in a live setting. The mere two tracks aired from the more dynamic and engaging Thank Your Lucky Stars though are highlights, Legrand swapping her organ for guitar on 'One Thing', while the lineup is stripped back to just the core duo for 'The Traveller', which soars despite a build up of audience chatter.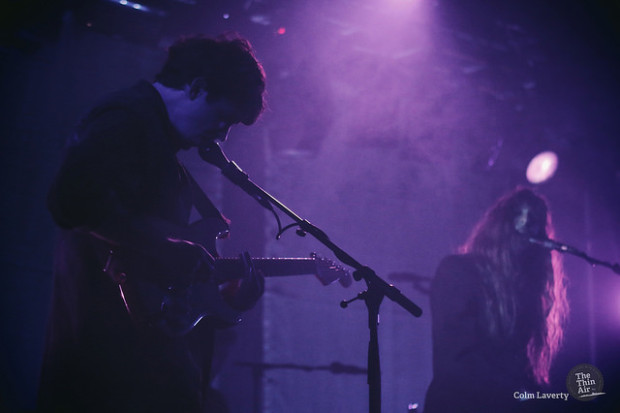 With such a wealth of new material to draw on, thankfully plenty of older material still gets a look in, with all six albums represented. Early single 'Master of None' is another highpoint, though unsurprisingly the material from 2010's Teen Dream remains the most affecting. The shimmering 'Silver Soul' still induces chills due to Scally's woozy guitar and Legrand's soaring vocals, performed with such nonchalance that she casually leans one arm on the microphone stand while playing with the other, and the sole encore song '10 Mile Stereo', beginning with Legrand silhouetted against a single spotlight with the rest of the band in total darkness, builds to a climax of flashing white light and crashing white noise, the perfect crescendo to an otherwise typically relaxed set. Thank your lucky stars indeed. Cathal McBride
Vicar Street, Dublin
Photos by Aaron Corr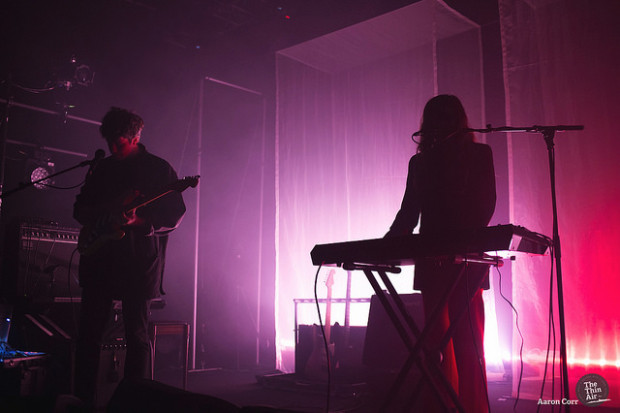 Just over a month into a landmark world tour, Baltimore-based duo Beach House electrified Dublin's Vicar Street Sunday night with an eclectic set list traversing their entire catalogue. Since 2006, singer/keyboardist Victoria Legrand and guitarist Alex Scally have proven to be a prolific indie-pop dream team, claiming six full-length studio albums, extensive world-touring, and a booming base of fans to their history. It's no wonder they've become poster-children of alt-rock label Sub Pop after releasing 3rd LP Teen Dream with them in 2010. Yet what makes this particular moment in the band's story such a milestone is that only mid-way through the tour to promote album number five, the band dropped album number six, proving their act as evolutionary as ever.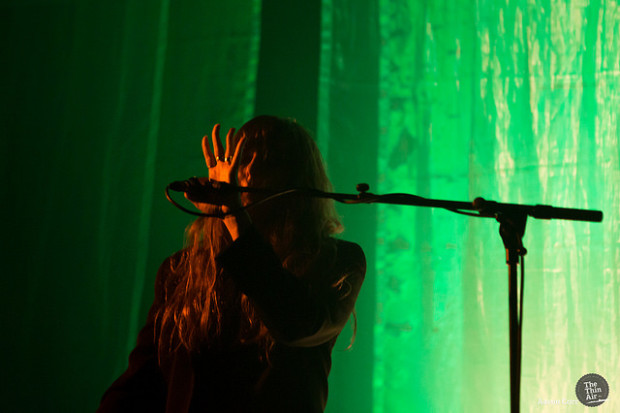 Opening with the slowly symphonic 'Levitation' from fifth LP Depression Cherry, Legrand and Scally loomed into sight and sound of the sold-out square pit of Vicar Street. From this enticing entrance, the two jumped right into the more bombastic 'Wild' with its rumbling build. Beach House is known for their strong control over their image and sound; such was evident in the arrangement of their set throughout performance. Seamlessly they leaped across the stages of their near-decade-long career, showcasing themselves as unafraid of their own growth and change, but also mindful of their origins. For a band that's released two LP's in the last three months, one could expect them to be over-zealously excited to perform strictly new material, with perhaps a couple of older numbers in encore. Yet Beach House displayed a firm hand over their set, being both eager to share new art but mindful of its origins, and each album held its own presence onstage with the band. The house felt themselves watching the duo's entire story, not just one chapter.
In carefully coursing through their whole corpus throughout the night, Legrand and Scally contrived a piquant variety in style, as well. Restrained, shoe-gazy tracks like 'One Thing' balanced titillating arrangements like 'Myth' and 'Majorette' with their dreamy ambiance. Legrand's sultry deep vocals recall the likes of indie-pop legend Nico whose haunting qualities and experimental preferences mirror Beach House's own. Encoring the night with 'Saltwater' from debut eponymous album and 'Sparks' from August's Depression Cherry, the two punctuated the night's end with a statement of how they embrace the full picture of their musical efforts. That fans will tire of the pace and amount of material being produced seems unlikely for now as numerous sold-out shows already decorate Beach House's upcoming calendar. Joe Madsen