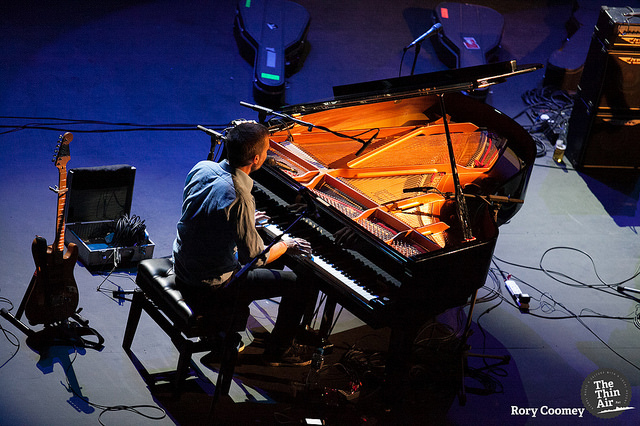 There's an atmosphere of excitement through Cork Opera House when Dublin indie pop heroes Bell X1 take to the stage before a sold out Saturday night audience. Frontman Paul Noonan and his talented bandmates have always inspired a devoted fanbase with their accessible yet mildly obtuse indie rock and their crossover appeal is highly apparent in the eclectic set of gig-goers waiting on baited breath for the band. This is a particularly anticipated evening due to the acoustic nature of the show, a special chance to see one of Ireland's most entertaining live acts completely stripped back.
The show succeeds in living up to the gold-dust nature of its tickets with Noonan at his most charismatic and a set list encompassing an unbelievably underrated career. Nineteen songs in length with a short interval midway, there's something here for any Bell X1 fan . Old favourites like 'Flame' and 'Rocky Took A Lover' get a runout – sounding just as vibrant and enjoyable for the band as they did earlier in their career – whilst newer cuts such as 'Careful What You Wish For' and 'The End Is Nigh' from 2013's Chop Chop depict a band who, despite how long they've been about, are still re-creating themselves and experimenting and are absolutely at the top of their game. The grand but intimate setting of Cork Opera House does the band a credit with the evening feeling less like any old gig but more like a victory lap for one of the must underrated Irish acts of our generation.
Bell X1 not only benefit from the intimate vibe of an acoustic but also the fact that its a wonderful chance to showcase one of the band's greatest strengths – their lyricism. From the obtuse and quirky words of their work such as 'The Great Defector' or 'Motorcades' to the astute and incredibly witty 'Rocky Took A Lover', the   charisma of their live show is only increased by the manner in which Noonan's words resonate around the Opera House. Noonan's vocals are soaked in character and charisma and the whole band are captivating due to the ease with which they play a spotlessly professional yet personal show.
As they close out with the euphoric, driving 'The End Is Nigh', Bell X1 leave behind a feeling of imperfect but beautiful happiness much like the one constant theme that has run throughout their eight album career so far. They may not be the most successful band of their scene or be selling out major stadiums but Bell X1 remain one of the most likeable live bands around and this acoustic setting has only served to showcase that even more. A great night for all. Kelly Doherty
Photos by Rory Coomey.