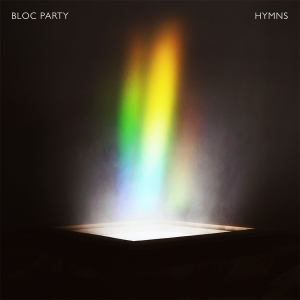 For many, Bloc Party exist very much at a specific moment in time: Post the treble laden jangle of The Strokes and as somewhat forefathers to the frenetic melodies of bands like Foals and the hybridisation of electronica, house and old fashioned garage rock. Moving away from this point, some would argue that Bloc Party lose their relevance and quality. The two hiatuses that have underpinned the latter part of the group's career may have offered solicitous gossip on the newsfeeds but they also seemed increasingly remote. And while two long term members leaving the group may be nothing to sniff at, the band's return with a full album and new members hasn't generated the kind of buzz that one would expect from one of the most important British guitar driven bands of the noughties.
So, depending on your temperament, it's easy to see how this year's HYMNS should be an untroubled offering from a band confident in their skills and innovation, or an opportunity for Bloc Party 2.0 to push the envelope and reclaim their pre-eminence as a chart scaling, saliva inducing tour de force. But while HYMNS does sound like the work of musicians comfortable in their element, and it does continue the path of blending house music with pop structures it is just too awful to achieve either of these aims. Or any aims that don't include being just terrible.
From the flat, empty opener of 'The Love Within' all the way up to the over indulgence of 'Living Lux', this is an album that does nothing but tarnish the reputation of Kele Okereke and Russell Lissack, two able and intelligent songwriters, here suffering from some kind of tone-deaf somnambulism.
Kele's voice, previously impassioned and engaging, sounds immature in tone and content especially in The Cardigans meets chillwave track 'So Real'. It's a problem compounded in the albums worst song 'The Good News', which is such a clawing attempt at a radio hit that it sounds like a bad Budweiser advertisement.
The better tracks are the ones that go for a full down tempo, house atmosphere. Songs like 'Different Drugs' and 'Fortress' stir up misty memories of the innovation in A Weekend in the City and 'Only He Can Heal Me' may be the one remaining life raft in the wreckage. Maybe there's something to like here, but at best HYMNS is inconsequential and at worse it's downright heart-breaking. A band with the time, resources and experience just shouldn't be able to hand up a project this flat and unengaging. Eoghain Meakin