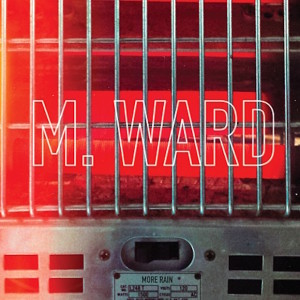 More Rain has been four years in the making. In truth, M. Ward has been making this album his whole career, such is the omnipresence of the main ingredients weaving through the songwriter's back catalogue. Sometimes, you just know what you are going to get with an album. Sometimes, that is a really good thing. More Rain continues to show Matthew Ward as a musician enthralled with capturing a 60s sound and wrapping it around skilled arrangements and engaging melodies. Though 12 songs long, it still feels like a piece of flash fiction, such is the tight and minimalist make up of the songs on show.
Fans of Ward will find little to fault in this collection. Originally, the album was intended to contain only vocals and guitar. But the sonic soundscape was then built upon layered vocals in an early doo-wop fashion. Somewhere at the heart of this record the original concept does remain –there is a beautiful woozy feel to the vocals throughout the album—but the songs benefit from being coloured in by full band recordings and electric arrangements.
After the sound of some rain, obviously, the album grooves into life with 'Pirate Dial', a warm, slow burning song with plenty of bass and fuzz to open things up nicely. Lyrically, the album continues to impress with deft touches and self-aware candidness, "It's alright if you don't mind / it's alright if you do". It seems that M. Ward himself knows what he brings to the table, and isn't all that fussed if you take what he offers or leave it. 'Time Won't Wait Up' jolts the album awake after the sleepy opening of 'Pirate Dial'. A chugging rhythm and assured musicality make this an enjoyable stomper, even if it does lean a little too heavy on Marc Bolan.
It may have taken a few tracks to reach it but 'I'm Listening (child's theme)' ushers in the first of the sparse, delicate ballads. Rarely straying too far from its title, this song swoons and draws you in. A lullaby which fans of 2005's Transistor Radio will love. The doo-wop influence is evident on album highlight 'Girl From Conejo Valley' which opens with an instant hook, demanding your attention with its idiosyncratic lyrics and unavoidably catchy synth melody. Ward has never been afraid of putting well placed covers onto his albums and More Rain is no different. A beautiful, dust covered version of The Beach Boys' 'You're So Good To Me' pops up here. Despite lacking in the technicolour palette of the original, it loses none of its sparkle.
Other highlights are the stunning 'Phenomenon', a staunch defence of love and truth which cuts, with razor sharp observations, to the heart of an unwavering dedication. The album closes with 'I'm Going Higher', a fitting title for an incredibly strong three minute pop stomper, its Instant Karma drum beat gives a joyful platform to jump from with an ode to continually pushing forward. It leaves the listener wanting more and gives the album a lasting sense of hope. The song drives on with a desire to change, but after nine albums of unwavering quality, albeit with the same strengths on show each time, it is a case of 'if it ain't broke'… David O'Neill