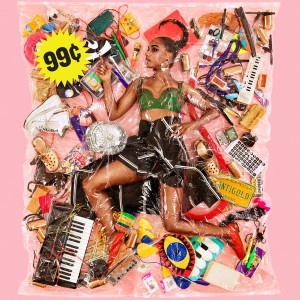 Lousy Smarch weather! We've got Baltic temperatures, snow and whole host of other Winter wonderland treats that we were supposed to piss off back in February that have opted remain, ratcheting up the March misery. It's cold and overcast and what we need is some good straightforward fun; fortunately, Philadelphia's Santigold has kindly provided her new album, 99¢, to help get us through this tough time. The album offers up twelve slices of delightful poppy, reggae-tinged electro-pop songs that help to blast away remnants of the winter blues and, except a handful of cuts which should have been culled, the record is consistently brilliant.
99¢ grabs you from the first moments and doesn't really let go at any point. 'I Can't Get Enough Of Myself', the inaugural track, is exactly what the doctor ordered. It's four minutes of unadulterated, danceable pop music with a reggae undercurrent. It has its own unique identity, being bouncy and fun, and not only welcomes you into the album with arms wide open but also actively makes you want to delve into it without a moment's hesitation, sustaining this momentum with a shocking degree of ease while managing to juggle a variety of moods and styles. 'Big Boss Big Time Business', with its phenomenal hook, combines with 'Banshee' to fire a shot of adrenaline that makes it nearly impossible not to groove to. While 'Chasing Shadows' and 'Walking in a Circle' have this much moodier, ominous tone driven by chunky slabs of synthesized bass. They're all completely engrossing, complementing each other while working in tandem to create this almost day-to-night structure; starting with Technicolor exuberance of morning and concluding with a neon melancholy of midnight. If these songs were to be released as a self-contained EP, they'd undoubtedly be one of the year's best. Sadly though, they're not and so much of the goodwill they create is tarnished by the next song.
'Who Be Lovin' Me' is easily the worst song on the record. Musically, it has all the same instrumentation and energy as the previous songs, yet never meshes them together into anything greater than middling. The only notable element are the guest vocals from ILOVEMAKONNEN which are flat and uninteresting and veer far too close to outright annoying for comfort. Worse still it forces the album's momentum to complete standstill that adds a bonus dimension to the frustration and while the album does recover, this track means it's never able to recapture the lightning in a bottle of what came before.
Rekindling the initial spark is difficult but Santigold is a strong enough writer to draw the listener back in quick enough time. 'Before The Fire' is a striking piano ballad that really captivates, while 'Outside The War' continues tread the ground of 'Walking In a Circle' except it delves much further into the wilderness to really impressive effect. However, the real gem of the second half is album closer 'Who I Thought You Were', which like the opener is a thing of beauty; great lyrics about rampant egoism over this buoyant, sunny beat that forces a stupid grin to stretch from ear to ear. But the second half of the album is definitely the weaker of the two. While it does retain some magic of the first half, it loses something as it transitions into the niche of mid 2000 indie framework. Some tracks feel much more like filler, like 'All I Got' so much of which is better explored on a variety of other tracks, and others could stand to have a few minutes shaved from their run time.
Yet, overall, it's a still a fantastically compelling record. It's great pop music that sets its hooks in early and has five successive tracks that could have formed the best release of the year. It's not perfect, there is some filler and one unmistakable misstep, but it's fun and jaunty and actively makes you want to back to listen again and again. Will Murphy