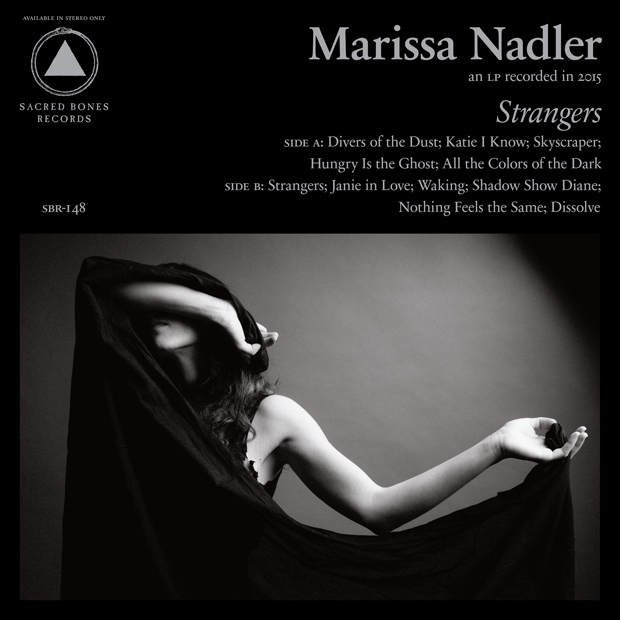 In the lead up to the release of her seventh LP Strangers, the second to be released on Sacred Bones/Bella Union, Marissa Nadler welcomed interviewers into her apartment instead of having features built on distant phone-calls or coffee shop meetings . This willingness to allow the external into the internal, the welcoming of outsiders into the most sacred and personal of spaces is something that plays heavily into this album. Moving from the highly introspective lyricism that has defined her previous releases, Nadler it seems has now taken to bringing the influence of others, be they strangers or best friends, into the fold. Strangers explores many of themes that Nadler dwelled on in 2011's July; Heartbreak, loneliness and loss, but now they are heard in the context of being surrounded by others, of observing the world around oneself (which can at points appear to be ending) from the position of those emotions. This has led to the creation of an album that feels like a remarkable step forward for Nadler as a both musician and songwriter.
This is aided insurmountably by the much fuller, more vast instrumentation introduced on this record, the shiver inducing vocals now being enabled to stretch further into more interesting territory. Crisp electric guitars, strings and fuzzed up keys give tracks like 'Katie I Know' and 'Hungry is the Ghost' a hazy, encompassing quality that makes comparisons to fellow Bella Unioners Beach House obvious but largely unnecessary. Elsewhere, Nadler's movement away from acoustic guitar centred production lends to more than one heartrending ballad – 'Hungry is the Ghost' and 'Nothing Feels the Same' – neither of which would feel out of place on a Sharon Van Etten record.
That is not to say that the moments on which Nadler keeps with the simple instrumentation that has made up the bulk of her previous work are any less remarkable however. 'Divers in the Dust', the albums opener, is a simple piano and vocal track that sets us up perfectly for the rest of the record with the carefully embellished vocals trickling through the listener's ear all the way down to the gut. The album was produced masterfully by Randall Dunn, whose previous work with drone acts like Sunn O))) and Earth contributes massively to its ghostly, dark and elegant depth.
Lyrically, 'Divers in the Dust' also immediately indicates that this is far more than an album of internal heartbreak, instead vouching for an almost Yeatsian vision of the apocalypse – "Lying here, on the rocks, with the cliffs disintegrating. Last I heard, in the end, the waves were scraping city streets". From there onward the lyrics move on themes of dying friendship on 'Katie I Know' to witnessing the exploits of a "natural disaster" on 'Janie in Love'. Ultimately, Nadler in this record is a spectral observer in the shadows, taking in what surrounds her but always acknowledging how those observations play on her own psyche. 'Shadow Show Diane', one of the album's most stripped back cuts is the centrepiece of this idea, featuring one of Strangers most jarring lines – "I look into windows and see the people. I want to be someone sane sometimes, somebody else."
'Skyscraper', one of the albums strongest moments with its resonant vocal harmonies and simple minor chord guitar plucks is the sort of song that makes it difficult to avoid the overused adjectives often assigned to Marissa Nadler: smoky, hazy, haunting, ethereal (one that she has particularly shot down). While these descriptions obviously have an immediate draw, they can often seem so general and overdone. Strangers is overall a record by an artist whose growth and absolute investment into the craft is palpable; a self-assured feat into dark, melodic poetry that will lure you in over and over again. It doesn't for a second hang on those flippant comparisons or descriptions. It is leagues above them. Eoin Murray