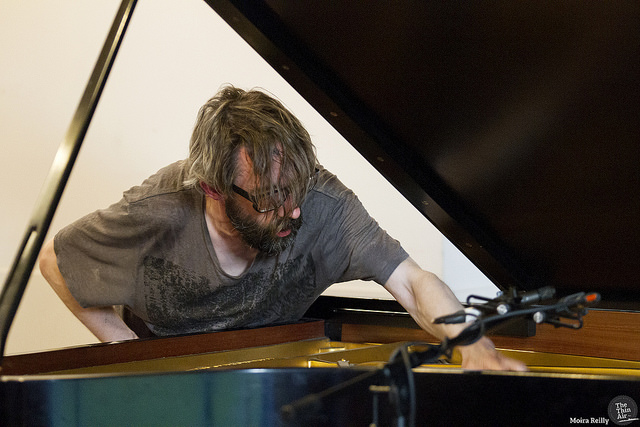 A year or so ago, I was told about an amazing gig that had happened in the National Concert Hall. It was unlike any live performance that the person recounting the night had ever seen. From that moment I was intrigued and eager to see Paul G. Smyth perform.
Smyth, a member of The Jimmy Cake as well as a revered genius in the art of improvisational music is probably one of the most important musicians in Dublin. A sentiment immortalised following an outstanding, and at times unnerving, performance on a remarkably beautiful summer's evening in St. Finian's Church. The launch of his solo album, The Warning Signs, was, superficially a very understated affair. A freshly refurbished room with approximately forty chairs orderly arranged in four rows was the perfect physical antithesis to Smyth's unpredictable, disorderly arrangements.
There were times throughout the evening when Smyth's compositions strangely reminded me of my childhood, particularly the movies I would have watched repeatedly. Before taking to the keys, Smyth harrowingly plucked the strings, creating sounds not dissimilar to a harp or violin. The exploration into the various guises the piano is capable of assuming is central to the performance. Every usable surface and mechanism of the instrument is tested and in those moments Smyth morphs the keys into percussion and strings. You develop a newfound appreciation for the instrument. It is outstanding to watch a musician of Paul's calibre to totally transform an instrument that is so familiar in this way. As he stands, hunched over creating an almost sinister string melody, I was immediately reminded me of the scene in The Wind in the Willows (the Mark Hall and Chris Taylor directed adaptation) where Mole becomes lost in the snow covered woods. The music embodies that unforgettable unsettling eeriness evoked by Mole's vulnerability. You become very aware of how influential music can be in conjuring memories, whilst simultaneously creating new ones.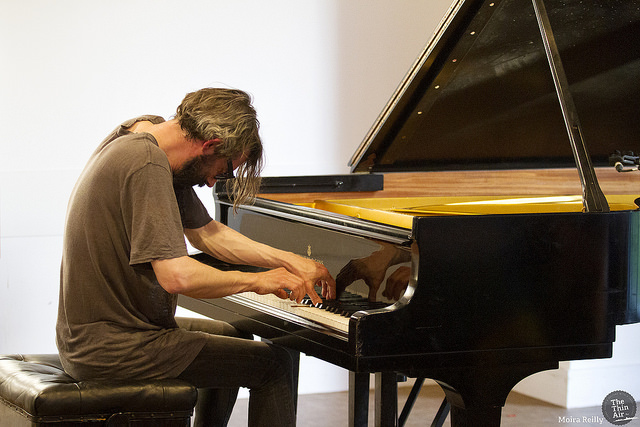 The tempo varies and Smyth's fingers quicken along the keys and the pressure promptly changes from soft touches to forcefully assertive executions. The tone shifts from gracious rifts to thundering waves and vibrations that bounce around your ears and head. It's not unpleasant, it is totally possessive for both the listener and the musician. When Smyth plays, it is like watching an exorcism. His whole being is completely captivated by the music, the keys are like the pathway that Hansel and Gretel enthusiastically followed, innocently guided by the breadcrumbs, an alluring uncertainty entices Smyth to venture fearlessly to where the music will lead him. It is a stunning, unfiltered and totally unique exhibition.
As I left the venue walking with a pleasant buzz in my ears, I was excited to share what I had experienced with friends. I would tell them that Paul G. Smyth performing live was one of the most mesmerising acts of musical ingenuity. Zara Hedderman
Photos by Moira Reilly