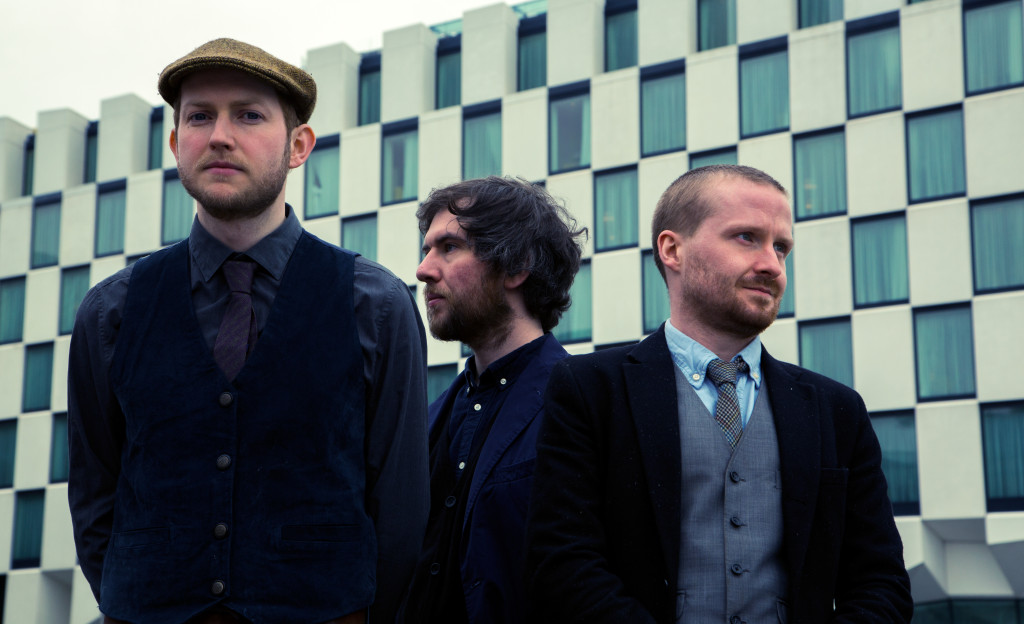 Formed out of the need to explore new territory away from their other projects, Dublin imports DIVAN, made up of members of Ambience Affair and Tomorrows have found a new lease of life on their forthcoming album Modern Knowledge. Produced by Ramona Falls, Menomena and EL VY man Brent Knopf, expect the album to be one rich with depth and melody. Brian Coney chatted to the band about their formation and their ethos. Listen to 'Sale of Lakes' below.
Hi guys. First up, for those completely new to you, can you give us a bit of background to the formation of the band, where you're based, etc.?
We're based in Dublin and formed about a year ago from the dissolution of our previous venture.
You're comprised of members of Ambience Affair and Tomorrows. How do you feel DIVAN differs from both of those projects? 
DIVAN has slowly morphed into it's current guise due to circumstance & necessity. It certainly has been a long path of discovery. We've had this album recorded for a while and have been waiting for the right time to release it. Musically, we think it's a lot more melodic and (for want of a better word) accessible than Ambience Affair was.
You grew up in the country and moved to the city, something you say has had a big impact on your music. How do you feel that environmental transition has manifested in your themes and words?
Living in a few different cities has opened my eyes to a world of art & culture as well as affecting how I view the world. To be a musician in today's society is ultimately an intensely rewarding experience. However, there are many pitfalls and challenges; my lyrics tend to focus on trying to understand what it means to be a musician today – as well as my feelings towards the place I reside. The relationship I have with my homeland is a complex one, with my feelings fluctuating from very positive to disillusionment. Being a musician affects all your relationships in both negative & great ways and over the years I've gained a perspective that was not there before.This hopefully is translated on this record.
I guess I also use a lot of water-based imagery to covey my thoughts. This is probably a result of a couple of factors – having lived in coastal cities & my inability to swim!
The imprint of The National and Menomena is threaded throughout your sound but what other sounds do you think have coalesced to contribute to your craft?
The desire to create something unique, yet still feel familiar is something we've always been interested in. This is what drew us to Brent in the first place. His songwriting always challenges himself and in turn, the listener. We felt we had that in common, which is a good starting point!
Other than that, the artists we listen to and admire have obviously bled into our sound but hopefully not to the point where it makes us sound too much like someone else.
Your upcoming album, Modern Knowledge is produced by Brent Knopf. What was it like working with someone with such a great track record? 
Brent is a super guy and we are huge fans of his music so to get to work with him was an incredible honour. His energy and enthusiasm is infectious and I'm incredibly proud of this record we made together. When he arrived, it was definitely the most creative part of the album's evolution. Because we had such a short time to work with him, it involved many 12-14 hour days and he really pushed us to our creative limits. Personally, he analysed my songwriting and told me where I could improve and expand. His input for this short time has changed my musicality indefinitely.
 How healthy do you feel Irish music is at the minute in terms of being able to get heard, recognised and reach that springboard for bigger and better opportunities further afield?
I think working very hard will always help. Plugging away at your craft and getting your music heard is something which I think most successful musicians have done, regardless of their nationality. We've always tried to approach music in a professional manner and tried to write & record songs which would stand up alongside artists we listen to. Loving what you do and putting that love into your music is also a necessity as I think it will reflect in everything you do. This is something which has certainly taken a while to dawn on me, but I'm taking it into each day and trying to implement it in my life.
Finally, what are you plans for the rest of 2016, off the back of the release of the album?  
We'll be touring Ireland in the Autumn, and hopefully if the record is received well, you will see us active in 2017.