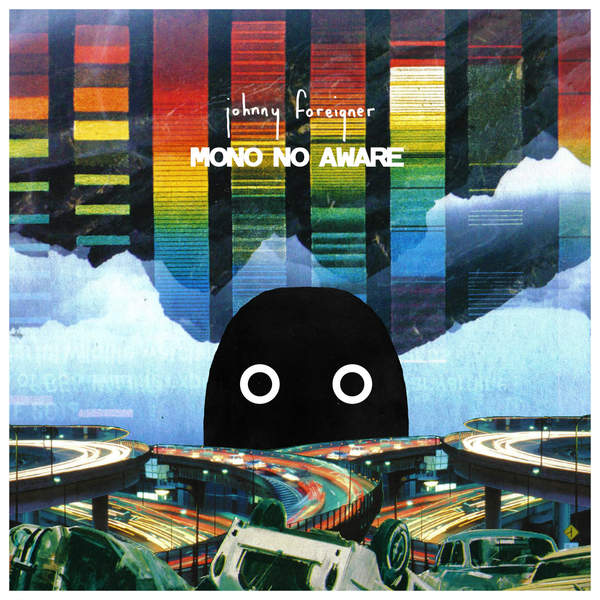 After just shy of ten years performing together Johnny Foreigner have just released their fifth album. The indie four-piece, hailing from Birmingham, show both promise and consistency with their latest release, Mono No Aware. Consistency is blatantly obvious, with the album comprising of eleven solid, terrifically upbeat indie rock tracks with elements of pop punk regularly bursting through in the form of catchy riffs and tight, snappy drum pieces. Promise is a term that is perhaps to be used with more caution. For those familiar with JoFo, from the opening quarter they will immediately melt into the quirky and comfortable musical space that the band provides for its' adoring (and I do mean adoring) fans. For any listeners who are not familiar, or were perhaps hoping to hear a more mature sound as the band reach near a decade of existence, Johnny Foreigner will, quite happily, prove them wrong.
The album is well constructed, easing listeners in beautifully with the opening track 'Mounts Everest', which is introduced by Berrow's gentle vocals and clean guitar. This then transitions smoothly into 'Undevestator' and from here on the band delve right into the catchy, chorus line hooks that the group perfect so well. Tracks such as 'The X And The O' and 'If You Can't Be Honest, Be Awesome' provide examples of the bands energy while 'Our Lifestyles Incandescent' and 'The Worst of Us' alter the tempo slightly and work well in balancing out the pace of the album, which closes neatly with 'Decants the Atlantic', rounding off the record nicely.
Lyrically there is still a sense of teenage poetry at work that gels neatly with the sound. This refusal to develop or mature their sound is clear through their lyrics. 'Our Lifestyles Incandescent' provides a key example of this, as the group chants proudly in unison the lines; "Just because we don't party like we used to, don't mean we're not high". Nonetheless, there is a raw energy that drives the band that has developed far beyond the "working cottage industry" but, at the same time, they never once attempt to take themselves too seriously. They do not seek to delve beyond the humble limitations that the Indie genre places on its noble contributors as they both find and continue to provide safe and exciting new sounds without harming the bands playful ethos.
Overall, the album will succeed in impressing its die-hard followers, keeping true to the band's indie rock roots. The group have formed a comfortable bubble for themselves in which they can produce music that they themselves enjoy and are successful in executing. Far from pushing generic boundaries, they have stuck with what they are good at and have pulled it off brilliantly. For those who have yet been introduced to the group, it may just provide the ideal introduction to the bands comfortable and quirky music, supported by their die-hard Indie legacy. James Holohan