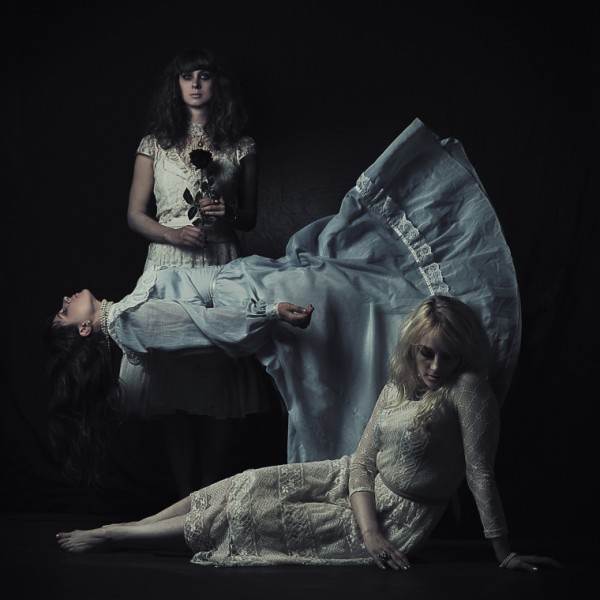 Everything Shook have proven one of the more interesting outfits on the Irish live circuit of late, a kinetic and technicolour blend of music, electro-performance art and synchronised choreography. The trouble with such visual bombardment is often that while it's entertaining in the moment, it's a transient thing. However, Robyn Bromfield, Jessica Kennedy and Áine Stapleton demonstrated on their debut release, Argento Nights, that they had the songs to back up the schtick. That three-track EP – as its title implied – was a louche, low-key and murky snippet of the brooding electronica that was to come on Drinking About You.
It's with the foreboding march of 'I Got A Gun' that Drinking About You rumbles into life, high vocal coos paving the way before insistent stabs of synth take precedence on the dancier electro of 'Bed Stain'. Frequently the trio's combined vocals will take a song to another place, as mantra-like and percussive workouts become something more ethereally bound. No one vocalist dominates – there's anonymity in their interplay, collusion in the whispers and chants, often coolly monotone in the pursuit of that overarching mood of desolation and detachment.
A comparison – not so much musically as aesthetically – could be drawn with The Specials: the deadpan humour; the collaborative alliance; the undulating, funereal organ tones that add an apocalyptic hue to the social commentary; the desire to make you dance as well as take heed. There's darkness inherent, the disco grimy and backlit. Indeed, 'Friday Night' ramps things up a notch in the hedonism stakes from The Specials' 'Friday Night, Saturday Morning' albeit in a more airy synth-pop frame ("Friday night on the dancefloor/ Sunday night falling in the door"). While the band has been mystified in the past by comparisons, 'Ich Bin Robot' is just as droll as Kraftwerk, though infinitely seedier – it's hard to imagine any other invocation than the German electronic pioneers in the linear, advancing pulse of bass drum that sustains the mechanical tempo. 'I Walked Past Your House' begins like a disturbed Elm Street nursery rhyme but becomes a similarly beat-driven prospect, while the numerical count-in to 'Short Ride Home' hits home to a verse of infectious thump.
The extended 'Come Back To Mine' is a more sonorous and saturated version than that on Argento Nights. It takes that skeletal rig from the EP and gives it a muscular synth coating, putting it through the paces with a bass drum-driven heartbeat, gaining in propulsion as the trio repeat the title over and over towards the techno-indebted conclusion. The influence of the Italian giallo genre looms large over Everything Shook's stylishly executed first record – in one corner opaque but in another airy, tongue-in- cheek yet sombre, hinting at violence and mystery. It's a cloak they wear well. Justin McDaid
The Album Launch for Drinking About You will be held at The Co-Op, Newmarket Square, Dublin 8 on the 13th of August. Tickets available through the Event Page