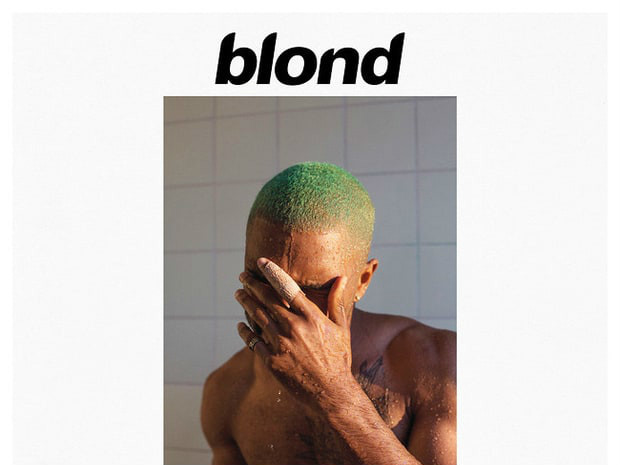 Fame is a funny thing; mercurial, fickle and often fleeting. Once back in the mists of time people became famous just for what they did but now, in our pervasive, insistent culture it's hard to even distinguish between what someone is and what they actually do. And that's Frank's story, ever since his rise as the most credible member of internet championed dysfunctionals OFWGKTA Frank has existed in a place where he and his music are scrutinised, obsessed over and disassembled.
Yet it is a wave that Frank doesn't just ride, but seems to have actively tamed. Ever since the comments on his sexuality, the release of his seminal yet rough-hewn debut Channel Orange and his absolute owning of his brand, outwardly at least Frank seems to be a bit of a boss. The four year gap that led from that debut to now is a case in point; tantalising, communicating in whispers and at the same time casually collaborating with some of the most important artists working today. Then, bam! Endless, a video album thing where Ocean builds a staircase, and his Boys Don't Cry magazine. Which brings us up to date for the most important musical moment of his career and probably of 2016.
Ocean and Blond are musically hard to pin down. An obvious figure in the R&B, neo-soul renaissance yet the mid-tempo, minimalism and idiosyncratic nature of his songwriting is hard to define. There's elements of contemporaries like Blood Orange and James Blake (who is featured here) and luminaries like Marvin Gaye and Bon Iver's Justin Vernon (who is also a contemporary and is featured here).
Leading from the front, each track is usually carried by his vocal melodies and sparse shimmering chords. Opening tracks 'Nikes' and 'Ivy' are both loose weaved with little musical progression but have an open, characteristic passion. This makes up the weight of the entire project over hooks or bangers. It's an incredibly nuanced sensibility that's been brewing ever since his mixtape Nostalgia, Ultra but is fully realised here. Just check out tracks like 'Seigfried' or the lo-fi vox and keys of 'Good Guy'. These are less songs and more soundscapes for Frank Ocean's poetry. There are however more traditional tracks like 'Nights' and 'Pink + White' which at least allude to conventional song structures but even they choose gradients over ramps. It's a choice of subtlety so all-pervasive that even five star features like Beyoncé and Kendrick Lamar are reduced to mere sprinkles in the mix. It seems Frank Ocean is competing with Kanye's Life of Pablo for most covert feature. Well, that is until Andre 3000 turns up and burns a hole in the floor with a modern southern lilt but a delivery that's straight up vaudeville 3 Stacks.
But for the most part this is sonic experimentation delivered so deftly that it's barely noticeable. Just listen to the gospel cum Beatles cum dubstep of 'Pretty Sweet' or the attractive bleep-bloops à la Michiru Oshima at the end of 'Godspeed'. There's sparkling strings, clever organ loops and ethereal keys.
On Blond the themes are intertwined with the music. Dealing with the complexities of love, whether that be motherly love or romantic love in all its complicated griping, occasionally greedy but complex beauty. 'Solo' is the perfect example when it comes to everyday amour but the passionate ramble of 'Futura Free' dealing with celebrity is another eloquent illustration.
Blond could easily have been killed by its own hype but the album is such a bewildering, emotive and quietly fierce thing that its complexities out manoeuvre any weak hashtag campaign or simple description. It seems Frank is reaching people honestly and earnestly in a way that few artists do, the last probably being Morrissey. People love Channel Orange, and while it was a great album it was only a statement of potential. This, well this, is probably it. Eoghain Meakin