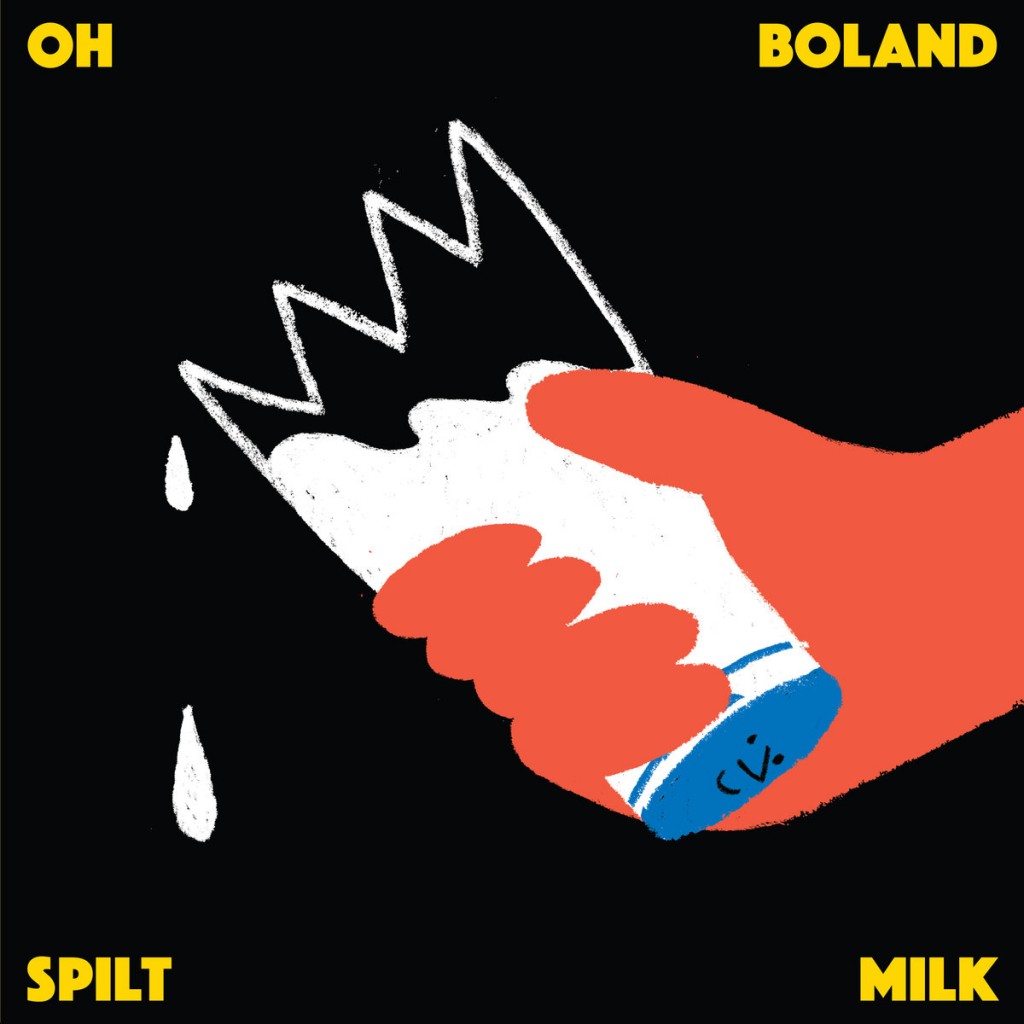 Hailing from Tuam, Garage Rock trio Oh Boland are in the middle of celebrating the release of their long awaited and triumphant debut LP Spilt Milk, touring and performing throughout a number of venues on the East Coast of the US. It's been a busy time for the Galway lads of late, and the attention they're no enjoying has been well earned. Oh Boland have already released a number of EP's since their formation in 2012 and as was the case with these prior releases, Spilt Milk, released this Friday on San Diego label Volar Records, is driven by the same blunt spurges of sludgy and raw, pop punk they have become loved for. Despite the clear sense of unrefined intensity, the album rarely becomes truly aggressive, maintaining an overall uplifting tone.
A band renowned for their energetic live sets, they have managed to capture this sound in Spilt Milk.  Opener,'Jane Russell', sets the tone of the album and we are immediately introduced to the noisy yet oh-so-catchy riffs of guitarist and singer Niall Murphy that dominate the album. The remainder of the trio consists of Eanna MacDonnchadha on bass and the hard-hitting Simon McDonagh on drums. While the upbeat tempo is maintained throughout the majority of the album, 'Night Walking' breaks this down somewhat at the albums mid-point, providing a temporary release from the frantic energy with a track that brings to mind a sound not dissimilar to early Car Seat Headrest through Murphy's vocals and the lo-fi sound.
The boredom that has motivated so much of the trio's music is evident in the lyrics throughout the album. An obvious example of this can be found in the following track, 'Caller so Cold' as Murphy sings: "So I go to work and then I come home and then I go to work again". The monotony of working life in small town Ireland can perhaps be seen as one of the explanations as to where the group's relentless stamina radiates from, using their pop punk sound as an output to the frustrations of said boredom. While Murphy's often-cynical lyrics contribute to the overall ethos of passive rebellion, for the most part they appear relatively harmless and apolitical.
Evidently, the band have succeeded in putting together a bag of catchy riffs and hooks that are perfectly suited to the fun-loving pub atmopshere where their rough and ready sound will thrive and their audience grow. The recording captures this and works well in emphasising the skill the band have at live performances with the level of vitality they bring to the bar-room table. While lyrics from 'First Dog's Death' ironically state; "I guess that I wasted all my time, I just like these stupid lines to rhyme" the opposite can be said for the lads and they now find themselves down promising new roads. Thankfully, the trio's catchy riffs and rhymes have got them to a very positive place, both physically and metaphorically speaking, and we can all keenly await their return home with eager ears and a pint in hand. James Holohan