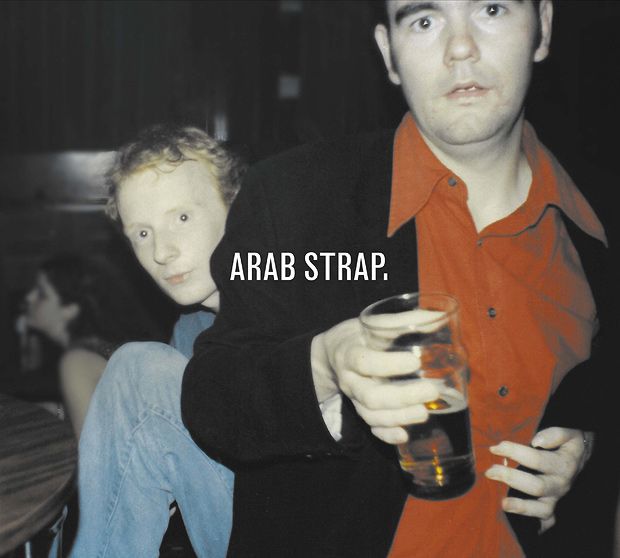 Six albums isn't a lot by some bands' standards, but for one as consistent as Arab Strap, it's difficult to narrow that down into a "best of". Without any drastic stylistic reinventions, the duo gradually evolved over their decade long career from fairly lo-fi beginnings, taking in elements of slowcore, folk, electronic music and more thanks to Malcolm Middleton's impressive musicianship, all anchored by Aidan Moffat's sung or spoken tales of misery and debauchery in his unmistakable thick Scottish accent. After their amicable split in 2006 they didn't bother attempting that best of, instead releasing the aptly titled Ten Years of Tears compilation, a ragtag collection of B-sides, rarities, demos and alternate takes with a couple of popular singles thrown in. Another ten years on though, to coincide with a brief anniversary reunion tour taking in dates in Newcastle, London, Manchester and Glasgow this month, they've put together this slightly more streamlined double effort. One disc a sort of ten track greatest hits – or "secret hits" as they self-effacingly put it – deliberately focused on their more electronic-driven tracks to make for a cohesive whole, and the second collecting ten more versatile rarities, this collection doesn't so much attempt to supplant Ten Years of Tears as expand upon it, with relatively little crossover between the two.
The tone is set right from the off, kicking off with their 1996 debut single 'The First BigWeekend', – still their most enduring track due largely to its relatable tale of an early summer weekend on the drink with friends, told with Moffat's trademark dry humour – followed immediately by the misery-waltz of 'Love Detective', a song about being driven to spying by the maddening suspicion of a partner's infidelity ("I've been lying about where I'm going, just in case I can bump into her.") Later, 'The Shy Retirer', a song they may well be correct in calling their best, is in many ways 'The First Big Weekend's sequel, right down to its acoustic guitars and drum machine while it repeats the night on the town theme with a now more palpable weary cynicism ("Another bloated disco/Another sniff of romance I'll forget"), while the hypnotically repetitive 'Turbulence' is as fitting a closer here as it was on 2001's The Red Thread.
While a couple of tracks appear as their more embellished and arguably superior single versions, each studio album is represented (the Spotify version sadly omits 'Cherubs' due to licensing issues, its parent album Elephant Shoe being the only one not released by the Chemikal Underground label, but it can easily be found on that album with a couple of clicks), along with non-album single 'Rocket, Take Your Turn', technically a bit of a rarity, but already enough of a fan favourite to earn a promotion to disc one. With a compilation of this nature, there will always be omissions, and gathering together more of those early non- album singles like 'Girls of Summer' might have been nice, but keeping its remit brief and succinct reduces the arguments over neglected album tracks, and you'd really be hard pressed to come up with a better ten track introduction for newcomers than this. They succeed in their goal to make it a cohesive whole, so for existing fans it makes for a great playlist of favourites, as well as a potential hint at how their setlists might shape up this month.
While fans will be well familiar with the material on disc one, disc two is the real treasure trove here. Lamenting the sequencing decisions of his youth, Moffat has claimed the ten B-sides and rarities chosen here all deserved to have been included on albums, and he's not wrong. Red Thread era-B- sides 'We Know Where You Live' and the sprawling 'Blackness', both rejected for being too similar to the quiet-loud formula of Mogwai and similar bands of the era, represent a side of the band explored only sporadically on their albums. It's always been a thrill when Arab Strap get loud and turn up the distortion, a neat counterpoint to their usual restraint. The Mogwai comparison on these longer tracks is certainly well founded but they're no pastiche, the band pulling off the post-rock sound with absolute aplomb on their own terms, building to huge bursts of noise led by Middleton's shrieking guitars.
The sleighbell-laden 'To All A Good Night' is another entry into the pantheon of miserable Christmas songs, though it's worth seeking out the unedited version on Ten Years of Tears for the prank call tacked on at the end ("Do you have any Easter cards with a Christmas theme?"), and the menacingly mechanical piano loop of 'I Still Miss You' proves addictive, but 'Daughters of Darkness' is probably the most valuable inclusion here, an old unfinished track that they came out of retirement to complete in 2009 specially for their Scenes of a Sexual Nature boxset and previously not available anywhere else. For a final recording it's one of their all time finest, full of ominous guitars and Moffat at his caustic, bitter best –
"Someone cracks a joke I'm not supposed to get, so I pretend it's over my head and try not to look too hurt. But the joke's on them – they don't know I've been reading their diaries." The pair have sadly ruled out of making any new music during this brief reunion, but this collection serves as an ample reminder of the band's past successes, especially considering that not even the rarities disc is anything close to comprehensive, and plenty of it will be new to all but the most ardent collectors. It's no wonder their influence looms so large over the music scene in Scotland these days, and with both members' multifaceted solo careers still going from strength to strength – each with an essential album under their belts this year already – their influence seems unlikely to dissipate any time soon. Cathal McBride